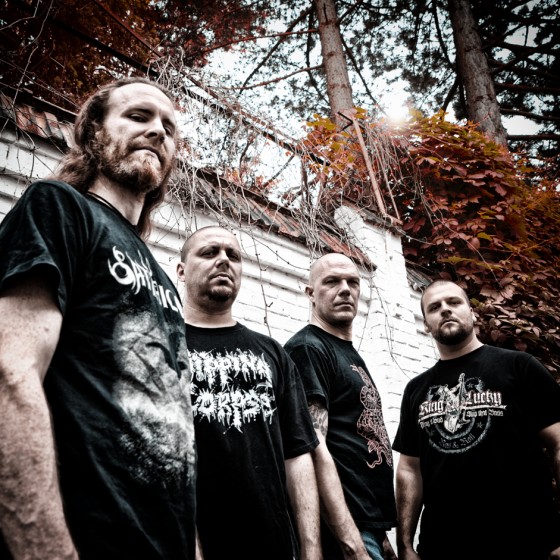 Candlelight Records today confirms November 11th as the North American release date for Obsideo, the new album from Dutch metal extremists PESTILENCE. Produced by vocalist/guitarist Patrick Mameli, the album is the band's inaugural recording for the label and first new material from the four-piece since 2011.
"We have gone beyond our human limits to achieve the highest form of brutal music," reveals Mameli when discussing the album's creation. "The musicianship is such high quality; it is really ten of the most demanding songs written in death metal."
Together with long-time guitarist Patrick Uterwijk, Mameli, bassist George Maier and drummer Dave Haley deliver a blistering and genre-lifting effort. "I am chuffed to have Dave in the lineup," confirmed Mameli earlier this year while discussing the band's updated cast. "He is one of the best extreme drummers in the world and his talent bring PESTILENCE to new levels. George is a young and talented bass player that will turn some heads. Both are really down to earth and real easy going guys. Patrick, of course, is my most respected and long-going friend and musician."
Obsideo boasts Mameli and his innovative guitar work. Utilizing eight-string guitars for the album's recording, the celebrated musician expands his already massive arsenal of riffs. "The eight string guitar opens a lot of doors," notes Mameli. "It gives lots of new musical options and allows us to make the music sound more brutal than before. It also forces me to sing in a higher pitch because I don't want my vocals in the way of the low-tuned guitar parts. My vocals sound more intense and manic than before."
Formed in 1986, PESTILENCE took influence from early American and German thrash metal to cultivate its now signature death metal sound. Recording four albums before disbanding in 1994, the band helped to usher the rise in popularity for the genre. Fourteen years later the band reformed; releasing two albums and exciting fans with live performances around the globe. "Mameli and company chose to steer efforts down paths previously unexplored whilst maintaining their vintage essence," noted Chronicles of Chaos on the band's 2009 album, Resurrection Macabre (Mascot). PESTILENCE plans to begin touring in support of Obsideo in the early months of 2014; North America to be included in their worldwide takeover. The band's last stateside performance was as a featured artist on the second annual 70,000 Tons of Metal Cruise that left Miami shores on January 23, 2012.
Obsideo Track-Listing:
1. Obsideo
2. Displaced
3. Aura Negative
4. NecroMorph
5. Laniatus
6. Distress
7. Soulrot
8. Saturation
9. Transition
10. Superconscious
PESTILENCE is exclusively endorsed by Ibanez Guitars and Pyramid Strings.
"PESTILENCE proved that four kids from a small industrially defunct town were ready to overthrow Amsterdam, Rotterdam, and the rest of the world if need be."
http://www.pestilence.nl
https://www.facebook.com/Pestilenceofficial
http://www.candlelightrecordsusa.com