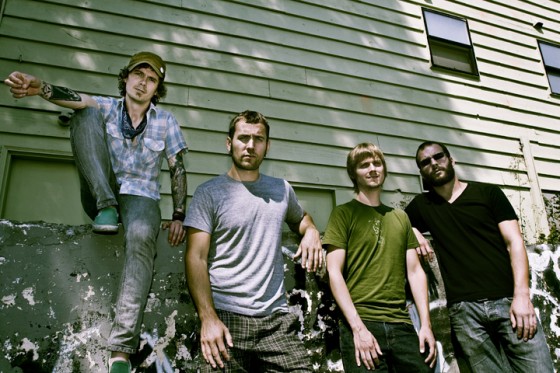 Chicago instrumental quartet PELICAN have announced a string of west coast engagements this summer, ending a period of dormancy that has seen the band receding from stages to work on new material and a growing number of side-projects. Joining forward-thinking metal label Southern Lord's multi-city The Power of The Riff Festival, which sports a lineup including luminaries Pentagram, Winter, Noothgrush, among several others, PELICAN will play installments in Los Angeles, San Francisco, and Seattle in addition to their own headlining dates in San Diego, San Luis Obispo, Fresno, and Portland. The following month PELICAN will make a select appearance at Kentucky's Boomslang Festival alongside Swans, Secret Chiefs 3, Horseback, and many more.
Since 2001 PELICAN has presented a distinct brand of rock that draws on varied, occasionally contradictory, traditions of post-rock, stoner metal, and innumerable other styles, synthesizing a heady amalgam of soaring melody and dizzying distortion. As best experienced on their 2009 full length What We All Come to Need, the seemingly operatic compositions take on a life of their own, unfolding melodically and conceptually, as the four men are lost in performance, heads banging and feet stomping.
PELICAN West Coast Tour w/ ÆGES:
8/12/2011 The Casbah – San Diego, CA
8/13/2011 Echo/Echoplex – Los Angeles, CA @ The Power of The Riff Festival [info]
8/14/2011 SLO Brewing Company – San Luis Obispo, CA
8/15/2011 Audie's Olympic – Fresno, CA
8/16/2011 The Mezzanine – San Francisco, CA @ The Power of The Riff Festival [info]
8/17/2011 Hawthorne Theatre – Portland, OR
8/18/2011 Neumo's – Seattle, WA @ The Power of The Riff Festival [info]
9/24/2011 Buster's – Lexington, KY @ Boomslang Festival [info]
Scion A/V Presents: Pelican – Final Breath from Scion A/V on Vimeo.
http://www.facebook.com/pelicansong
http://www.southernlord.com
http://blog.southernlord.com
http://www.myspace.com/southernlordrecordings
http://twitter.com/twatterlord