"'The Rift' is a white-hot slab of hooky space rock equally suitable for cruising open desert roads and interstellar travel alike." — PALE GREY LORE
View / Share PALE GREY LORE's "The Rift" At THIS LOCATION
New Noise is currently hosting the visual companion to PALE GREY LORE's "The Rift." The clip comes by way of the Ohio-based psychedelic doom group's latest full-length, Eschatology, released earlier this month via Small Stone.
Issues the band of the track, "With its driving, motorik beat, trippy theremin, and fuzzed-out guitars, 'The Rift' is a white-hot slab of hooky space rock equally suitable for cruising open desert roads and interstellar travel alike."
Space out to "The Rift," now playing at New Noise Magazine at THIS LOCATION.
PALE GREY LORE fuses elements of garage psych, space rock, post-punk, and stoner doom to create focused, hook-driven, heavy, rock 'n' roll. Eschatology was produced by the band's own Xander Roseberry and Michael Miller, engineered and mixed by Andy Sartain, and mastered by Harold LaRue, with artwork and layout by Adam Eckley.
"Eschatology tells the story of a depleted planet beset by vast inequality, ravaged by climate catastrophe, and poisoned by nuclear disaster," relays the band of the record's themes. "The masses are left to suffer and die while the wealthy techno-industrialists responsible for the destruction flee in luxury spacecraft that will become their tombs. The sheer magnitude of this planetary devastation summons cosmic beings whose presence warps reality itself, and the world is utterly transformed as the present collides with an ancient timeline. When the survivors finally emerge from their underground shelters, they discover that half the planet remains a post-apocalyptic wasteland while the other half has become lush and verdant. One hemisphere is strewn with melted reactors, crashed spacecraft, and bombed-out ruins; the other is an untamed wilderness, teeming with strange creatures, and dotted with ominous towering edifices that pulsate with eldritch power."
Eschatology is out now on CD, limited LP, and digital formats. For orders, visit the Small Stone Bandcamp page at THIS LOCATION where the record can be streamed in its entirety.
PALE GREY LORE will bring their kaleidoscopic sounds to stages throughout the Midwest in the coming weeks including a performance tonight with Pallbearer in Columbus, Ohio. See all confirmed dates below.
PALE GREY LORE Live:
9/24/2019 Skully's – Columbus, OH w/ Pallbearer
9/28/2019 Now That's Class – Cleveland, OH
10/11/2019 Spacebar – Columbus, OH
10/19/2019 The Union – Athens, OH
11/08/2019 Ace of Cups – Columbus, OH
11/09/2019 The Sanctuary – Detroit, MI
11/15/2019 Urban Artifact – Cincinnati ,OH
11/30/2019 Spacebar – Columbus, OH
PALE GREY LORE began as a collaboration between brothers Michael (guitar, vocals) and Adam Miller (drums), with Donovan Johnson (bass) joining up in the summer of 2014. Xander Roseberry (guitar, backing vocals) was added to the lineup in the winter of 2016, just prior to their signing with Oak Island Records, an imprint of German label Kozmik Artifactz.
The band's eponymous debut full-length was originally self-released on limited-run CD and digitally in June of 2016 and consequently landed at the #13 spot on TheObelisk.net's Top 20 Debut Albums of that year. Conceived as a series of surreal vignettes, it brought forth allegorical scenes from a dystopian, post-apocalyptic world in which the lines between science and the occult, technology and superstition, were hopelessly blurred. The album was released on vinyl in December 2017 via Oak Island Records.
Building on the momentum of the vinyl release, PALE GREY LORE began playing more live shows throughout the Midwest, landing spots on heavy music festivals such as the Chicago Doomed & Stoned Fest, Descendants Of Crom, and the Maryland Doom Fest. They've shared the stages with the likes of Pelican, Monolord, Lo-Pan, and Le Butcherettes, and are primed to release second album Eschatology. Fans of Failure, Lo-Pan, Black Sabbath, Irata, and Sundrifter, pay heed.
"…positively ballooning with fresh ideas, ever-weaving melodicism, and the right sort of cathartic narrative that'll grip the listener by their chest and shake them free of the catatonia-inducing chaotic reality of today." – Grizzly Butts
"Eschatology is a record full of purpose, and the realization of not just a plotline, but a creative vision fleshed out across the work…of multiple songwriters coming together toward a common end. It is simultaneously gorgeous and troubling, thoughtful in composition and impact-making in result." – The Obelisk
"Eschatology draws equally on network news tickers and D&D, and also finds singer/guitarist Michael Miller and Co. blasting Elon Musk and his ilk into space to die" – Columbus Alive
"While PALE GREY LORE's debut album set up a solid foundation in 2016, Eschatology is where things really get interesting. A noticeable boost in heaviness gives the group some extra weight but they never lose sight of their psychedelic roots. The conceptual angle, in turn, sets a strong precedent for what will hopefully be even more trippy freak-outs to follow. If albums like this and the newest efforts by Merlin, Book of Wyrms, and Ecstatic Vision are anything to go by, the space rock scene is in good hands." – Indy Metal Vault
"The songs are epic bites of timeless rock, with fabulous little touches to make the listener engage (including some mystical bells to the title track)… The sounds engage slowly, like friends who become stronger over time. The guitar work is bottom heavy, but melodic. The top end frequency only exists in a parallel universe." – Metal Nexus
"These guys play a heavy-handed version of drug laced Camaro rock. The vocals offer more hopefully floating sense of melody. The tight syncopated feel of what they do has as much as in common with Helmet as they do Kyuss." – Abysmal Hymns
"Heavy but at the same time groovy…. With this excellent debut album, PALE GREY LORE have added their own chapter to the great rock and roll story." – More Fuzz
"…a thundering good time from smoldering start to the winding end of the closing title track. Equal parts color and clout, the vibrancy of the guitar flourishes, with the vast musical textures being matched in the album's cover (an element of artistic work I find to be often brushed over these days). A colorful but bleak snapshot of the aftermath of a civilization's downfall, the mystery of the artwork captured my interest. The music all but held it hostage. What lies beyond the doorway of that cryptic tower?" – Everything Is Noise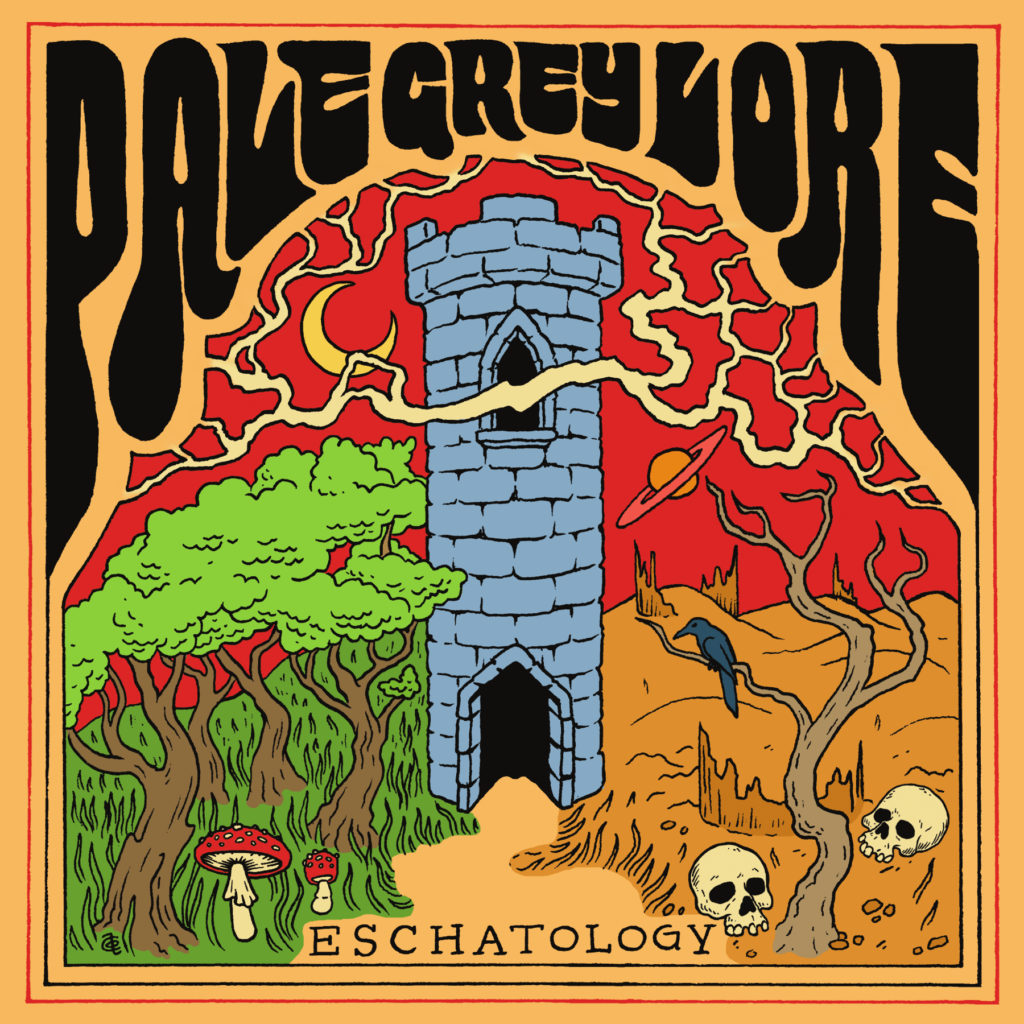 http://www.facebook.com/palegreylore/
http://www.smallstone.com
http://www.facebook.com/smallstonerecords
http://www.smallstone.bandcamp.com