Heavy Blog Is Heavy is currently streaming "Greed Springs Eternal" from Columbus, Ohio-based psychedelic garage doom unit PALE GREY LORE. The tune comes by way of the band's forthcoming Eschatology full-length set for release next month via Small Stone Recordings.
Write Heavy Blog Is Heavy, "Another day, another massive release from Small Stone Recordings. This time around, we have the garage rock/psychedelic/stoner trappings of PALE GREY LORE, a band so dedicated to the aesthetics of the genre that their cover art looks like something from AD&D and I mean that in the best way possible. The release itself invokes the same vibes, delivering high energy riff after riff, rarely stopping for the musings you might find on other psychedelic releases. Things just keep going, hitting you again and again."
Adds the band of "Greed Springs Eternal," "The second track on the album is 'Greed Springs Eternal,' an uptempo ripper that has the band firing on all cylinders. Snaky guitar leads run through the hooky choruses, adding to the frenetic energy of the song. The lyrics tell an all-too-familiar story: awful people with unearned privileged do terrible things and instead of facing consequences for their actions, end up getting rewarded with even more wealth and status. The subjugated take notice of this pattern of injustice, however, and the seeds of revolution are quietly sown."
Stream PALE GREY LORE's "Greed Springs Eternal" at Heavy Blog Is Heavy RIGH HERE.
PALE GREY LORE blends elements of garage psych, space rock, post-punk, and stoner doom to create focused, hook-driven, heavy, rock 'n' roll. Produced by the band's own Xander Roseberry and Michael Miller, engineered and mixed by Andy Sartain, and mastered by Harold LaRue, with artwork and layout by Adam Eckley, Eschatology will be released on CD, limited LP, and digital formats on September 6th.
For preorders visit the Small Stone Bandcamp page at THIS LOCATION where opening track "Sunken Cities" can be streamed.
PALE GREY LORE began as a collaboration between brothers Michael (guitar, vocals) and Adam Miller (drums), with Donovan Johnson (bass) joining up in the summer of 2014. Xander Roseberry (guitar, backing vocals) was added to the lineup in the winter of 2016, just prior to their signing with Oak Island Records, an imprint of German label Kozmik Artifactz.
The band's eponymous debut full-length was originally self-released on limited-run CD and digitally in June of 2016 and consequently landed at the #13 spot on TheObelisk.net's Top 20 Debut Albums of that year. Conceived as a series of surreal vignettes, it brought forth allegorical scenes from a dystopian, post-apocalyptic world in which the lines between science and the occult, technology and superstition, were hopelessly blurred. The album was released on vinyl in December 2017 via Oak Island Records.
Building on the momentum of the vinyl release, PALE GREY LORE began playing more live shows throughout the Midwest, landing spots on heavy music festivals such as the Chicago Doomed & Stoned Fest, Descendants Of Crom, and the Maryland Doom Fest. They've shared the stages with the likes of Pelican, Monolord, Lo-Pan, and Le Butcherettes, and are primed to release second album Eschatology. Fans of Failure, Lo-Pan, Black Sabbath, Irata, and Sundrifter, pay heed.
"Eschatology is a record full of purpose, and the realization of not just a plotline, but a creative vision fleshed out across the work…of multiple songwriters coming together toward a common end. It is simultaneously gorgeous and troubling, thoughtful in composition and impact-making in result." – The Obelisk
"While PALE GREY LORE's debut album set up a solid foundation in 2016, Eschatology is where things really get interesting. A noticeable boost in heaviness gives the group some extra weight but they never lose sight of their psychedelic roots. The conceptual angle, in turn, sets a strong precedent for what will hopefully be even more trippy freak-outs to follow. If albums like this and the newest efforts by Merlin, Book of Wyrms, and Ecstatic Vision are anything to go by, the space rock scene is in good hands." — Indy Metal Vault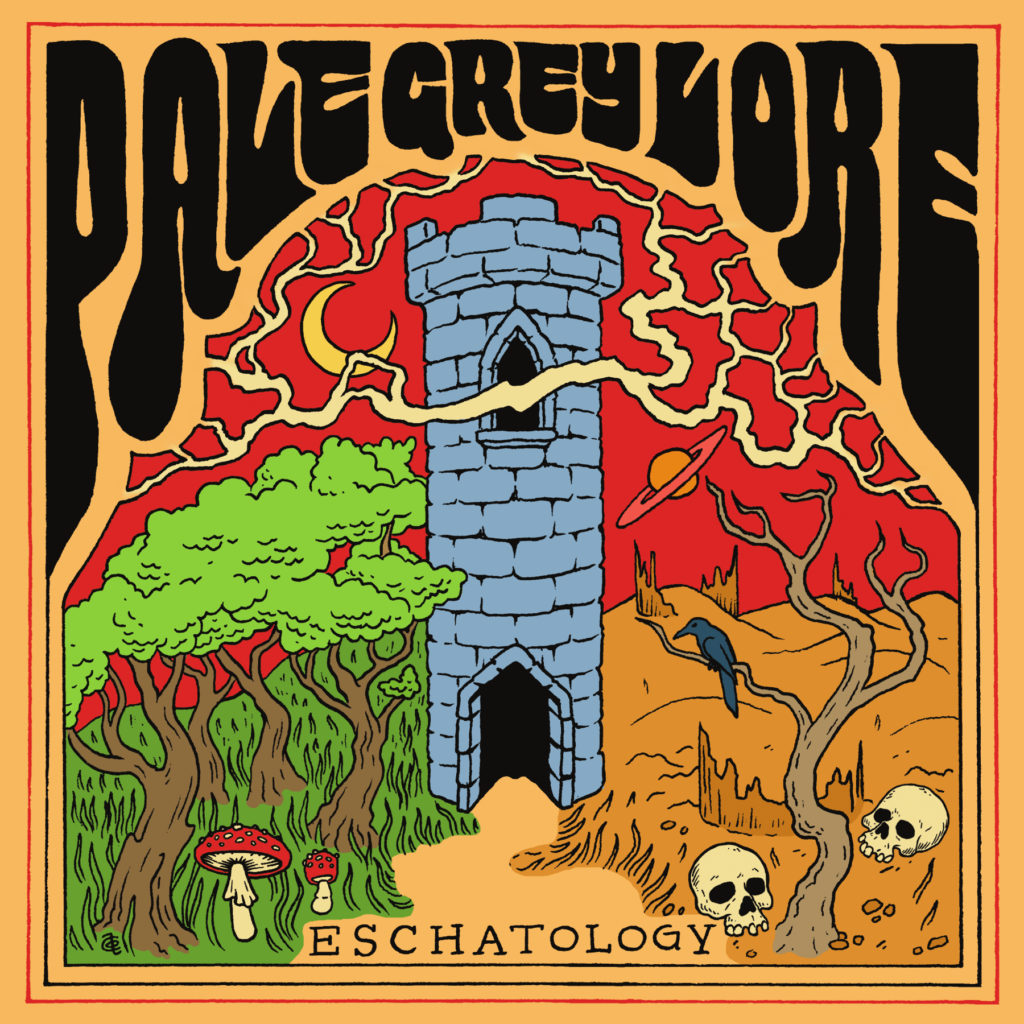 http://www.facebook.com/palegreylore/
http://www.smallstone.com
http://www.facebook.com/smallstonerecords
http://www.smallstone.bandcamp.com