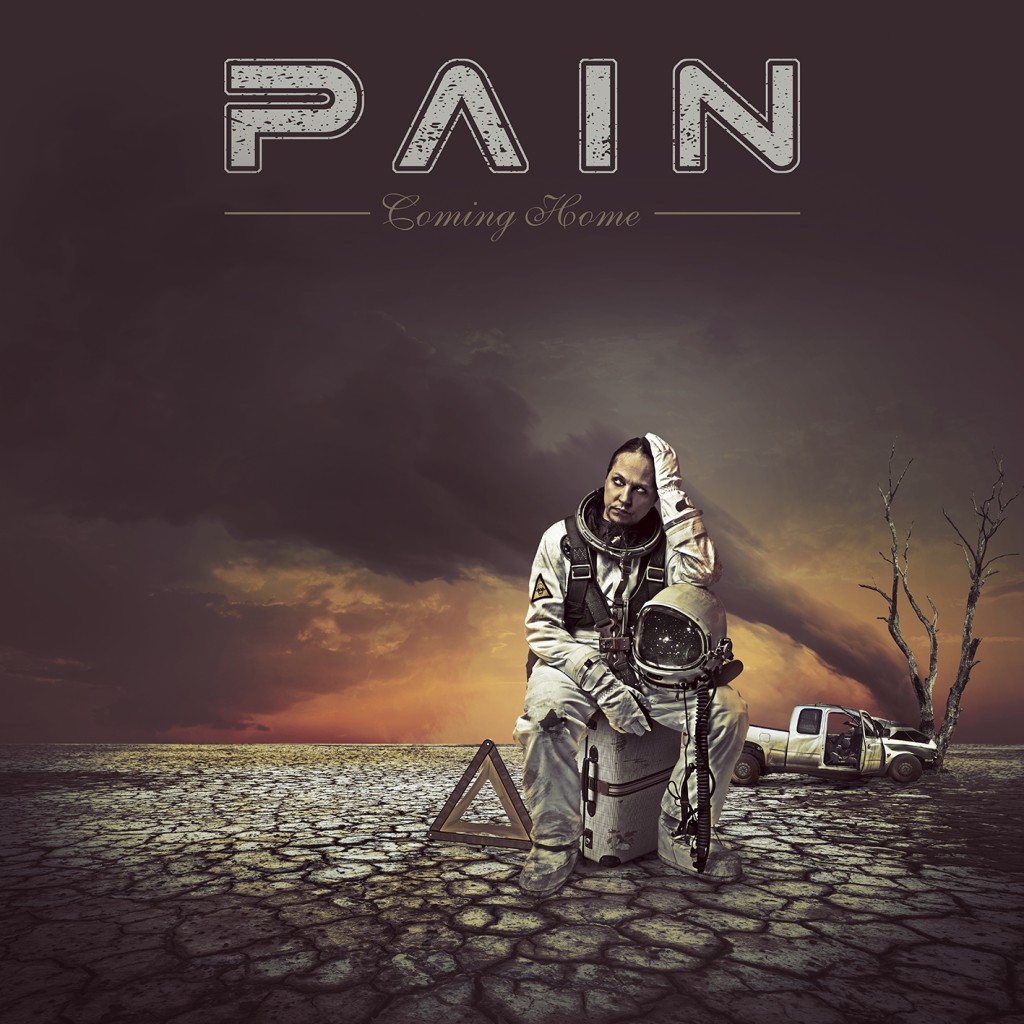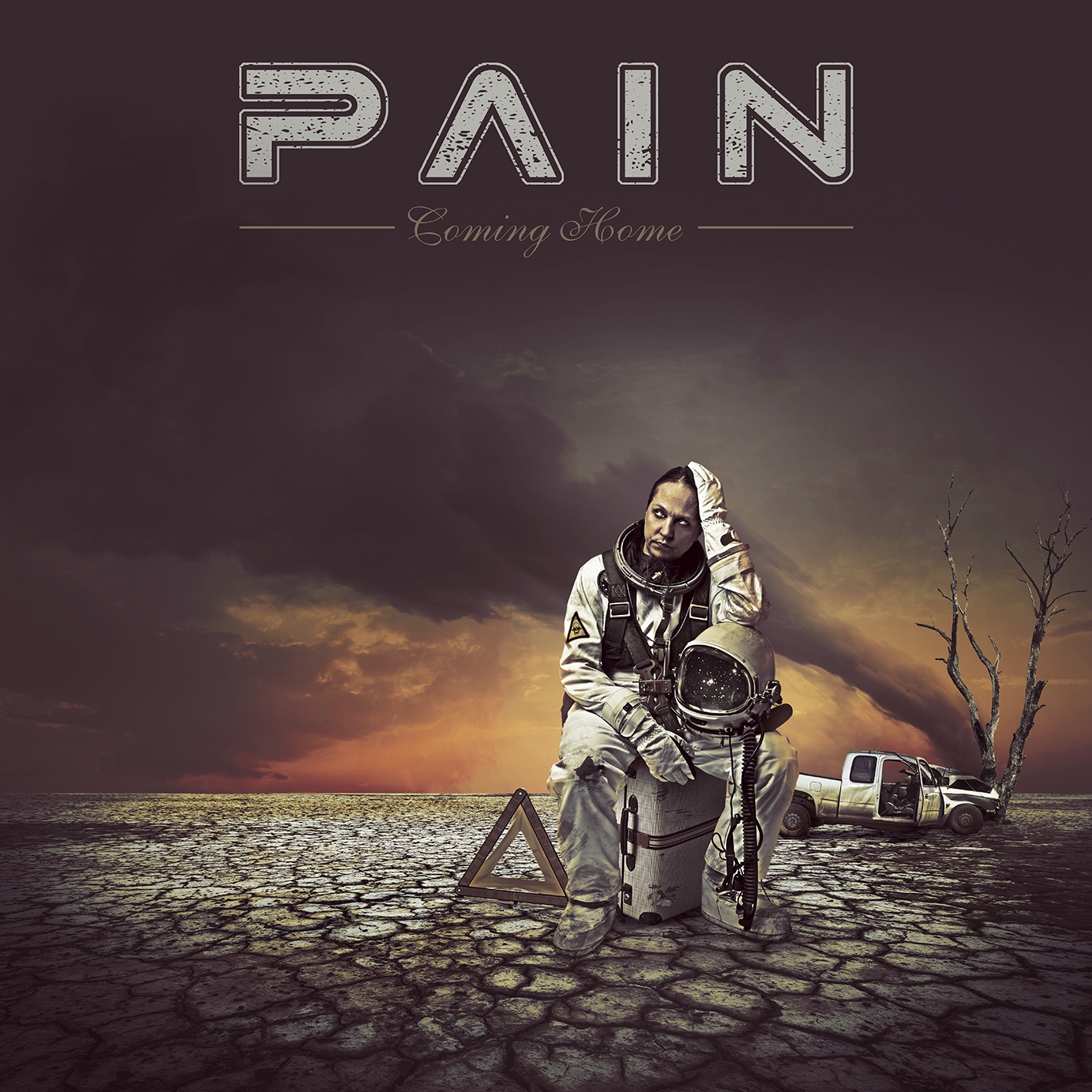 PAIN, the Swedish industrial metal force led by multi-instrumentalist and producer Peter Tägtgren (Hypocrisy, Lindemann), will unleash the followup to 2011's You Only Live Twice this Fall. After the substantial success of his Lindemann project with Rammstein vocalist Till Lindemann, Tägtgren retreated to his Abyss Studios to focus on writing yet another industrial metal masterpiece. Coming Home will be released on September 9th through Nuclear Blast and features artwork by Stefan Heilemann (Epica, Lindemann, Indica).
In anticipation of its release, the band has unveiled two album trailers as well as a lyric video for "Black Knight Satellite," all available for viewing below.
Pre-order Coming Home via the Nuclear Blast web shop HERE, iTunes HERE or Amazon HERE.
"That's me, designed to piss you off…" When Peter Tägtgren is ascending from the depths of his legendary Abyss Studio to take the microphone, a little musical revolution is inevitable. Because what else would you expect from Hypocrisy's death metal veteran, who not only plays industrial metal with PAIN, but is considered to be one of the most influential producers in the metal scene (Dimmu Borgir, Children Of Bodom, Sabaton etc.), and recently launched his controversial project Lindemann in partnership with Rammstein's frontman Till Lindemann.
Since the beginning of his career in the early '90s, the Swedish allrounder has enjoyed diving into the extreme and has grown to be an untameable force. But this is exactly what makes him so fascinating. Taboos, creative stagnation, or genre boundaries have never existed in the world of the forty-six-year-old mastermind. And, of course, Peter Tägtgren wandered the same unexplored paths when the time came to forge Coming Home, the eighth studio release of the industrial institution PAIN. However, the path was long and winding and therefore, the writing process for the follow-up of 2011's You Only Live Twice wasn't all fun and games, but Peter Tägtgren is well prepared for the fight:
"Sometimes you pull your hair out and lay sleepless all night long, because you can't figure out this one chorus or don't know how to finish a certain song," admits the singer and guitarist. "That's just me: When I dive into it, there's no ending in sight. It's a self-destructive mechanism. But I want perfection – or I don't want it at all."
Therefore, it is no wonder, that PAIN delivers a revolutionary mix of styles on this new release – bizarre alternative metal meets electronic melodies – and, in addition, the band weave some spectacular orchestral arrangements into the tracks on "Coming Home," without risking any cheesy moments or overloading the songs. The result is ten highly addictive hymns with massive depth and experimentation. With the orchestrated portions, PAIN entered a new era and seeked assistance from Carach Angren's Clemens "Ardek" Wijers, who added some magical final touches to Tägtgren 's bombastic songwriting. But the album also has time to breathe with beautiful acoustic guitar intros appearing hand in hand with stormy moments, showing the band at the zenith of their creativity.
Coming Home includes drummer Sebastian Tägtgren, Peter's seventeen-year-old son who delivers an impressive guest appearance on the title track as well as Sabaton's Joakim Brodén who joins the team for some typically raw warrior vocals on "Call Me."
But a PAIN release wouldn't be a typical masterpiece without some thought-provoking topics and tales: On the callboy-singalong "Call Me" and " Final Crusade," the band crawls through the deepest corners of society and the human mind, while "Absinthe-Phoenix Rising" is based upon an incident in Leipzig during Pain's tour with Nightwish, where the band was attacked and beat up after leaving an Absinthe bar. And of course, lovers of mystery and conspiracy theories also get their money's worth with "Black Knight Satellite." "Nikola Tesla, who invented the lightbulb, electricity, and other stuff, thought that he heard beeping sounds from space," Tägtgren elaborates of the track's inspiration, "It was around the year 1899 and it seemed like a message to him, a hidden code. He was the first one to discover it, but in the 1950s, when humans started to go into space, they heard the same noises and found out: There is some signal from a satellite out there… but it isn't ours. And as they started their research, they found out, that people had been talking about this phenomenon for around thirteen-thousand years. The story of this so-called 'Black Knight Satellite' is very fascinating to me. Whether it's true or not, I don't know. But it definitely inspired me to write these lyrics."
PAIN:
Peter Tägtgren – vocals, guitars, programming etc.
David Wallin – drums
Michael Bohlin – guitars
Johan Husgavfel – bass
http://www.painworldwide.com
http://www.facebook.com/officialpain
http://www.nuclearblast.de/pain