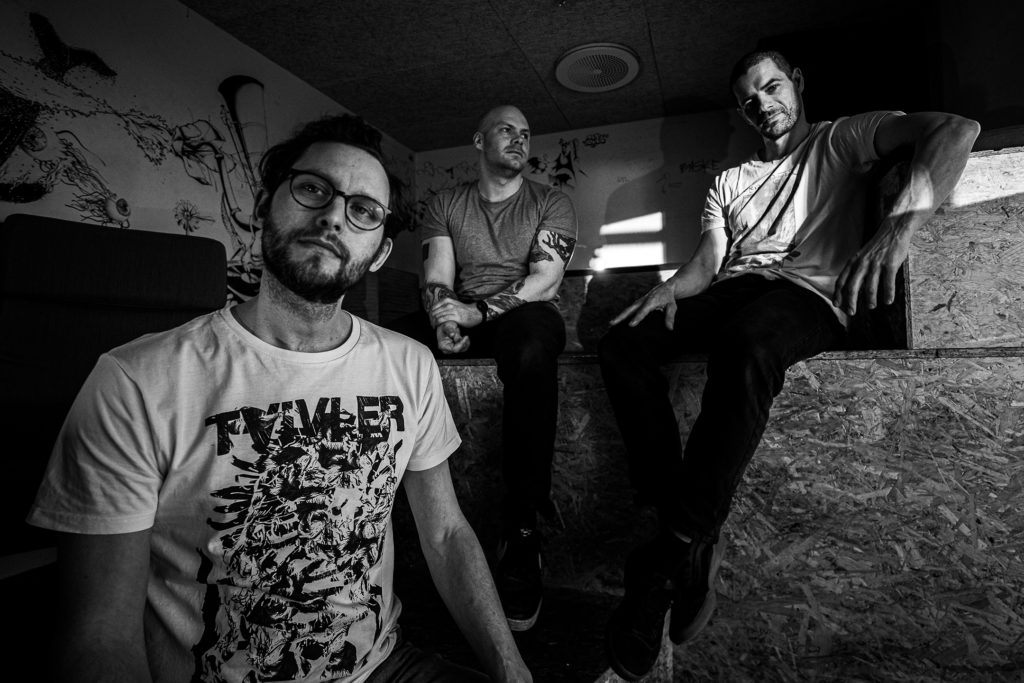 photo by Rolf Meldgaard
Aarhus, Denmark-based avant/technical metallic hardcore outfit OXX returns with the band's fourth album, The Primordial Blues, confirmed for August release on Nefarious Industries who today issues the cover art, track listing, preorders, and a blistering video for the lead single, "The Coast."
OXX sounds like getting blackout drunk and beating yourself to death with a Thomas Pynchon door stopper. Formed in 2012 by guitarist/vocalist/lyricist Alex Bossen and drummer Martin Aagard, the group has since released three full-length albums and one EP. Following the 2019 release of their third album, The Skeleton Is Just A Coat Hanger; These Are The Black Strings That Make You Dance, OXX was able to bring their glorious belligerence to US audiences for the first time with a sprawling month-long trek. In November of 2022, the band joined Cleric on a two-week tour through parts of Europe, and in early 2023 they welcomed new bassist Anders Frodo S. Mikkelsen.
OXX's The Primordial Blues is a monument to misery and a harbinger of perpetual sadness. The album was recorded by the band, mixed by Klaus Q Hedegaard Nielsen, mastered by Brad Boatright at Audiosiege (Obituary, Full Of Hell, Eyes), and completed with artwork by Aske A Hvidtfeldt and layout by Greg Meisenberg. The record also features guest contributions of violin/viola from Kristine Kier, cello from Emalia Slusarczyk, double bass from Adrian Christensen, and piano from Esben Tjalve.
The record's lead single comes in the form of an explosive video for the opening track, "The Coast," created with lighting and filming by Anders M Teibel, additional lighting by Jakob Cæsar Østergaard, and editing by Martin Aagard Jensen.
Bossen writes, "Every track on The Primordial Blues attempts to translate different literary concepts or devices to music, and 'The Coast' is no different. For this one, I was trying to approximate a sort of aphoristic structure; a song made up of shorter, declarative sentences, as opposed to a longer and more immediately coherent paragraph. More plainly: it is a long string of unrepeating riffs, each of them sort of circling the same themes and motifs, but not quite a direct continuation of each other. It's a song about what happens when the narratives you have constructed to make sense of your personal miseries collapse, and you realize that you might not be the victim of some cosmic injustice, or the center of some romantic tragedy. Maybe you're just an asshole."
Watch OXX's "The Coast" video RIGHT HERE.
The Primordial Blues will be released August 18th with limited runs of 100 CDs and 50 cassettes and all digital services. Find preorder options and more at Nefarious Industries HERE.
Watch for additional audio and video previews from the album to post over the weeks ahead.
Born out of the Danish punk/metal scene, OXX has since grown into a feral beast of its own by weaving elements of avant/free music, afrobeat, and film scoring into its compositions. The band's raw and spontaneous blend of chaotic hardcore, sludge, and crust acts as an extension of the lyrics; an unfiltered, feverish stream of thought – bits and pieces of novels, obscure cinema, video games, and more, rushing by in a maelstrom of impressions of existence filtered through the eyes of the woefully unstable.
Citing influences that range from the literary devices of Jorge Luis Borges and Vladimir Nabokov to the works of avant-garde composer Marc Ducret and Brownsville rappers Ka and Sean Price, Bossen explores the ramifications of severe mental illness and the way it permeates our perception of every phenomenon around us, elaborating, "As your tools of perception become irrevocably twisted, your surroundings twist with them. Your home and your hometown become reflections and reminders of your own insanity." Translating this bedlam into musical arrangements, each composition on The Primordial Blues interprets a shared set of riffs and motifs scattered across the album, building off one another to outline a labyrinthine structure constantly referencing yet never resembling itself.
The Primordial Blues Track Listing:
1. The Coast
2. The Song Of The Rivers
3. The Fishing Village
4. The Lake And Everything Around It
5. The Haruspex
6. The Flagellant
7. The Hypostasis
8. The Primordial Blues
OXX:
Alex Bossen – vocals, guitars, synthesizers, piano, samples, string arrangements
Martin Aagaard Jensen – drums, samples
Anders Frodo S. Mikkelsen – bass
http://oxxmusic.com
https://twitter.com/oxxmusic
https://www.facebook.com/oxxmusic
https://oxxmusic.bandcamp.com
https://nefariousindustries.com
https://nefariousindustries.bandcamp.com
https://facebook.com/nefariousIndustries
https://instagram.com/nefarious_industries
https://twitter.com/nefariousInd