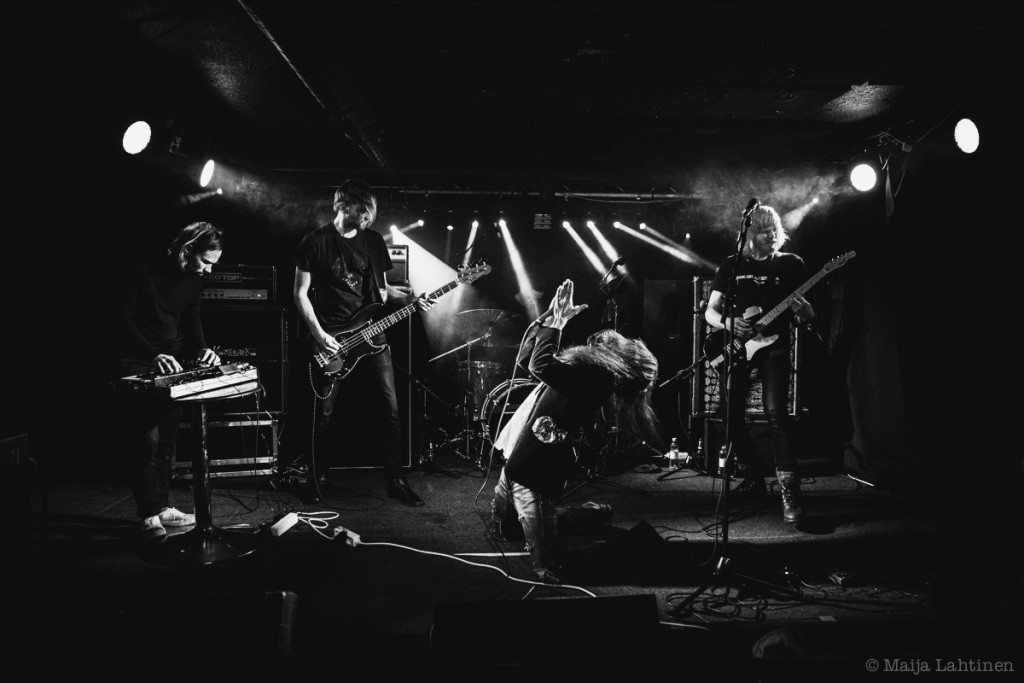 No Echo has unveiled the crushing "Restarting" by Finnish noise rock/hardcore raging unit OVERDOSE SUPPORT, the new single pulled from their incoming debut album, Try Dying, nearing release in September through Kaos Kontrol.
OVERDOSE SUPPORT was forged by a crew of musicians who also share their time in Dark Buddha Rising, Sokea Piste, Baxter Stockman, Katakombi, and other acts. Within this belligerent sect, the members coalesce their energy into a hammering blend of noise rock obsessed with the ills of society and the self. No stone will be left unturned to discover the seediest filth and imaginative form of self-abuse out there, all the while maintaining a steady rock'n'roll groove only disturbed by razor sharp electronics.
With their debut of the "Restarting" single, No Echo posts an interview with the band, introducing the band with, "OVERDOSE SUPPORT cite such musical influences as Drive Like Jehu, Cows, and The Jesus Lizard, and that's enough to grab this writer's attention. One spin of the Finnish noise crew's forthcoming debut album, Try Dying, and it's clear that they weren't bullshitting about their sound comparisons. Yes, OVERDOSE SUPPORT have that AmRep thing going on, but there's something more at work here that sets the band into their own sonic bracket."
Offers OVERDOSE SUPPORT's Charlotta of the song, "It's about a relationship between Armin Meiwes and Bernd Brandes. Meaning that it's about my childhood."
Stream OVERDOSE SUPPORT's "Restarting" at No Echo RIGHT HERE.
Turku, Finland-based label Kaos Kontrol will release Try Dying on September 15th through all digital platforms and LP in a run of 350 copies on black vinyl with a full-color sleeve and digital download coupon; find preorders at THIS LOCATION.
Following two prior cassette EPs — Drink & Drive (2014) and Babylon Healthcare System (2015) — OVERDOSE SUPPORT's Try Dying LP comes raging forth, delivering eight new tracks in a twenty-six-minute melee. The prolific sounds of acts like the Dead Kennedys, Drive Like Jehu, and classic AmRep tones cultivated by early Unsane, Cows, and The Jesus Lizard, and others crash with the crossover/punk experimentation of acts like Child Bite, Arabrot, and Okkultokrati. Try Dying was recorded in February-March 2017 by Markus Leminen and mastered by Saku Tamminen, then completed with bizarre artwork by Heikki Hautala.
https://www.facebook.com/overdosesupport
https://overdosesupport.bandcamp.com
http://www.kaos-kontrol.org
http://www.facebook.com/kaoskontrolfinland
http://kaoskontrol.bandcamp.com