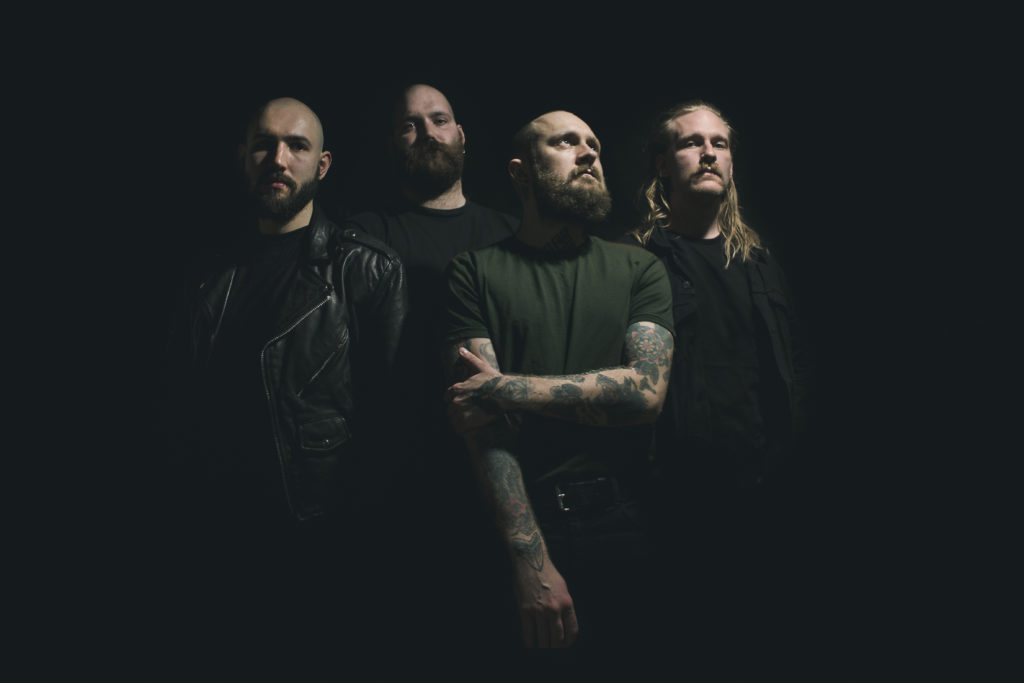 [photo by Naya Buch]
This past August, the Danish black metal ensemble ORM released its second album, Ir, to an overwhelming international reception. With Ir, ORM has created a metallic masterpiece, which simultaneously taps into the black metal tradition and reaches beyond it with its narrative of the universal human condition and captivating, non-compromising musicality. Live, ORM is an unstoppable force of nature with an unheard sonic and visual strength delivering an experience exceeding the usual, which exalted audiences have witnessed at the band's recent release shows.
Now, ORM announces an extensive Danish tour for the spring 2020, including appearances at local festivals Royal Metal Fest in Aarhus and Viborg Metal Festival. The tour also includes the band's first dates on Norwegian soil, where the quartet will perform at By:Larm Festival in Oslo in February and additionally a club show in the same city in April. Besides the forthcoming spring tour, ORM has also recently been confirmed for Denmark's biggest metal festival, Copenhell 2020. Tickets for the tour can be purchased HERE.
ORM's Ir is available on vinyl, cassette, and digital formats through Indisciplinarian, the LP pressed in runs of 400 copies on black vinyl and 100 on white, both with a beautiful gatefold with a booklet, and the cassette in 150 white copies in a slipcase. Place orders at the Indisciplinarian webshop HERE and Bandcamp HERE.
ORM Live Spring 2020:
2/27-29/2020 By:Larm – Oslo, NO
3/06/2020 Viborg Metal Festival – Viborg, DK
3/13/2020 Templet – Lyngby, DK
3/14/2020 Studenterhuset – Aalborg, DK
3/20/2020 Bygningen – Vejle, DK
3/21/2020 Von Hatten – Randers, DK
3/27/2020 Godset – Kolding, DK
3/28/2020 Kansas City – Odense, DK
4/04/2020 Badeanstalten – Slagelse, DK
4/08/2020 Vaterland – Oslo, NO
4/17/2020 Gimle – Roskilde, DK
4/18/2020 Royal Metal Fest – Aarhus, DK
4/24/2020 Sønderborghus – Soenderborg, DK
4/25/2020 Richter – Gladsaxe, DK
ORM formed in 2015, played its third show ever on Roskilde Festival in 2016, and in 2017 the band released its first and eponymous album through Indisciplinarian. Orm arose with its mythical tales of man and nature accompanied by a grandiose, melodic, yet raw and direct black metal which in an idiosyncratic manner unites music and narrative into an embodied and present whole. Following the release, ORM played a string of national shows, among those a successful winter tour with Solbrud in 2017 which ended in a sold-out concert hall at the National Danish Broadcasting Company, before the banded concluded its album cycle with a triumphant performance at Copenhell 2018. After Copenhell, the band immersed itself in writing and recording new material.
The next chapter of ORM's history is Ir, released in August 2019 via Indisciplinarian. The album consists of the two compositions "Klippens Lyse Hal" ("The Light Hall Of The Cliff") and "Bær Solen Ud" ("Carry Out The Sun"), the album produced by the band's guitarist Simon Sonne Andersen, and the band likewise designed the record's visual aspects themselves. On Ir, the contrasts are bigger, the complex is more complex, the simple simpler and the melodies are poignant and contagious. The form is elongated, dynamic and adventurous, and the musical ambition and performance bears witness to an ensemble void of compromise and led solely by its own flame – wherever it may lead to. The album's narration revolves around the impermanence of all things and is a personal reflection on how this aspect is contained within the human drama, religion and nature.
http://www.facebook.com/ormband
http://www.ormband.bandcamp.com
http://www.instagram.com/ormmusic
http://www.indisciplinarian.com
http://www.facebook.com/indisciplinarian