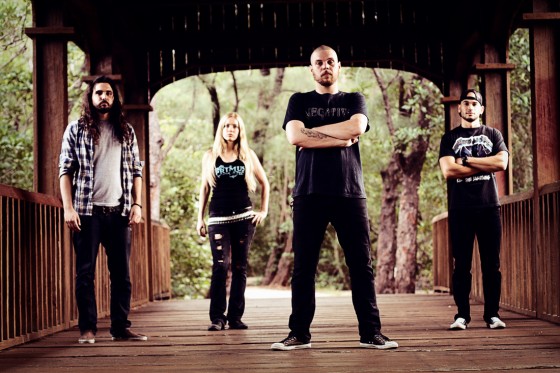 Floridian psychedelic noise weavers, ORBWEAVER, recently dropped their brain-fraying Strange Transmissions from the Neuralnomicon EP upon unsuspecting masses. Christened "twitchy, trippy tech death" by Invisible Oranges, the five-track Strange Transmissions from the Neuralnomicon is a harrowing, multifaceted sound voyage through modulating realities recorded at Miami's Pinecrust Studios with Jonathan Nunez of Torche and mixed/mastered with Brian Elliot at Mana Recording Studios (Hate Eternal, Cannibal Corpse, Goatwhore, Exhumed).
ORBWEAVER spiral's through the realms of psychedelia, noise, and a warped interpretation of death metal. Shifting between these erratic, trance-like elements, the foursome produce cosmic pandemonium reminiscent of a Zappa-esque brand of controlled chaos. Strange Transmissions from the Neuralnomicon was released earlier this month in a limited run of 100 cassette tapes via Primitive Violence Records HERE and on CD direct through the band. The record is also available digitally via their official BandCamp page where you can twist your cranium to Strange Transmissions from the Neuralnomicon in full. Point your browser HERE.
ORBWEAVER was forged in 2010 by guitarist/vocalist Randy Piro (ex-Hate Eternal, Gigan) and drummer Mike Pena. Together they recorded a self-titled, three-song demo. Shortly after, lead guitarist Sally Gates (ex-Gigan) and bassist Jason Ledgard joined the fold. Mike Pena parted ways with the group in 2013, and was replaced by drummer/percussionist Scott Spasiano.
The band will continue their stampede through the Sunshine State with another round of live takeovers. Additional shows to be announced in the coming weeks. Can't make it to Florida? Peep the band's new tripped out video for "Tragic Orbit: A Doomed Cosmic Star Ship" below.
ORBWEAVER Live Actions 2013:
9/03/2013 Churchill's Pub – Miami, FL w/ Wintersun, Fleshgod Apocalypse, Arsis
9/14/2013 Will's Pub – Orlando, FL
10/11/2013 Churchill's Pub – Miami, FL w/ Kult ov Azazel
11/07/2013 Churchill's Pub – Miami, FL w/ Dysrhythmia
"…off-the-wall structureless noise tech that borders on the type of irreverence built by instrumental group Behold The Arctopus with insane space atmospherics." – HeavyBlogIsHeavy
"Their uniqueness is engaging, but the fortitude of it is what really grasps you. With how immense and bizarre their spacey effects are, you will find yourself dumbfounded by the intensity of it. " – The Age Of Metal
"…deranged, psychedelic death metal hurdling through space at speeds that make The Millennium Falcon look like your little sister's moped." — Orlandooom.com
"…a dissonant, warped interpretation of technical death metal, spliced with sheer blasts of chaotic noise and a mangled black-metal influence that claws its way to the surface halfway through…" — Saltyeggs.com
http://www.orbweaverband.com
http://www.facebook.com/Orbweaver.Official
http://www.orbweaver-official.bandcamp.com