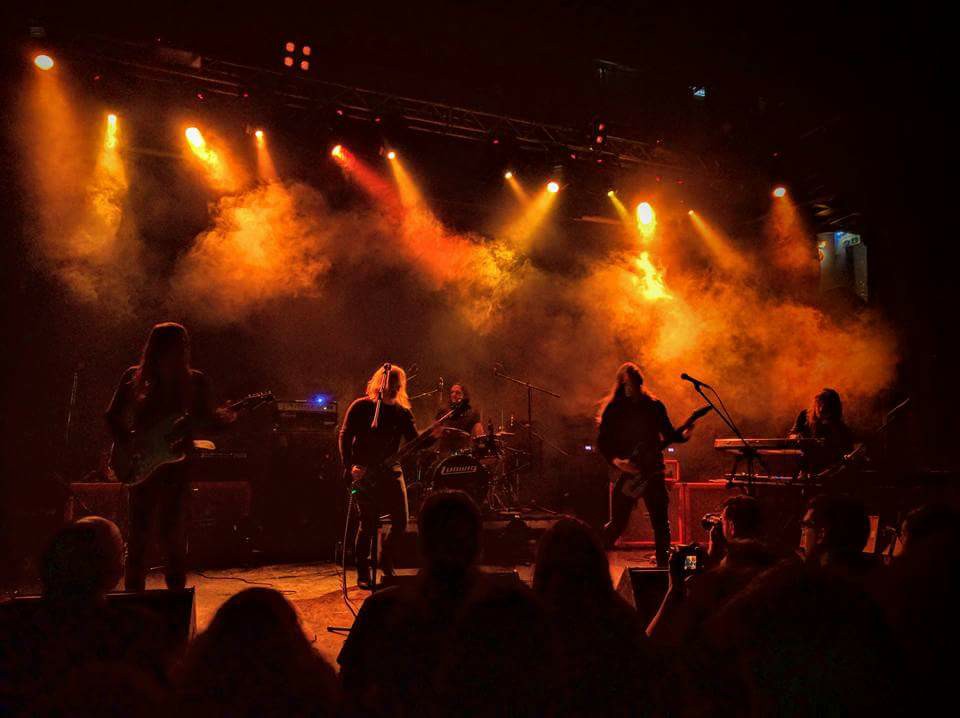 [photo by Dimitris Nikolis]
20 Buck Spin today issues three back-catalog titles from Finnish cosmic black metal alchemists ORANSSI PAZUZU, releasing the band's Muukalainen Puhuu LP/CD, Farmakologinen MLP, and Kosmonument 2xLP on US soil for the first time. The reissues see release as ORANSSI PAZUZU is currently out on the extensive Mental Possession MMXVIII European tour, which includes the band's maiden voyage to the US for a one-off performance at Maryland Deathfest.
ORANSSI PAZUZU's Kosmonument, Farmakologinen, and Muukalainen Puhuu are all available at THIS LOCATION.
Since 2013, Finland's ORANSSI PAZUZU has released two critically lauded full-length albums via 20 Buck Spin in North America, 2013's Valonielu and 2016's Värähtelijä. Both albums showed the boundless enormity and remarkable uniqueness that ORANSSI PAZUZU alone create. Are they a psych influenced black metal band or a black metal influenced psych band? No one knows for sure and it doesn't matter anyway. No other band can bend these genres into such an extraordinarily cohesive whole. For most in North America the ORANSSI PAZUZU black hole only came into focus with the latest two albums. However, the band had previously recorded and released two full-length albums and a split LP. With their growing reputation, the band's early releases have become increasingly high in demand. 20 Buck Spin now presents the band's back catalog on various formats domestically for the first time.
Muukalainen Puhuu is where the ORANSSI PAZUZU story begins. The 2009 debut album already reveals a band with a firm conceptual and musical mission. For most bands this album would be a seasoned, mature display of musical prowess only reached well into their life as a band, and yet for ORANSSI PAZUZU it's merely the first foray into the limitless expanse that they would come to command. Muukalainen Puhuu will now be made available domestically for the first time on CD, gatefold LP, and digital formats.
The Farmakologinen MLP contains ORANSSI PAZUZU's songs from a split album they did with Candy Cane in 2010 between the time of their first and second full-lengths. Four tracks and nearly twenty-seven minutes in length, even on a split album the band showcased their growing immensity and burning cold bleakness, now released as a standalone ORANSSI PAZUZU release with all new artwork on 12″ vinyl and digital formats.
The Kosmonument 2xLP from 2012 was another huge leap forward for ORANSSI PAZUZU, both musically and in terms of exposure. The band signed to UMG owned Spinefarm Records which the album still calls home today, however the vinyl edition, a sprawling triple gatefold double album with some of the most incredible artwork in the band's history, was only released in a small quantity in Europe with very few copies arriving in North America. Kosmonument will now see its first domestic vinyl release in the same deluxe format.
On the tour, the band is selling a new EP, in addition to the back-catalog reissues. The EP bears two unreleased tracks, "Kevät" and "Värimyrsky," and is pressed on 10″ vinyl. While the Kevät/Värimyrsky EP will be sold only at the band's shows during their 2017 tour cycle, the band decided to also share the new and previously unreleased tracks digitally with the world for those unable to attend one of their mind bending live performances.
ORANSSI PAZUZU Mental Possession MMXVIII Tour Dates:
5/05/2017 Bloom – Mezzago, IT w/ Cobalt, Wolves In The Throne Room
5/06/2017 Tempel at Neudegg Alm – Salzburg, AU w/ Cobalt
5/07/2017 Feierwerk – Munich, DE w/ Cobalt
5/08/2017 Vortex Surfer Club – Siegen, DE w/ Cobalt
5/09/2017 Karlstorbahnhof – Heidelberg, DE w/ Cobalt
5/11/2017 Futurum Music Bar – Prague, CZ w/ Cobalt
5/12/2017 Kwadrat Club – Cracow, PL w/ Cobalt, Entropia
5/13/2017 B90 – Gdansk, PL w/ Cobalt, Entropia
5/14/2017 U Bazyla – Poznan, PL w/ Cobalt, Entropia
5/25-28/2017 Maryland Deathfest – Baltimore, MD
6/29/20147 Provinssi – Seinäjoki, FI
7/01/2017 Roskilde Festival – Copenhagen, DK
7/02/2017 Tuska Festival – Helsinki, FI
7/16/2017 Ilosaarirock – Joensuu, FI
8/11/2017 Flow Festival – Helsinki, FI
8/19/2017 Midgardsblot Metal Festival – Borre, NO
http://www.oranssipazuzu.com
http://www.facebook.com/pages/Oranssi-pazuzu/58437793552
http://www.20buckspin.com
http://www.facebook.com/20buckspin
http://www.twitter.com/20buckspinlabel