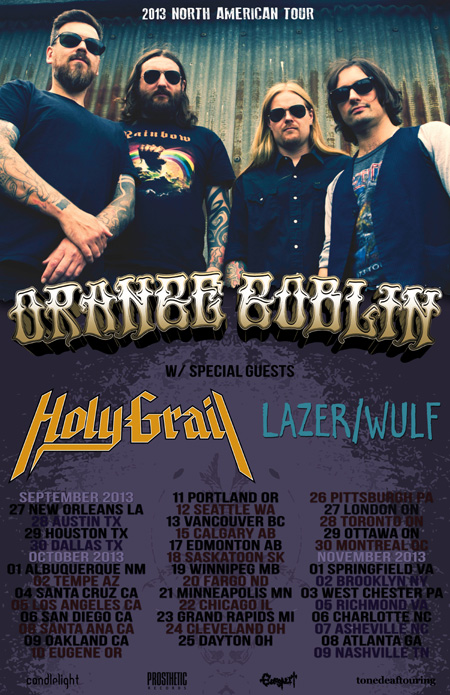 Britain's premier stoner metal band ORANGE GOBLIN will return to perform at venues throughout North America this Autumn. Following the band's huge success earlier this year as main support for Clutch on their Earth Rocker North American tour, the Brits return for a full headlining run. Kicking off in New Orleans on September 27, the band will visit 38 cities around the United States and Canada before concluding in Nashville on November 9. Support on the tour will come from Holy Grail and Lazer/Wulf.
The trek finds ORANGE GOBLIN continuing a year-long commitment to performances in support of their latest studio album, A Eulogy For the Damned (2012), and first live CD/DVD released earlier this year. This rigorous schedule has seen them perform in over 25 countries across the globe, ensuring that the band is firing on all cylinders and maintaining their reputation as one of the fiercest and most exciting live acts on the planet! In fact, Clutch's own Neil Fallon was recently seen on That Metal Show wearing an ORANGE GOBLIN shirt and proclaiming them to be one his favorite bands!
Released March 12, A Eulogy For The Fans/Orange Goblin Live 2012 includes ORANGE GOBLIN's complete performances from England 's Bloodstock Open Air and France's Hellfest. The package's DVD includes the official Tom Cronin directed videos for "Red Tide Rising" and "Acid Trial," the latter courtesy of Scion A/V. It further includes the Matt Chance directed "Red Tide Rising" documentary and Gaetan Chataigner directed "Highway to Hellfest" documentary. Art and design was provided by Jimbob Isaac under the direction of vocalist Ben Ward. The live album follows the release of A Eulogy For The Damned, now ORANGE GOBLIN's highest selling album in North America. Produced by Jamie Dodd and mastered by two-time Grammy-nominated engineer Andy Jackson (Pink Floyd), the album entered the UK charts at position 96 and for the US landed on Billboard Magazine's Heat Seekers chart at position 38.Tickets for the tour are set to go on sale via all appropriate ticket agencies and venue box offices next week. Confirmed dates are below.
ORANGE GOBLIN w/ Holy Grail, Lazer/Wulf:
9/27/2013 One Eyed Jacks – New Orleans, LA
9/28/2013 Red 7 – Austin, TX
9/29/2013 Fitzgerald's – Houston, TX
9/30/2013 Club Dada – Dallas, TX
10/01/2013 Sister Bar – Albuquerque, NM
10/02/2013 Yucca Tap Room – Tempe, AZ
10/04/2013 The Catalyst – Santa Cruz, CA
10/05/2013 The Satellite – Los Angeles, CA
10/06/2013 Soda Bar – San Diego, CA
10/08/2013 The Observatory – Santa Ana, CA
10/09/2013 Oakland Opera House – Oakland, CA
10/10/2013 Oak Street Speakeasy – Eugene, OR
10/11/2013 Fall Into Darkness Festival – Portland, OR
10/12/2013 The Highline – Seattle, WA
10/13/2013 Rickshaw Theater – Vancouver, BC
10/15/2013 The Palomino – Calgary, AB
10/17/2013 The Pawn Shop – Edmonton, AB
10/18/2013 Amigos – Saskatoon, SK
10/19/2013 Windsor Hotel – Winnipeg, MB
10/20/2013 The Aquarium – Fargo, ND
10/21/2013 Triple Rock – Minneapolis, MN
10/22/2013 Reggie's – Chicago, IL
10/23/2013 Pyramid Scheme – Grand Rapids, MI
10/24/2013 Now That's Class – Cleveland, OH
10/25/2013 Rockstar Arena – Dayton, OH
10/26/2013 Rex Theater – Pittsburgh, PA
10/27/2013 London Music Hall – London, ON
10/28/2013 Toronto Opera House – Toronto, ON
10/29/2013 Mavericks – Ottawa, ON
10/30/2013 Foufounes Electriques – Montrea, QC
11/01/2013 Empire – Springfield, VA
11/02/2013 Saint Vitus – Brooklyn, NY
11/03/2013 The Note – West Chester, PA
11/05/2013 Strange Matter – Richmond, VA
11/06/2013 Tremont Music Hall – Charlotte, NC
11/07/2013 Broadway's – Asheville, NC
11/08/2013 The Earl – Atlanta, GA
11/09/2013 Exit/In – Nashville, TN
ORANGE GOBLIN is vocalist Ben Ward, guitarist Joe Hoare, bassist Martyn Millard, and drummer Chris Turner. The band is endorsed by Fender Guitars, Marshall Amps, Meinl Cymbals, Vater Sticks, Lace Pick Ups, Orange Amps, Natal Drums, Rotosound, and Jagermeister.
http://www.orange-goblin.com
http://www.facebook.com/orangegoblinofficial
http://www.myspace.com/theorangegoblin
http://www.youtube.com/orangegoblinofficial
http://candlelightrecordsusa.com