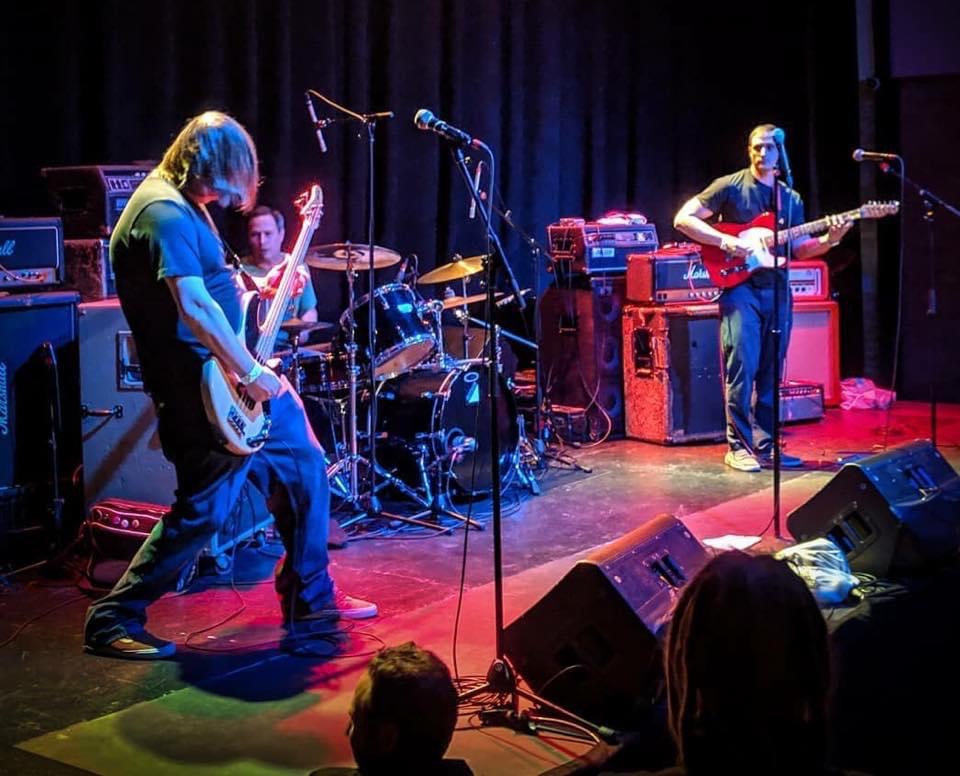 New Noise Magazine is hosting the stream of "Viking Glass" by Chicago-based instrumental trio OR. The track premiere precedes the band's debut album, Pariah, nearing early April release through Dog & Pony Records.
OR is formed by guitarist Frank Hryniewicz (Sidekick Kato, Damp Hay), drummer Matt Precin (American Draft, Sacha Mullin), and bassist Erik Bocek (Ghosts & Vodka, American Heritage, Joan of Arc). While this is OR's recorded debut, the album is hardly a haphazardly assembled collection of songs. Written over the course of the last five years, the album's eight tracks possess a focus and clarity that can only come with patience, time and allowing songs to develop as naturally as possible.
Pariah was recorded at Blacktop Recording by Andy Nelson over the course of a few days, then mastered by Brad Boatright at Audiosiege.
With the "Viking Glass" single, Erik Bocek offers, "This song answers the question no one asked, what if Steve Harris grew up listening to Don Caballero? Named after Amy's extensive vintage glass collection and metaphorically compatible to something that sounds tough but isn't. 'Viking Glass' offers possibly the most commercial arrangement on the album. A sellout track for ear candy enthusiasts with verses, choruses, solos, and crescendos designed to please. Or to mosh to."
Listen to OR's "Viking Glass" first through New Noise Magazine RIGHT HERE.
Pariah will see release digitally and on vinyl through Dog & Pony Records on April 8th. Find preorders at Bandcamp HERE and watch the band's quarantine-filmed "Many Robes" video at THIS LOCATION.
Featuring veterans of Chicago indie underground acts like Ghosts And Vodka, Sidekick Kato, and American Draft, OR could have easily existed alongside any of those acts as much as today, though the band is hardly a rehash of previous offerings. The trio plays a unique shade of instrumental guitar rock that isn't easily pigeonholed. The influences vary-from The Animals to Sonic Youth to Mark Guiliana, and while those may not be obvious touchstones to the listener, OR takes those disparate influences and fuses them into something very Midwest. Equal parts melodic, dissonant, technical, and structured, Pariah offers densely structured compositions in bite-sized offerings, with all but one of its tracks exceeding the five-minute mark.
The tracks on Pariah are all delivered with a forceful and panoramic production, which gives the songs an animated energy. From the driving rock of "Viking Glass" to the angular and soaring "Witness Marks to the dirge of the sub-eight minute closer "All of My Children," OR covers a considerable amount of ground on their debut. Whether you're a fan of their previous acts, are in search of timeless Midwestern instrumental guitar rock or some combination of the two, Pariah offers eight incredibly listenable and masterfully crafted tracks that loosely echo the past, in the present, while looking towards the future.
https://ortheband.com
https://facebook.com/ornithologymusic
https://instagram.com/or_the_band
https://www.dogandponyrecords.com
https://dogandponyrecords.bandcamp.com
https://www.facebook.com/dogandponyrecords
https://www.instagram.com/dogandponyrecords