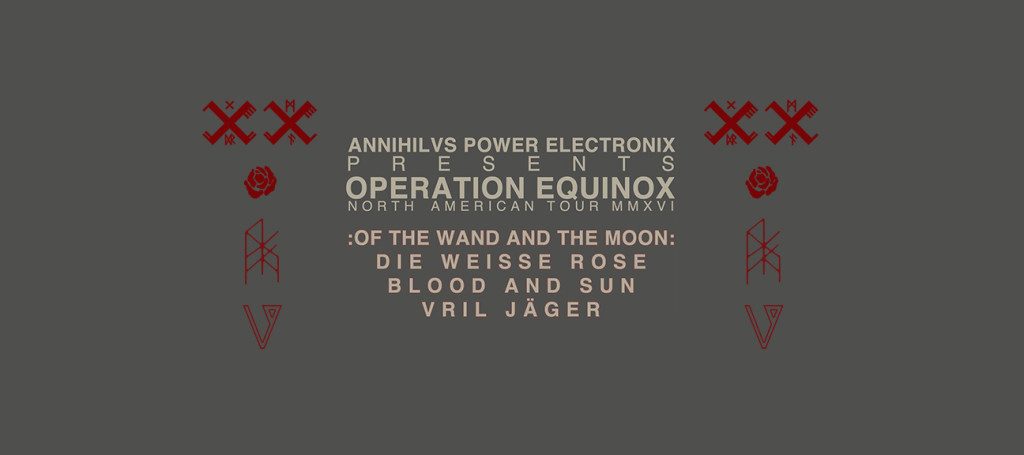 As the 2016 Spring season commences, Annihilvs Power Electronix will launch a new American mini-tour, dubbed OPERATION EQUINOX 2016. On this special series of live dates, the DIY label will bring Danish neofolk acts Of The Wand And The Moon and Die Weisse Rose stateside, and align them with support from American project Blood And Sun. Additionally, the tour will include performances by Vril Jäger, a collaboration between the two Danish projects.
Sponsored by Heathen Harvest, and Earsplit PR, OPERATION EQUINOX 2016 will run from March 23rd through April 3rd, announcing shows confirmed along the Northeast Coast and into the Midwest, including both Manhattan and Brooklyn in New York City, New York, Pawtucket, Philadelphia, Baltimore, Chicago and Madison. On select dates, the touring acts will join forces to play one another's songs in a single set.
Additionally, the Williamsburg, Brooklyn event will take place on Easter Sunday as SORT PÃ…SKE FESTIVAL, which will feature all four touring acts in addition to sets by Destroying Angel and Scout Paré-Phillips, DJ sets by Tesco Jane and Derek Rush, and much more. Special advance tickets for this show include a limited, silkscreened poster by Jorden Haley.
Advance tickets for several of the events are now available; the others will be posted in the coming days. Additional updates on the tour through Earsplit PR, pre-fest interviews and coverage courtesy of Heathen Harvest, and more will be made available in the coming weeks.
OPERATION EQUINOX 2016 w/ Of The Wand And The Moon, Die Weisse Rose, Vril Jäger, Blood And Sun
3/23/2016 Nothing Changes – New York, NY *combined performance
3/25/2016 Machines With Magnets – Pawtucket, RI [tickets]
3/27/2016 Black Bear Bar – Brooklyn, NY @ SORT PÃ…SKE FESTIVAL [limited tickets / standard tickets]
3/30/2016 The Convent – Philadelphia, PA *combined performance [tickets]
3/31/2016 The Depot – Baltimore, MD
4/02/2016 The Burlington Bar – Chicago, IL [tickets]
4/03/2016 Gates Of Heaven Synagogue – Madison, WI [tickets]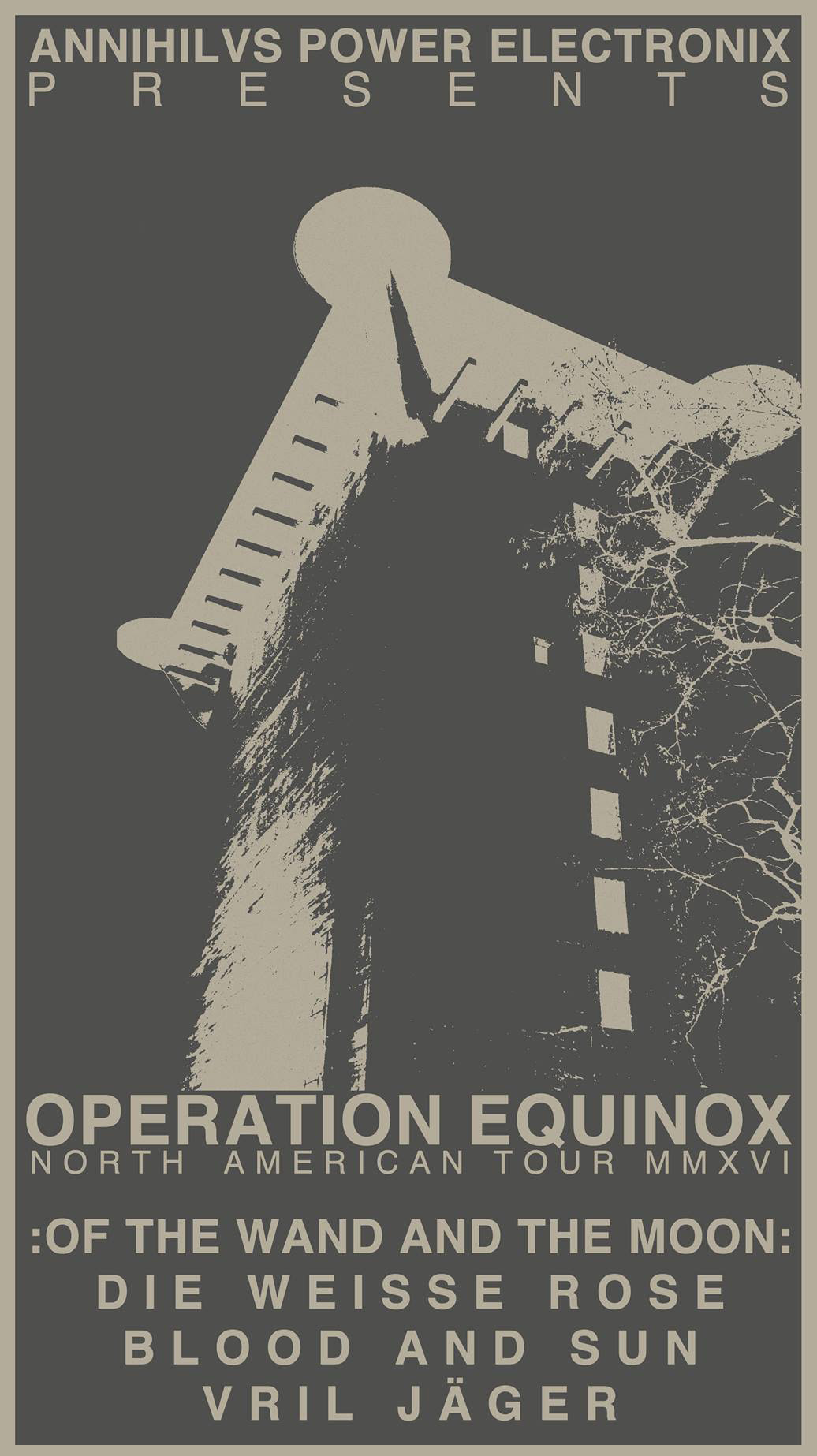 http://www.annihilvs.net
http://www.facebook.com/Annihilvs
http://www.annihilvspowerelectronix.bandcamp.com
https://www.earsplitcompound.com
http://www.heathenharvest.org