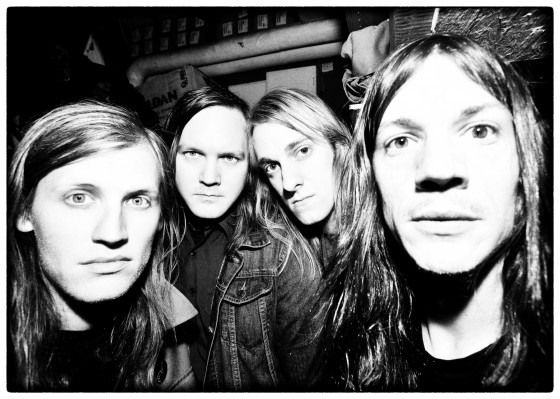 Oslo-based OKKULTOKRATI today pummel the public with another auditory raping from their pending second LP, Snakereigns, nearing North American release on October 30th via hometown label Fysisk Format. The grimy tunes the Black Hole bastards so expertly execute is today displayed through Snakereigns' closing track "Nothing Awaits." The next-to-shortest track on the album, this anthem is a prime demonstration of OKKULTOKRATI's demoralizing implementation.
Invisible Oranges have posted a short interrogation with the band and are currently hosting a stream of the "Nothing Awaits" AT THIS LOCATION.
BrooklynVegan previously posted the album's opening aggressor "No Ouroboros," RIGHT HERE.
Building their anthems on straightforward punk beats with the filth of unholy black n' roll running through their veins, OKKULTOKRATI proudly let their influences from the masters of the genre bleed through, yet their spine-crushing anthems speak for themselves with unique guitar atmospheres and a mix of high/low-end riffage busting through the thunderous percussion and gnarled vocals. As part of the infamous Black Hole Crew scene, their local nihilistic brethren in Obliteration, Haust, Dark Times and a handful of other local henchmen remain their only comrades, purposely.
"Slithering, metallic black rock and roll with moments of crushing doom is the central theme on Snakereigns…" – BrooklynVegan
"This isn't a record review as much as it is a WARNING: Okkultokrati scorch the earth and scatter the ashes with Snakereigns. Music for riots!" – The Bone Reader
http://okkultokrati.blogspot.com
http://www.facebook.com/okkultokrati
http://www.fysiskformat.no
http://www.facebook.com/fysiskformat