[photo by Remy Eik]
In support of their upcoming fourth full-length, Norwegian mavericks OKKULTOKRATI shall be touring Europe this Autumn. The first dates to be announced are support shows with Trap Them on their Crown Feral Europe 2016 tour. Dates below, with more to be added soon.
OKKULTOKRATI w/ Trap Them, Venom Prison:
10/14/2016 Underground – Köln, DE
10/15/2016 Bloodshed Fest – Eindhoven, NL
10/16/2016 Kavka – Antwerp, BE
10/17/2016 Boston Music Room – London, UK
10/18/2016 Corporation – Sheffield, UK
10/19/2016 Rainbow Courtyard – Birmingham, UK
10/20/2016 Gibus – Paris, FR
10/21/2016 Kings Club – Zürich, CH
10/22/2016 Stadtmitte – Karlsruhe, DE
10/23/2016 Cassiopeia – Berlin, DE
10/24/2016 Hafenklang – Hamburg, DE
10/25/2016 Cyklopen – Stockholm, SE
10/26/2016 Bla – Oslo, NO
OKKULTOKRATI is preparing to reveal the full details of their upcoming full-length, their first for Southern Lord, in the next couple of weeks. The album was recorded at Malabar Studios, in Oslo with engineer Emil Nikolaisen of Serena-Maneesh, who also recorded their Snakereigns LP. The band recorded around the clock, capturing the tracks as they would on stage, void of click tracks or tutoring tactics. New member, Feffe Severin joins the lineup on synth, as they add new elements of otherworldliness to their already diverse sound. Severin becomes the fifth member of Okkultokrati, joining vocalist Henning, guitarist Erik Svarte, bassist Boris, and drummer Lars.
Southern Lord owner Greg Anderson said of the album, "Fucked up in all the right places! Super original and I can say that I've definitely never heard anything like this! Visions of Bauhaus and Dark Throne listening to Joy Division albums by torchlight in the dark forests of Oslo."
Stand by for additional album details to be shared very soon.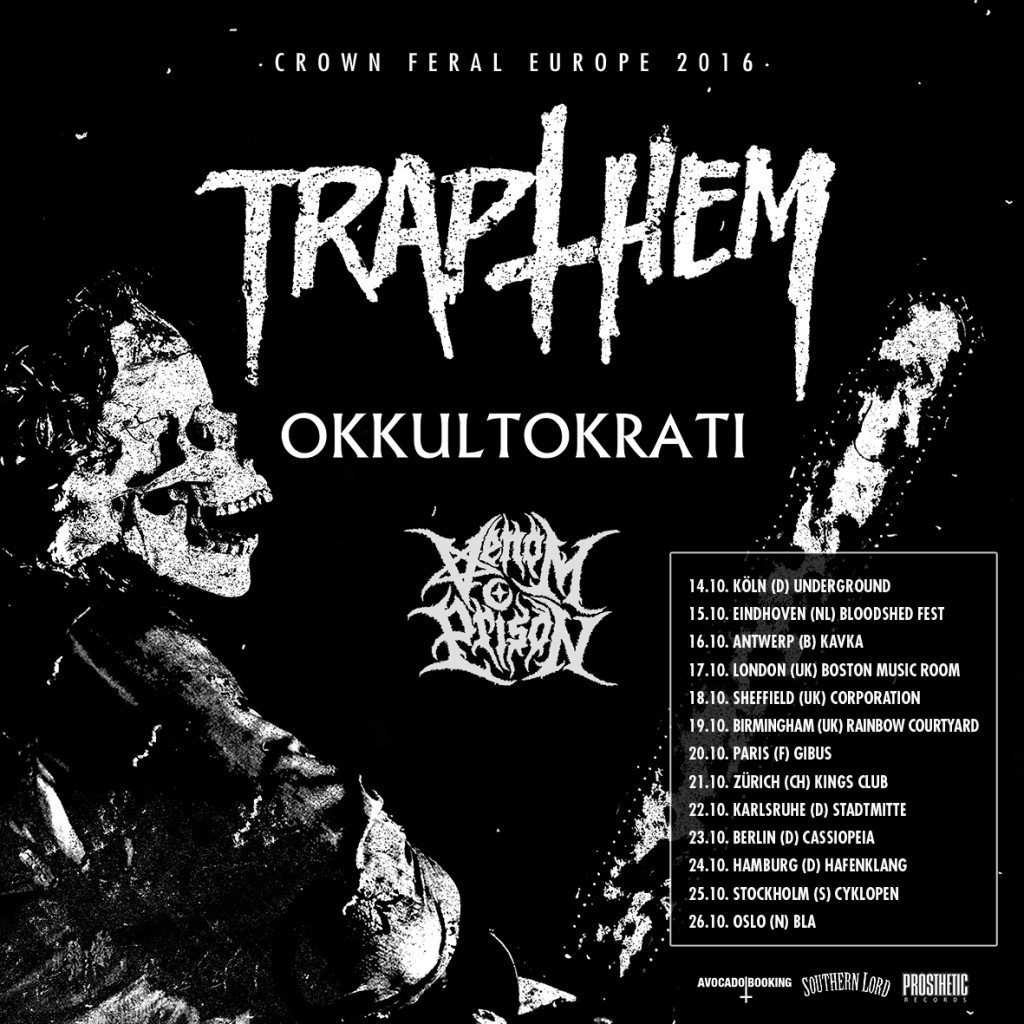 http://www.facebook.com/okkultokrati
http://www.okkultokrati.bandcamp.com
http://www.okkultokrati.blogspot.com
http://www.southernlord.com
http://www.southernlord.bandcamp.com
http://www.facebook.com/SLadmin
http://www.twitter.com/twatterlord