No Clean Singing has unveiled the newest single from Polish death metal quartet, OGOTAY, and their incoming second album, Dead God's Prophet — out next week through new label home, Selfmadegod Records — through a premiere of the pummeling track, "Entering the Void."
OGOTAY is a new, promising group of musicians associated with the Polish Tri-City music scene, which delivers brutal and technical, old fashioned death metal in the vein of Morbid Angel, Immolation and the like, the band comprised of bassist/vocalist Marcin ÅšwierczyÅ"ski (Yattering), drummer Szymon Andryszczak (Pandemonium), and guitarists Artur Piotrowski (Mess Age) and Andrzej Peszel (Fulcrum). The follow-up to 2012's Eve of The Last Day full-length and 2013-released "Bastards And Orphans" single was recorded at G Studio in 2014, and brings forth a ravenously intense side of the band.
The fourth of Dead God's Prophet's eight anthems storms in with an absolutely devastating opening stomp, a prime standout on OGOTAY's new record. In their premiere of "Entering the Void," No Clean Singing wholeheartedly agrees, issuing with the track, "that opening riff is a goddamn skull-crusher! But that's not all. It alternates with some grisly, whirring-drill-bit riffs that sound convincingly morbid, plus the song includes some very nice, gut-punching drumwork; deep, monstrous growls and hair-raising howls; and quick bursts of accelerated violence. But seriously – that opening riff. So powerfully spine-shaking, so infectious. Every time it comes back, it got my head moving. And I bet it will stir up a mean pit when performed live." The write-up continues, raging about Dead God's Prophet as a whole, "OGOTAY have churned out a heavy slab of predatory, bone-rattling death metal with enormous grooves and a pestilential atmosphere. Definitely worth your time."
Trample your adversaries to the stomping aggression of OGOTAY's "Entering The Void" at no Clean Singing RIGHT HERE.
The album's title track "Dead God's Prophet" is also streaming at Selfmadegod Records' Soundcloud page HERE and via YouTube HERE.
Dead God's Prophet is set for August 1st, 2015 release via Selfmadegod Records on CD and digital formats.
In support of the record's release, OGOTAY is booking shows across their native Poland, including several one-off dates and festival performances over the coming weeks. Additional tour dates will be announced in the weeks ahead.
OGOTAY Live:
7/25/2015 Pewelforeverfestiwal III Edycja – Pewel MaÅ'a, PL [info]
8/22/2015 Zamek w Åšwieciu – Swiecie, PL @ XIII Festiwal Mocnych BrzmieÅ" [info]
8/30/2015 Faktoria Pruszcz GdaÅ"ski – Pruszcz Gdanski, PL @ Cytava Festival VI [info]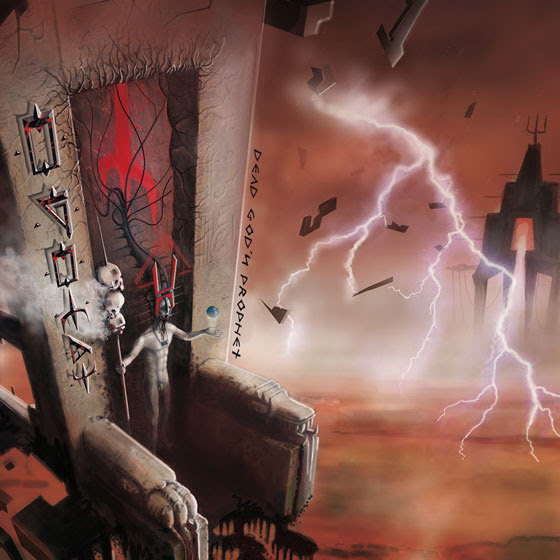 http://www.facebook.com/ogotay666
http://www.selfmadegod.com
http://www.youtube.com/user/SelfmadegodRecords
http://www.facebook.com/selfmadegod