[photo by Pale With Decay]
Bestial Hymns Of Perversion, the suffocating debut album from Denver death metal trio OF FEATHER AND BONE, is now streaming in its entirety at Noisey alongside an interview with the band as the LP sees release through Profound Lore Records.
Emerging from their Rocky Mountain crypts, OF FEATHER AND BONE spreads their virulent strain of enigmatic death metal on Bestial Hymns Of Perversion. Recorded at Goldberg Studios with Steve Goldberg (Cephalic Carnage) at the helm, bassist/vocalist AS and guitarist/vocalist DG herald the endtimes with a dual guttural onslaught atop an ever-flowing stream of grime-caked riffs and PW's whirlwind of blasts and d-beats. Invoking the claustrophobia of Autopsy and the visceral disgust of Incantation and Bolt Thrower, OF FEATHER AND BONE's relentless death assault serves as the soundtrack to mankind's fall. The resulting album delivers a tumultuous salvo of blasting death metal; a more than thirty-two-minute exploration of the genre's most vile tactics. Mastered by Dan Lowndes at Resonance Sound, and featuring stunning cover art courtesy of Stefan Todorovic, Bestial Hymns Of Perversion's seven tracks of unrelenting death metal portend the destruction of the modern age.
Noisey's intense feature on OF FEATHER AND BONE notes, "Bestial Hymns Of Perversion marks a departure from the caustic grind that characterized their previous releases, particularly their 2015 album Embrace The Wretched Flesh. The band stripped away its frantic, d-beat-driven bursts of aggression in favor of a cavernous death assault that harkens back to Incantation, Autopsy, and early Cannibal Corpse. While cynics might question the seemingly radical stylistic shift, the band explains that finding their authentic sound was an organic process that was necessary for the group's continued existence."
Unleash Bestial Hymns Of Perversion RIGHT HERE.
Bestial Hymns Of Perversion is available on CD, LP, and digital formats through Profound Lore; place physical orders HERE and digital via Bandcamp HERE and iTunes HERE.
Following the release of Bestial Hymns Of Perversion, OF FEATHER AND BONE will support the record with a barrage of tour dates, first storming the West Coast on a headlining run from May 31st through June 8th, which sees them playing at Northwest Terror Fest in Seattle on June 1st alongside Primitive Man, Gloam, Lago, and, Mortiferum, as well as 71Grind fest in Colorado Springs on June 8th with Mizmor, Transient with Bastard Noise, Brainoil, Vermin Womb, Wayfarer, and dozens more. Following a hometown show June 13th they embark on an East Coast-bound tour with Tomb Mold which hits the Southwest for Austin Terror Fest on June 15th alongside Yob, 40 Watt Sun, Bell Witch, Pinkish Black, Sixes, and more, then rips through the Southern region and up the East Coast into Canada for two shows, before closing down the tour with a headlining show in Chicago June 27th. Additional tour dates are to be expected.
OF FEATHER AND BONE Tour Dates:
4/01/2018 La Cosa Nostra – Mexico City, MX @ Total Death Over Mexico City [info]
5/31/2018 Rose House – Nampa, ID
6/01/2018 Barboza – Seattle, WA @ Northwest Terror Fest [info]
6/02/2018 Luckeys – Eugene, OR
6/03/2018 The Blue Lamp – Sacramento, CA
6/04/2018 Golden Bull – Oakland, CA
6/05/2018 Resident – Los Angeles, CA
6/06/2018 The Rogue – Phoenix, AZ
6/08/2018 The Black Sheep – Colorado Springs, CO @ 71Grind IV [info]
6/13/2018 Hi-Dive – Denver, CO
6/14/2018 The Cave – Santa Fe, NM w/ Tomb Mold
6/15/2018 The Lost Well – Austin TX @ Austin Terror Fest [info]
6/16/2018 Stick's Place – Wichita Falls, TX w/ Tomb Mold
6/17/2018 Santo's – New Orleans, LA w/ Tomb Mold
6/18/2018 Rockhouse Live – Memphis, TN w/ Tomb Mold
6/19/2018 Basement – Atlanta, GA w/ Tomb Mold
6/20/2018 Atlas Brew Works – Washington, DC w/ Tomb Mold
6/21/2018 Kung Fu Necktie – Philadelphia, PA w/ Tomb Mold
6/22/2018 Saint Vitus Bar – Brooklyn, NY w/ Tomb Mold
6/23/2018 The Meatlocker – Montclair, NJ w/ Tomb Mold
6/24/2018 O'Brien's – Boston, MA w/ Tomb Mold
6/25/2018 Casa Del Popolo – Montreal, QC w/ Tomb Mold
6/26/2018 Coalition – Toronto, ON w/ Tomb Mold
6/27/2018 Subterranean – Chicago, IL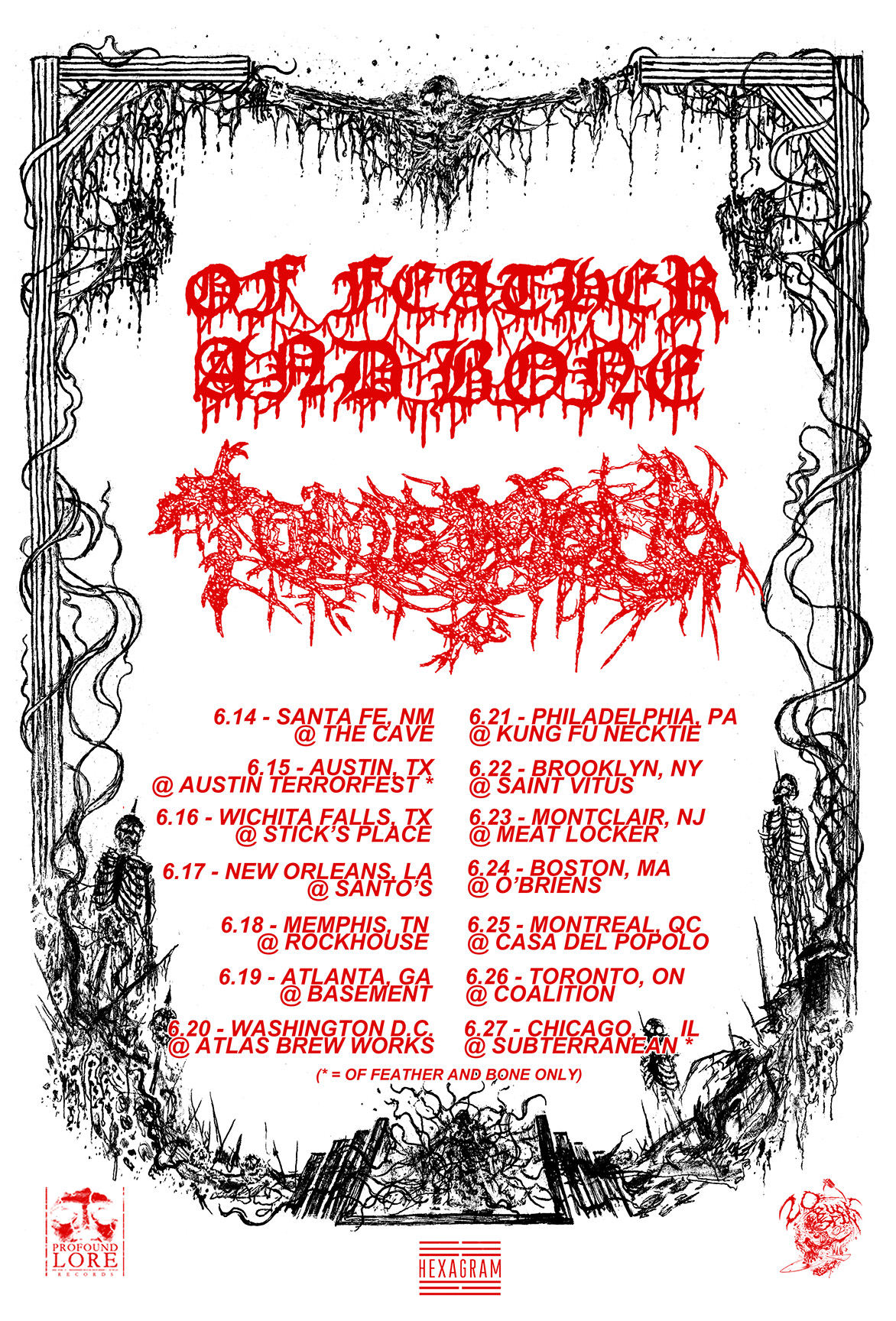 https://www.facebook.com/offeatherandbone
https://offeatherandbone666.bandcamp.com
https://twitter.com/ofab666
http://www.profoundlorerecords.com
http://www.facebook.com/profoundlorerecords
http://www.profoundlorerecords.bandcamp.com