Minnesota-based medieval metal outfit OBSEQUIAE, now just days from the official20 Buck Spin unveiling of their sophomore long-player, Aria Of Vernal Tombs, and in advance, the entire record has been posted for public audibility through Vice Magazine's Noisey music channel. "Aria Of Vernal Tombs is a grand, sweeping album, owing as much to classic Bathory and Dissection as it does to Spanish harpist Vicente La Camero Marino, whose rippling strings add pagan grace to the songs' melodic black/death core," lends the Noisey article on the sprawling LP, continuing, "This is far from Ren Faire metal; it's too serious, too refined. It channels the melodic bombast of Blut Aus Nord's Memoria Vetusta trilogy more than any hurdy-gurdy folk metal band that may spring to mind."
Open the gates to OBSEQUIAE's imaginative brew of metal with Aria Of Vernal Tombs streaming at Noisey RIGHT HERE.
Aria Of Vernal Tombs will see official release in stores this Tuesday, May 26th, the CD in a gorgeous, foil stamped package, currently shipping directly from 20 Buck Spin HERE, and the tracks available for digital preorder HERE. The 12″ vinyl edition will follow in late July upon its completion.
Early praise of Aria Of Vernal Tombs has thrived throughout the media for the entire Springtime season. Advance track premieres from the LP received notations including, "their brand of metal is a spectacular one. Symphonic, melodic, thundering, it's all in here and it's all great," from American Aftermath, "This band's music harkens back to the time of old, while still pushing their brand of metal forward," by Cvlt Nation, and from No Clean Singing, "There are all sorts of reasons why the passage of time between a band's releases can grow to the space of three and a half years. In the case of OBSEQUIAE, it is largely a result of the care devoted to the craftsmanship of the music's creation. The Middle Ages seem to have exerted their influence on the band in more ways than one, not merely providing an ancient template for Vicente La Camera Mariño's harp music." Glowing reviews of the album are pouring in as well, including a 4.5/5 review from Angry Metal Guy which included, "Aria of Vernal Tombs represents a supreme example of how to retain the core values of a well received debut, while strengthening and progressing an established formula without severing the crucial threads that drew listeners in to begin with." About.com Heavy Metal awarded it 4 out of 5 stars, their review offering, "The inclusion of vibrant harp-led instrumentals gives a Middle Ages vibe to the proceedings, supplemented by the jovial lead guitar work. The music here is not far removed from the group's debut, but there's a slight maturation that sharpens the delivery." The LP Was crowned with a 9.5/10 review from The Metal Observer: "OBSEQUIAE have created an album that is filled to the brim with passion and mystical imagery. One listen will have the listener hooked, while repeated spins will truly show that this is a trio of immense talent. The well thought-out and paced songwriting, the flow of the album from the heavier to the soft and back, and the utter brilliance of the closing track make Aria Of Vernal Tombs an easy recommendation."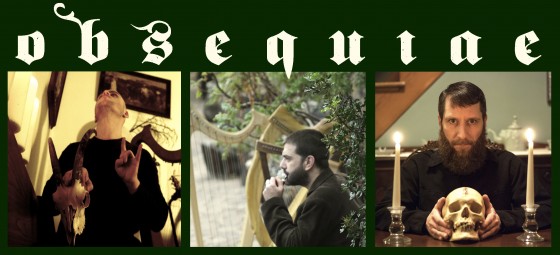 http://www.facebook.com/epicuscastlecusmetallicus
http://www.20buckspin.com
http://www.facebook.com/20buckspin
http://twitter.com/20buckspinlabel