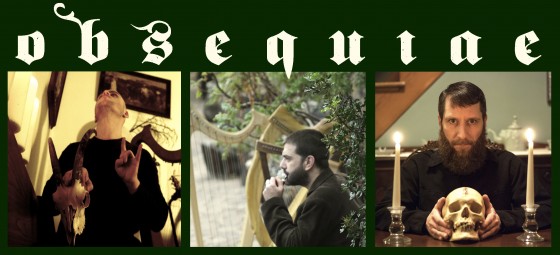 Continuing to vary their unique label roster as much as grow it, the hands at 20 Buck Spin are honored to announce the upcoming second full-length recording from medieval cult Minnesota metal outfit, OBSEQUIAE.
Last year, 20 Buck Spin released the first vinyl edition of OBSEQUIAE's masterfully unique 2011 debut album, Suspended In The Brume Of Eos. Perhaps the only band that might fit as well on a label like Harmonia Mundi as on 20 Buck Spin, the band now re-emerges with Aria Of Vernal Tombs, having painstakingly shaped their second opus over four years in the same way an expert woodworker plies her trade to craft singular works of exquisite beauty.
As before, traditional medieval source material, this time interpreted via OBSEQUIAE's Vincente La Camero Marino's sparse, sorrowful harp pieces, appears throughout Aria Of Vernal Tombs providing a foundation on which to base the longer metal-based sagas that form the album's core. Black metal, death metal, traditional heavy metal and medieval music are all weaved seamlessly together in baroque yet abrasive reverence on Aria…, resulting in a remarkably original long-player. With a wet clarity to the incandescent production that cites underrated obscurities like Sacramentum's Far Away From The Sun and Eucharist's A Velvet Creation, along with the early works of Varathron, Samael and Rotting Christ, the atmosphere created on Aria Of Vernal Tombs brings to 2015 what such bands strangely but sincerely captured years ago. Every sound and shimmering tone is intentional and essential to this rite of Spring.
20 Buck Spin will release Aria Of Vernal Tombs on CD and through digital outlets on May 12th, and will follow with the LP version on June 9th with both physical versions delivered in gorgeous, foil stamped packages. Expect audio excerpts and more info on the magnificent album in the immediate future.
Aria Of Vernal Tombs Track Listing:
1. Ay que por muy gran fremosura
2. Autumnal Pyre
3. Until All Ages Fall
4. L'amour dont sui espris
5. Pools of a Vernal Paradise
6. Anlace and Heart
7. The Anchoress's Orison
8. In the Absence of Light
9. Wilweorthunga
10. Des oge mais quer eu trobar
11. Orphic Rites of the Mystic
http://www.facebook.com/epicuscastlecusmetallicus
http://www.20buckspin.com
http://www.facebook.com/20buckspin
http://twitter.com/20buckspinlabel