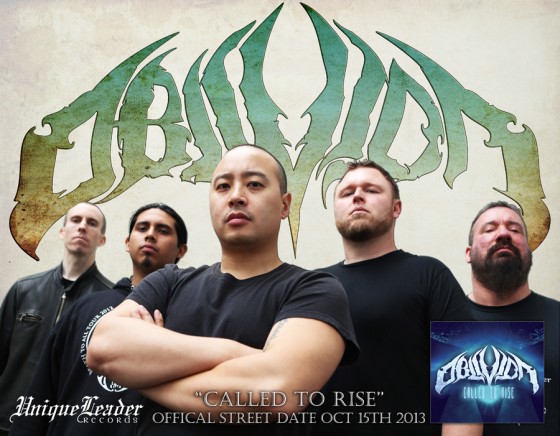 West Coast extreme metal marauders OBLIVION are pleased to officially unleash the audio punishment that is their Called to Rise full-length upon the masses next month.
Focused on crafting music to transcend time and genres, OBLIVION features a compelling cast of characters with All Shall Perish founding bassist Ben Orum, vocalist Dr. Nick Vasallo, a professor of music and internationally acclaimed modernist composer, guitarists Ted O'Neill and Victor Dods who's currently completing his PhD in mathematics, and drum prodigy Luis Martinez, trained by renowned jazz funk musician Ndugu Chancler.
Initially self-released earlier this year to the riotous endorsement of fans and critics alike, OBLIVION's Called to Rise was produced by Zack Ohren of Castle Ultimate Studios (Suffocation, Immolation, Decrepit Birth, Deeds of Flesh) and sold out in just a few weeks. Crowned "the must-own album of 2013," by Metal Injection, "the finest debut ever written," by Metal Archives and a "progressive metal masterpiece," by Sputnik Music, who furthers, "the band's eleven song display of nothing more than pure aggression with more musical depth than many bands can find in their entire discography," Called to Rise is among death metal's best kept secrets of the year.
Called to Rise will be rereleased via Unique Leader Records on October 15th with four bonus tracks. For preorders, point your browser HERE. Additional OBLIVION news to be broadcast in the coming weeks. In the meantime check out the video for "Black Veils of Justice" below.
Called to Rise Track Listing:
1. Oblivion Part 1: The Chant of Tyrants
2. Black Veils of Justice
3. Between Suns of Light
4. Binary Souls
5. Reclamation
6. Canon in E Minor
7. Annunaki
8. Reigns in Fire
9. Cancer of Wraiths
10. Multiverse
11. Oblivion Part 2: Infinite Descent
12. Black Veils of Justice (Instrumental Version)
13. Shred I: Multiverse (String Orchestra)
14. Shred II: Long Deaf Hate (String Orchestra)
15. Multiverse (String Orchestra)
"…one of the best death metal releases of 2013." — The Circle Pit
"Vasallo has a beastly roar and a blackened shriek capable of causing your soul's muscles to spasm uncontrollably in fear." — No Clean Singing
"Flashes of flat-out brilliance throughout the album." — Heavy Blog Is Heavy
https://www.facebook.com/OBLlVlON
http://www.uniqueleader.com
http://www.facebook.com/UniqueLeaderRecords