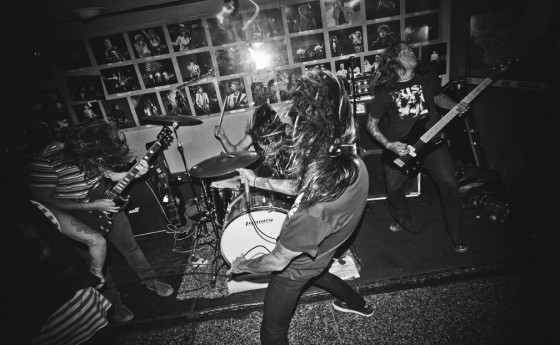 Southern California punk/hardcore quartet, OBLITERATIONS, has just released their recently completed official video for "Mind Ain't Right," through an exclusive premiere via Revolver Magazine. Hailing from their impending debut LP, Poison Everything, the video strikes just a month ahead of the album's release through Southern Lord.
OBLITERATIONS' "Mind Ain't Right" video was shot and directed by photographer Rick Rodney, of LA-based hardcore band Strife, and edited by Zach Marshall. Built from photos taken on black and white 35mm film at a local show the legendary Hollywood haunt The Kibitz Room, hosted by notable skateboard stalwart Tino Razo and the infamous Supreme Skate Shop, Rodney captured the band in its inherent environment of absolute mayhem and chaos, after which he and Marshall decided that the set would make the perfect video. Setting the photos to the breakneck pace of the opening track from Poison Everything, "Mind Ain't Right" is OBLITERATIONS' first video to actually feature the band. As the video details, the night turned to a thrashing mess of bodies; something one must expect when seeing the band in their natural live setting.
Stop by Revolver Magazine and get your cranium kicked in by "Mind Ain't Right" at THIS LOCATION.
The LP's bruising second cut, "The One That Got Away," is playing at Noisey/Vice at RIGHT HERE.
Poison Everything will see worldwide release on Southern Lord, in Europe on October 13th, and in North America October 14th.
OBLITERATIONS continues to expand their upcoming tour itinerary with new locations confirmed to feel the wrath of the band's upcoming West Coast US Southern Lord tour, also including labelmates Baptists and Torch Runner. The tour begins at the massive Southern Lord showcase on October 15th in Los Angeles, with Excel, Goatsnake and Xibalba joining the tour package. Just two weeks later, OBLITERATIONS will hit Europe on an extensive tour sponsored by Visions Magazine, with the final routing still currently being fleshed out.
OBLITERATIONS brings current and ex-members of Black Mountain, Saviours, Night Horse and more together to create a mangled, modernized amalgamation of The Stooges, MC5, Laughing Hyenas, Black Flag and Poison Idea. Recorded with producer Chris Owens (Lords, Coliseum, Young Widows) at Dave Grohl's Studio 606 in only three days, mixed by Kurt Ballou (Converge, High On Fire, Black Breath) at God City Studio, and mastered by Brad Boatright (Tragedy, Integrity, Sleep) at Audiosiege, the end result of Poison Everything is a thirteen-song, twenty-nine-minute record full of raw brutality, darkness and aggression, weaving its way through the annals of punk and hardcore, while still sounding fresh and vital. The blueprint isn't the point here, it's the results. The sound is abrasive and raw, driving and aggressive, and fully infectious.
OBLITERATIONS Tour Dates:
Fall West Coast US Tour w/ Baptists, Torch Runner
10/15/2014 Los Globos – Los Angeles, CA Southern Lord Showcase w/ Excel, Goatsnake, Xibalba, Baptists, Torch Runner
10/17/2014 Hard To Find Space – Santa Barbara, CA
10/18/2014 Black Flame Collective – San Bernadino, CA
10/19/2014 Rialto Theatre – Tucson, AZ @ Southwest Terror Fest #
10/20/2014 Soda Bar – San Diego, CA
10/21/2014 The Knockout – San Francisco, CA
10/23/2014 Slabtown – Portland, OR
10/24/2014 The Highline – Seattle, WA
10/25/2014 The Biltmore – Vancouver, BC
10/26/2014 Lucky Bar – Victoria, BC
10/28/2014 Wandering Goat – Eugene, OR ^
10/29/2014 Arlene Francis Center – Santa Rosa, CA **^
10/30/2014 Eli's Mile High Club – Oakland, CA **^
** w/ Creative Adult
^ w/o Baptists
# w/o Torch Runner
OBLITERATIONS Fall European Tour:
11/17/2014 Maguires Pizza Bar – Liverpool, UK
11/18/2014 Green Door – Brighton, UK
11/19/2014 Barfly – London, UK w/ White Lung
11/20/2014 Temple Of Boom – Leeds, UK
11/21/2014 The Anvil – Bournemouth, UK
11/22/2014 ACU – Utrecht, Netherlands @ Le Guess Who Fest
11/23/2014 La Zone – Liège, Belgium
11/26/2014 Templet – Lyngby, Denmark
11/27/2014 TBA – Berlin, Germany
11/28/2014 007 – Prague, Czech Republic
11/29/2014 Lofi Club – Milan, Italy
11/30/2014 Arena – Vienna, Austria
12/01/2014 Le Romandie – Lausanne, Switzerland
12/04/2014 Rocas – Luxembourg City, Luxembourg.
12/05/2014 VK – Brussels, Belgium
12/06/2014 4AD – Diksmuide, Belgium
12/09/2014 Le Bukowski – Donostia, Spain
12/10/2014 Wurlitzer Ballroom – Madrid, Spain
12/11/2014 Rocksound – Barcelona, Spain
https://www.facebook.com/Obliterations
http://obliterations.bandcamp.com
https://twitter.com/obliterations_
http://www.southernlord.com
http://southernlord.bandcamp.com
https://www.facebook.com/SLadmin
http://twitter.com/twatterlord