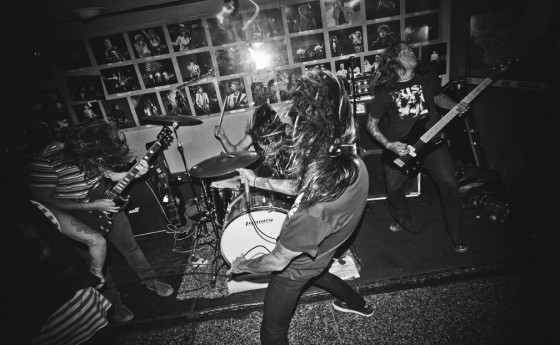 Following a signing announcement at the beginning of 2014, followed by crushing waves of subsequent touring, California's OBLITERATIONS has finished tracking their debut LP for Southern Lord.
A day after returning from their Southwest US Tour in March, OBLITERATIONS recorded sixteen tracks with producer Chris Owens (Lords, Coliseum, Young Widows) at Dave Grohl's Studio 606 in only three days. The record taps into the groundwork the band has laid on its two previous EPs, but sheds light on a much more expansive, dark, brutal and bleak sound. Mixing will take place throughout May, with a Fall 2014 release through Southern Lord in sight. The LP's release will be joined by major US and European tour actions. More details on the impending full-length will be released in the coming months.
Comprised of current and ex-members of Black Mountain, Saviours and Night Horse, OBLITERATIONS delivers a blazing blend of Poison Idea, Discharge, and Black Flag, set to a live show that willfully incites and encourages one's aggressive tendencies to shine.
https://www.facebook.com/Obliterations
http://obliterations.bandcamp.com
https://twitter.com/obliterations_
http://www.southernlord.com
http://southernlord.bandcamp.com
https://www.facebook.com/SLadmin
http://twitter.com/twatterlord