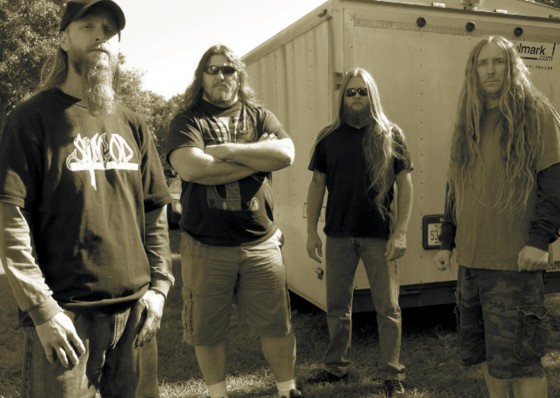 Legendary Florida death metal ministers OBITUARY are set to kick off their first North American headlining tour in over three years this weekend! Brought to you by Rock The Nation and sponsored by Fender, the Carnival Of Death Tour 2012 will commence this Saturday in Orlando, Florida and tear its way through nearly two dozen cities. Further brutality will come from reunited death metallers Broken Hope as well as Decrepit Birth, Jungle Rot and Encrust.
The Carnival Of Death Tour marks OBITUARY's first full North American tour run as a four-piece with death metal alumnus Terry Butler (Death, Six Feet Under, Massacre, Denial Fiend) on bass. For this trek, the band – vocalist John Tardy, drummer Donald Tardy, guitarist Trevor Peres and Butler – compiled a special fan-generated set list that will delve deep into their back catalog to include tunes predominantly off their renowned first three full-lengths: Slowly We Rot, Cause Of Death and The End Complete.
Comments Donald Tardy: "We are super excited about the start of the Carnival Of Death Tour. It has been a long time since we toured extensively across the US and Canada. For the first time we went to our fans and asked their help in picking the songs for this 'classic set' and it really turned out to be a great set list. Most of these songs we have not played in over a decade and some of them we've never performed onstage so the anticipation is killing me! It's was quite the challenge to re-learn songs from 20 years ago but we are ready to blow our old fans away and hopefully gain some new ones. The scene has been set, the fans have selected the songs and the time has come to hit the road and kick off this Carnival…. send in the Clowns!"
As previously announced, Fender will hosting a special contest throughout the duration of the tour. The grand prize winner will receive a Blacktop Stratocaster HH guitar. Contest entries will be accepted at the OBITUARY merch table. Finally, since the tour will be passing through New York City on September 11th, the band saw it fit to remove the "Carnival Of Death" tag for that date and, through an agreement with Live Nation, donate $2 from each ticket sale to a September 11th related charity.
OBITUARY: Carnival Of Death Tour 2012
w/ Broken Hope, Decrepit Birth, Jungle Rot, Encrust
9/08/2012 Haven Lounge – Orlando, FL
9/10/2012 Empire – Springfield, VA
9/11/2012 Gramercy Theatre – New York, NY
9/12/2012 Bogie's – Albany, NY
9/13/2012 Imperial – Quebec City, QC
9/14/2012 Foufounes Electriques – Montreal, QC
9/15/2012 The Opera House – Toronto, ON
9/16/2012 Peabody's – Cleveland, OH
9/17/2012 Reggie's Rock Club – Chicago, IL
9/19/2012 Osborne Village Inn – Winnipeg, MB
9/20/2012 The Exchange – Regina, SK
9/21/2012 Pawn Shop – Edmonton, AB
9/22/2012 The Level Nightclub – Kelowna, BC
9/23/2012 Studio Seven – Seattle, WA
9/25/2012 The Alley – Reno, NV
9/26/2012 DNA Lounge – San Francisco, CA
9/27/2012 Key Club – West Hollywood, CA
9/28/2012 El Rey Theatre – Albuquerque, NM
9/29/2012 Trees – Dallas, TX
9/30/2012 Korova – San Antonio, TX
OBITUARY are currently writing the follow up to their Darkest Day full-length, released in 2009 via Candlelight Records, with official details to be announced in the coming weeks.
http://www.obituary.cc
https://www.facebook.com/ObituaryBand
http://twitter.com/obituarytheband
http://www.myspace.com/obituary