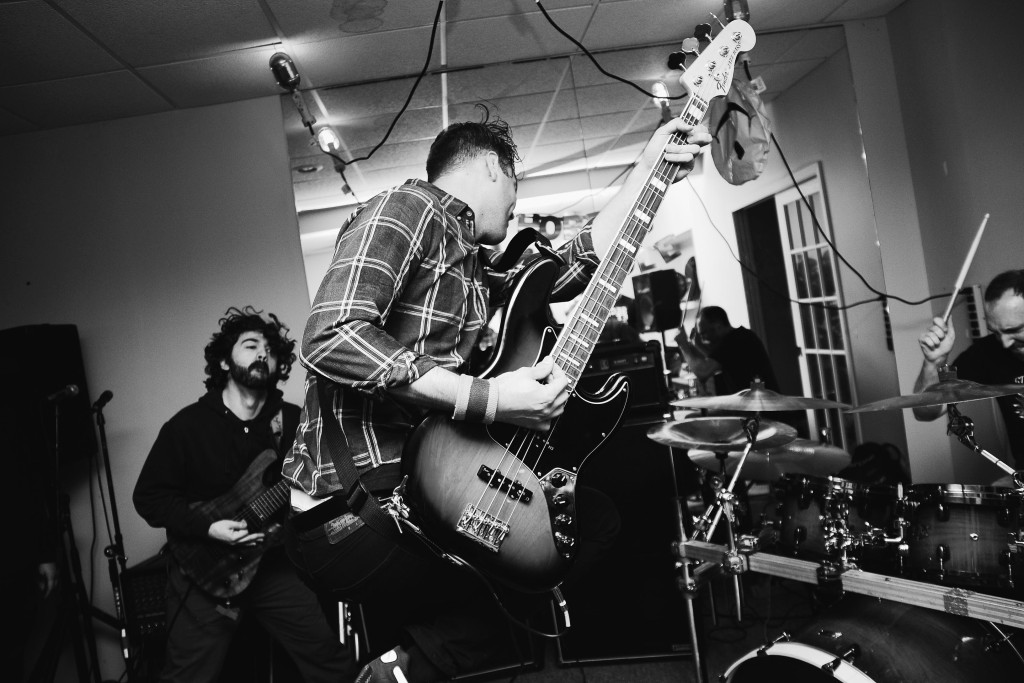 [photo by Black Dunes Photography]
New Jersey-based instrumental hardcore outfit NY IN 64 presents their expansive second album, The Gentle Indifference Of The Night, completing the album for immediate release this May through Magic Bullet Records.
The follow-up to 2015's self-titled debut documents NY IN 64 pushing their sonic template to new heights, realizing an even more refined and uniquely inspired style of instrumental hardcore aggression. The hooks are bigger, the musicianship has broken through the ceiling, the dynamics are deeper and far more textured. The album's guitars and bass were recorded by Chris Alfano at Volume Fact, the drums and additional guitars recorded by John Ferrara at Portrait Recording Studios. The record was mixed by Scott Evans at Antisleep Audio, and mastered by Nick Zampiello at New Alliance East, and its layout completed with photography by Justin Hock and layout by the band and Brent Eyestone. With six new movements, The Gentle Indifference Of The Night is a triumph of an album that truly sounds like no other.
Magic Bullet will release The Gentle Indifference Of The Night on translucent blue vinyl and all digital platforms on May 26th; digital preorders have been posted HERE. Stand by for vinyl preorders as well as audio singles to be dispatched in the coming days, with several videos from the album nearing completion and tour dates being planned as well.
The Gentle Indifference Of The Night Track Listing:
1. Couldn't Be Saved
2. The Endless Spiral
3. It Gets Worse
4. Don't Breathe Out
5. 50 Lbs. Of Ash
6. Her Chosen Hell
NY IN 64 unites current and former members of New Jersey bands, You and I, The Assistant, Capacities, East Of The Wall, The Postman Syndrome, Argonauts, El Drugstore, This Ship Will Sink, Black Kites, and others, the band founded by Justin Hock and Thomas Schlatter, who were both part of cult '90s screamo band, You And I. After taking a fifteen-year hiatus from writing music together, the two began laying down the framework for this new outfit, recruiting Chris Alfano and Seth Rheam, both veterans of many acts, most notably current members of East Of The Wall. Barren of vocals, the band's music seamlessly melds the vibrant, youthful vigor of punk and hardcore with challenging and provoking elements of progressive and post-rock, injecting the energy and enthusiasm of a basement show into a more refined musical composition.
NY IN 64:
Justin Hock – guitars
Thomas Schlatter – bass
Chris Alfano – guitars
Seth Rheam – drums
https://www.facebook.com/newyorkin64
http://www.twitter.com/NYin64
http://www.magicbulletrecords.com
http://www.facebook.com/magicbulletrecords
https://twitter.com/magicbulletrecs