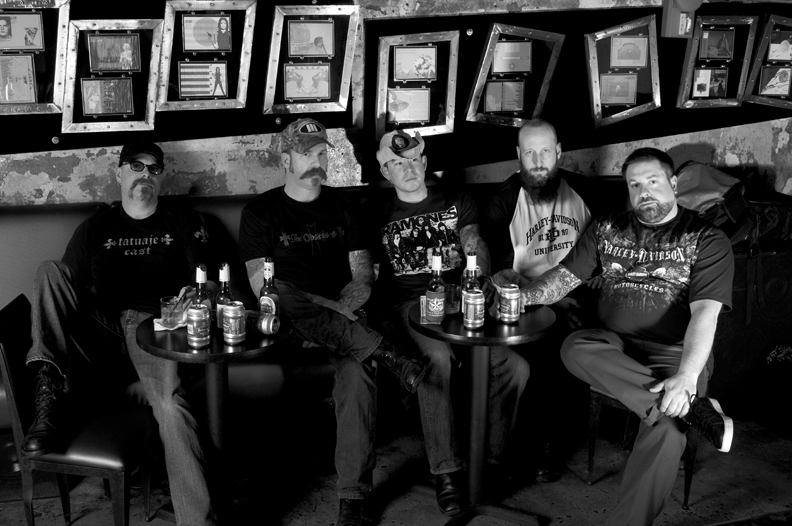 Southern rock doomsters and bar-brawlers across the land, prepare to meet KING GIANT. This Northern Virginia/Washington DC-area quintet have been producing their infectious, soulful but nonetheless ultra-tough brew of gritty southern metal since 2006. After several years of honing their skills as a unit, the band have poured their blood and soul into their self-released debut full-length album Southern Darkness.
The professionally produced Southern Darkness is a burly, blues-driven collection of ten whiskey-soaked KING GIANT originals, as well as a cover of Lynyrd Skynyrd's "Needle And The Spoon"; the album rounding out at a thunderous, fully entertaining 55:55 ride any fan of Corrosion of Conformity, Kyuss, Clutch, Down and other quality, groove-heavy Southern rollers will immediately latch onto. Grab a beer and go check out three tracks from Southern Darkness, "Solace," "Hollow" and "Shindig," now at the band's MySpace page: http://www.myspace.com/kinggiant.
Southern Darkness Track Listing:
01 Solace
02 Burning Regrets
03 13 To 1
05 Mississippi River
04 Potter's Field
07 Machine Gun Mantra
06 Lady Whiskey
08 Hollow
09 Shindig
10 Desert Run
11 Needle And The Spoon (Lynyrd Skynyrd cover)
KING GIANT have been playing shows in support of their Southern Darkness material — as well as songs for an upcoming full-length they are currently constructing — alongside Salome, The Wino Band, Earthride, The Bakerton Group, Wooly Mammoth and more in their native tri-state over recent months, and have several more booked through DC, Virginia and New Jersey this summer.
KING GIANT upcoming gigs:
7/17/2010 Red&Black – Washington, DC
7/31/2010 9:30 Club – Washington, DC
8/13/2010 Mackey's – Manassas, VA
8/23/2010 DC 9 – Washington, DC
8/26/2010 Maxwells – Hoboken, NJ
Promos of Southern Darkness are available via Earsplit PR now. Stay tuned for more news and live actions on this prime rock act.
"…melodies and atmosphere inhabit that common ground among Alice In Chains, Eyehategod and Hank III. The album title is apt." – Decibel Magazine
"Listening to King Giant is an experience akin to walking in on a group of school children feasting on the innards of Eyehategod, their neat little uniforms smeared with brilliant smudges of red and their eyes alert with hunger. Unhealthy, doom-tinged southern filth." – Terrorizer Magazine
"If Johnny Cash rose from the grave and started a metal band this is what it might sound like. Folks, this is some serious shit." – HeavyPlanet.net