Today Noisey hurls forth the third episode of NOLA: Life, Death And Heavy Blues From The Bayou, a seven-part series exploring the people and culture that helped spawn bands like Down, Eyehategod, Crowbar, Acid Bath and so many others.
Following last week's edition, where Mike IX Williams discussed finding kindred spirits in Jimmy Bower and Joey LaCaze and creating a band "that's like Sabbath, but a punk band" with Eyehategod, today's segment finds the Noisey team on a fishing trip with Bower. Here Bower discusses his time with Shell Shock, the origins of Eyehategod and his place in the sound of New Orleans, including where he thinks the roots of the music lie.
Watch episode three, now playing below. "Gank it."



Eyehategod are preparing for another roadside takeover beginning with a short rash of one-off live incursions in Denver, Orlando and Miami set to commence this week as well as an appearance at Philip H. Anselmo's Housecore Horror Film Festival in Austin. From there, the band will pillage their way west trouncing stages alongside Power Trip, Iron Reagan and Today Is The Day on select dates. Eyehategod continues to tour in support of their chart-topping, critically-lauded self-titled studio offering, currently available via Housecore Records.
EYEHATEGOD:
10/02/2014 Summit Music Hall – Denver, CO
10/03/2014 Backbooth – Orlando, FL
10/04/2014 Churchill's – Miami, FL
10/26/2014 Housecore Horror Film Fest @ Emo's – Austin, TX
10/29/2014 El Corazon – Seattle, WA w/ Power Trip, Iron Reagan
10/30/2014 Bosonova Theater – Portland, OR w/ Power Trip, Iron Reagan
10/31/2014 Star Lite Lounge – Sacramento, CA w/ Power Trip, Iron Reagan
11/01/2014 Metro – Oakland, CA w/ Today Is The Day, Power Trip, Iron Reagan
11/02/2014 The Observatory – Santa Ana, CA w/ Today Is The Day, Power Trip, Iron Reagan
11/03/2014 Los globos – Los Angeles, CA w/ Power Trip, Iron Reagan
11/04/2014 Catalyst – Santa Cruz, CA w/ Power Trip, Iron Reagan
11/05/2014 The Garage – Ventura, CA w/ Power Trip, Iron Reagan
11/06/2014 Dive Bar – Las Vegas, NV w/ Today Is The Day
11/07/2014 Soda Bar – San Diego, CA w/ Today Is The Day
11/08/2014 Club Red – Phoenix, AZ w/ Today Is The Day
11/09/2014 Launch Pad – Albuquerque, NM w/ Today Is The Day
11/12/2014 The Riot Room – Kansas City, MO
11/13/2014 Hi Tone – Memphis, TN
11/15/2014 Cobra Lounge – Chicago, IL w/ Today Is The Day
11/16/2014 Smith's Downtown – Mishawaka, IN w/ Today Is The Day
11/20/2014 Double Wide – Dallas, TX w/ Today Is The Day
11/21/2014 Fitzgerald's – Houston, TX w/ Pig Destroyer, Today Is The Day
11/22/2014 One Eyed Jacks – New Orleans, LA w/ Pig Destroyer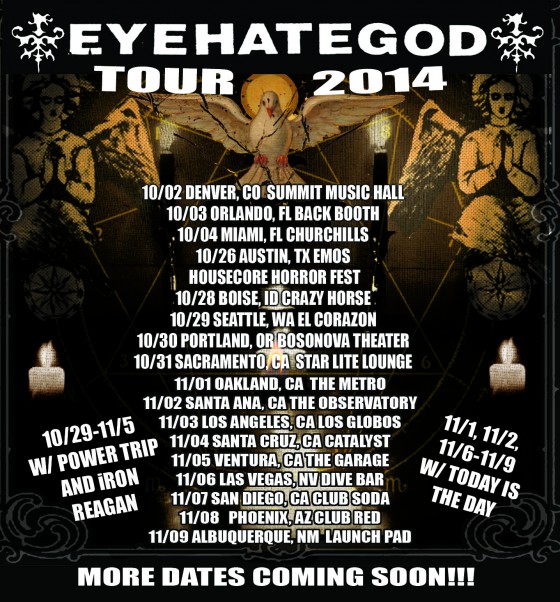 http://noisey.vice.com
http://www.eyehategod.ee
http://www.facebook.com/OfficialEyeHateGod
http://www.thehousecorerecords.com