Baltimore thrash assassins, NOISEM, will undertake their most high profile tour excursion to date next week, as the young crew hits the road on the third annual Decibel Magazine tour.
Set to provide their jacked-up, rabid thrash assault as the opening act of the tour, NOISEM's set will be followed by each night by performances from massive metal luminaries Gorguts, The Black Dahlia Murder, and headliners, Carcass. The three week venture gets underway on Tuesday, March 18th in Orlando, Florida before blasting westward infiltrating major cities across the US and Canada before the final gig on April 13th in Silver Spring, Maryland, right down the street from the band's home turf. The trek is preceded by several one-off gigs this weekend including a show in Cleveland with lablemates In Cold Blood and Haymaker followed by two shows with Gorguts and The Black Dahlia Murder.
This week, the cover of the April issue of Decibel is out, featuring members of all four acts on the magazine's tour, including NOISEM frontman, Tyler Carnes. Additionally, the band recently completed a new recording entitled "Defiled" for Decibel's ongoing flexi-series which has been released this week. The 7″ flexi will appear in the May issue of the mag but has been released early in advance of the tour.
Order the new issue of the mag HERE and unload the thrashbanging intensity of "Defiled" RIGHT HERE.
Just days after the massive tour comes to a halt, NOISEM will unload another new tune in the form of the Repulsion classic, "Slaughter Of The Innocent," the track set to appear on a split 7″ with Occultist being devised for release on Record Store Day 2014 via label home, A389 Recordings.
NOISEM's bludgeoning debut LP, Agony Defined, overthrew the #9 album of 2013 slot in Decibel's year-end issue, the mag stating of the album: "Leave it to a group of teenagers from Baltimore to blow the cobwebs off of thrash metal and shake the genre at its very foundation… The wellspring of catchy riffs is seemingly endless on Agony Defined; no band employed the whammy bar better in 2013."
NOISEM Tour Dates:
3/15/2014 Now That's Class – Cleveland, OH w/ In Cold Blood, Haymaker
3/16/2014 Zydeco – Birmingham, AL w/ The Black Dahlia Murder, Gorguts
3/17/2014 Jack Rabbits – Jacksonville, FL w/ The Black Dahlia Murder, Gorguts
Decibel Magazine Tour 2014 w/ Carcass, Gorguts, The Black Dahlia Murder, Noisem:
3/18/2014 The Beachum Theater – Orlando, FL
3/19/2014 Masquerade – Atlanta, GA
3/21/2014 Prophet Bar – Dallas, TX
3/22/2014 Mohawk – Austin, TX
3/24/2014 The Press Room – Phoenix, AZ
3/25/2014 The Observatory – Santa Ana, CA
3/26/2014 The Regency Ballroom – San Francisco, CA
3/28/2014 Commodore Ballroom – Vancouver, BC
3/29/2014 Showbox Market – Seattle, WA
3/30/2014 Roseland Theater – Portland, OR
4/02/2014 Summit Music Hall – Denver, CO
4/04/2014 Mill City Nights – Minneapolis, MN
4/05/2014 House Of Blues – Chicago, IL
4/06/2014 Newport Music Hall – Columbus, OH
4/07/2014 Stage AE – Pittsburgh, PA
4/08/2014 Sound Academy – Toronto, ON
4/09/2014 Metropolis – Montreal, QC
4/10/2014 Paradise Rock Club – Boston, MA
4/11/2014 Best Buy Theater – New York, NY
4/12/2014 Trocadero Theatre – Philadelphia, PA
4/13/2014 The Fillmore – Silver Spring, MD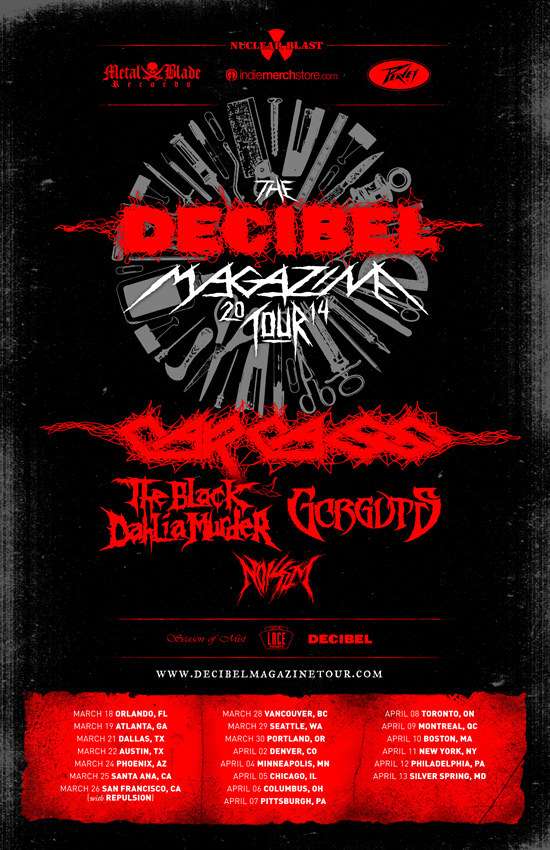 http://www.noisembaltimore.com
https://www.facebook.com/pages/Noisem/100512316809410?ref=ts&fref=ts
http://www.a389records.com
https://www.facebook.com/a389recordings
https://twitter.com/a389recordings