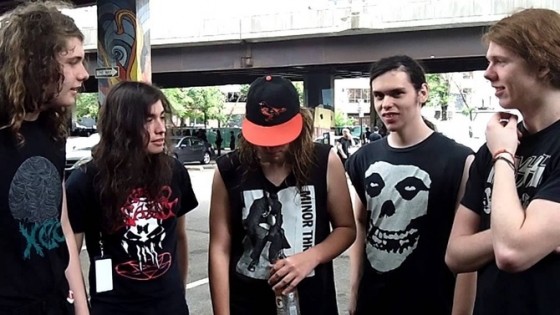 Baltimore thrash metal puritans, NOISEM, have been touring regionally across North America all year — most recently assaulting the US and Canada with Skeletonwitch and The Black Dahlia Murder for an entire month this Fall — all in support of their Agony Defined debut, which A389 Recordings fired into the public in June.
Just announced last week was the confirmed lineup and routing for the upcoming third Decibel Magazine Tour, which will see NOISEM directly supporting The Black Dahlia Murder, Gorguts and Carcass for three weeks across North America from March 18th through April 13th, 2014. When asked to comment on the band's invite to take part in the brutal cross-country venture with such acts, NOISEM guitarist Sebastian Phillips keeps his thoughts on the tour perfectly succinct: "Dream come true. Period." More details on the tour including ticket info can be found HERE.
At virtually the same time the tour was announced, Decibel Magazine released their newest issue which listed NOISEM's bludgeoning debut LP, Agony Defined, as the #9 album of 2013, stating of the album: "Leave it to a group of teenagers from Baltimore to blow the cobwebs off of thrash metal and shake the genre at its very foundation… The wellspring of catchy riffs is seemingly endless on Agony Defined; no band employed the wammy bar better in 2013."
NOISEM will rip through Richmond, Virginia supporting Pig Destroyer later this month, and in mid-January will take part in day two of the A389 X Bash in Baltimore, Maryland alongside Integrity, All Out War, Bloodlet, Weekend Nachos, Power Trip, Pick Your Side, Homewrecker, Empire Of Rats and more.
At a recent studio session the newest Converse X Decibel Collaboration installment was filmed with the NOISEM crew. Watch the bros shred; DO IT HERE.
NOISEM Tour Dates:
12/20/2013 Strange Matter – Richmond, VA w/ Pig Destroyer, Occultist, Street Pizza
1/18/2014 Baltimore Soundstage – Baltimore, MD @ A389 X Bash
Decibel Magazine Tour 2014
w/ Carcass, Gorguts, The Black Dahlia Murder, Noisem:
3/18/2014 The Beachum Theater – Orlando, FL
3/19/2014 Masquerade – Atlanta, GA
3/21/2014 Prophet Bar – Dallas, TX
3/22/2014 Mohawk – Austin, TX
3/24/2014 The Press Room – Phoenix, AZ
3/25/2014 The Observatory – Santa Ana, CA
3/26/2014 The Regency Ballroom – San Francisco, CA
3/28/2014 Commodore Ballroom – Vancouver, BC
3/29/2014 Showbox Market – Seattle, WA
3/30/2014 Roseland Theater – Portland, OR
4/02/2014 Summit Music Hall – Denver, CO
4/04/2014 Mill City Nights – Minneapolis, MN
4/05/2014 House Of Blues – Chicago, IL
4/06/2014 Newport Music Hall – Columbus, OH
4/07/2014 Stage AE – Pittsburgh, PA
4/08/2014 Sound Academy – Toronto, ON
4/09/2014 Metropolis – Montreal, QC
4/10/2014 Paradise Rock Club – Boston, MA
4/11/2014 Best Buy Theater – New York, NY
4/12/2014 Trocadero Theatre – Philadelphia, PA
4/13/2014 The Fillmore – Silver Spring, MD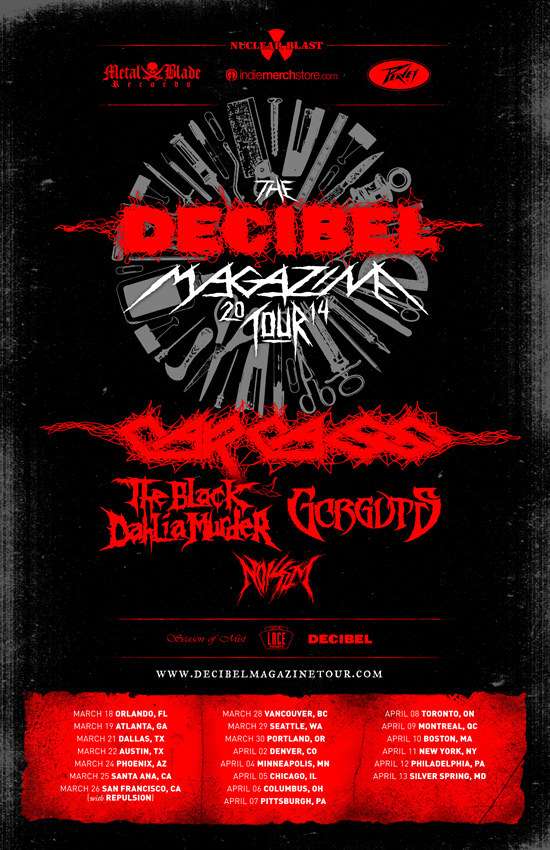 http://www.noisembaltimore.com
https://www.facebook.com/pages/Noisem/100512316809410?ref=ts&fref=ts
http://www.a389records.com
https://www.facebook.com/a389recordings
https://twitter.com/a389recordings