Dissonant death metal outfit NIGHTMARER, which features current and former members of The Ocean, Convulsing, Gigan, War From A Harlot's Mouth, and more, will release their second full-length, Deformity Adrift, via Total Dissonance Worship and Vendetta Records.
Forged in 2014, the international collective known as NIGHTMARER set out to derive only the most extreme elements of their previous musical endeavors and take them to much more miserable and punishing levels. Two years later, the band hit the extreme metal underground with their debut EP Chasm. The furious whirlwind of low-end dissonance and pulverizing heaviness immediately took the scene by storm and paved the path to a record contract with Season Of Mist.
NIGHTMARER's following full-length Cacophony Of Terror (2018) and their appearance on the 2019 edition of the Devastation On The Nation Tour, earned the band a strong, diehard following, while the addition of guitarist Keith Merrow (Merrow, Conquering Dystopia) in the same year, only further cemented their reputation as a band to watch closely.
In early 2020, NIGHTMARER parted ways with Season Of Mist to launch their own label, Total Dissonance Worship. Under that banner, the band released the single "Primordial Grit" and 2021 EP Monolith Of Corrosion to critical acclaim from both fans and critics alike. Angry Metal Guy crowned the EP, "one of the weightiest, most impactful death metal offerings you're likely to hear for months to come." Everything Is Noise concurred noting, "Monolith Of Corrosion stands tall and mighty as a bleak and harrowing monument to what the darker depths of metal can achieve." Added No Clean Singing, "if you think of Monolith Of Corrosion not just as a stunning piece of work in its own right, but also as a sign of how much NIGHTMARER have improved and evolved in just the few short years since Cacophony of Terror, then it only stands to reason that their next album – whenever it may appear and whatever form it may take – will be even bigger, even better, and even more devastating."
By 2021, most of the band relocated to Portland, Oregon to finish the production of their long-awaited, second full-length: this year's Deformity Adrift.
Inarguably the band's most diverse work to date, Deformity Adrift ventures far beyond the conventions of the already unconventional genre of dissonant death metal, without surrendering an ounce of viciousness. A thirty-two-minute sonic behemoth, the record is at once confounding and ravaging. Strong nuances of industrial and doom metal can be heard throughout, the record's nine tracks concluding fittingly with a suffocating wall of sound that leaves its listeners bruised, battered, and shaken.
In advance of the release of Deformity Adrift, today NIGHTMARER unleashes the record's first single "Throe Of Illicit Withdrawal," noting of the track, "This song is about having to give yourself up entirely, in order to function as a cog in a machine that exploits every last bit of your body, mind, and soul. It's a constant battle between oppressive tension and the promise of a release that never comes. The result is a misery so deep, any attempt at disassociating from it is futile. 'Throe Of Illicit Withdrawal' embodies that musically and lyrically."
Stream NIGHTMARER's "Throe Of Illicit Withdrawal" at THIS LOCATION.
Guitars on Deformity Adrift were recorded by Simon Hawemann at Sludge Studios, vocals and additional guitars were recorded by Keith Merrow at Merrowsound, all bass was recorded by Brendan Sloan at Overland, and drums were recorded by Marc Wüstenhagen at Dailyhero Recordings. The record was mixed and mastered by Raphaël Bovey at MyRoom Studio and comes adorned in the cover art of Jeanne Comateuse.
NIGHTMARER's Deformity Adrift will be released by Total Dissonance Worship in the US and Vendetta Records in Europe on CD, vinyl, cassette, digital, and streaming formats. Find preorders at THIS LOCATION.
Deformity Adrift Track Listing:
Brutalist Imperator
Baptismal Tomb
Throe Of Illicit Withdrawal
Tooms
Suffering Beyond Death
Taufbefehl
Hammer Of Desolation
Endstadium
Obliterated Shrine
NIGHTMARER:
John Collett – vocals
Simon Hawemann – guitars
Keith Merrow – guitars
Brendan Sloan – bass
Paul Seidel – drums
Additional musicians:
Christian Kolf and Jan Buckard (Valborg) – guest vocals on "Taufbefehl"
Eeli Helin – soundscapes and noise on "Taufbefehl"
Jesse Zuretti and Robert Bruckmayer – orchestration, soundscapes, samples on "Obliterated Shrine"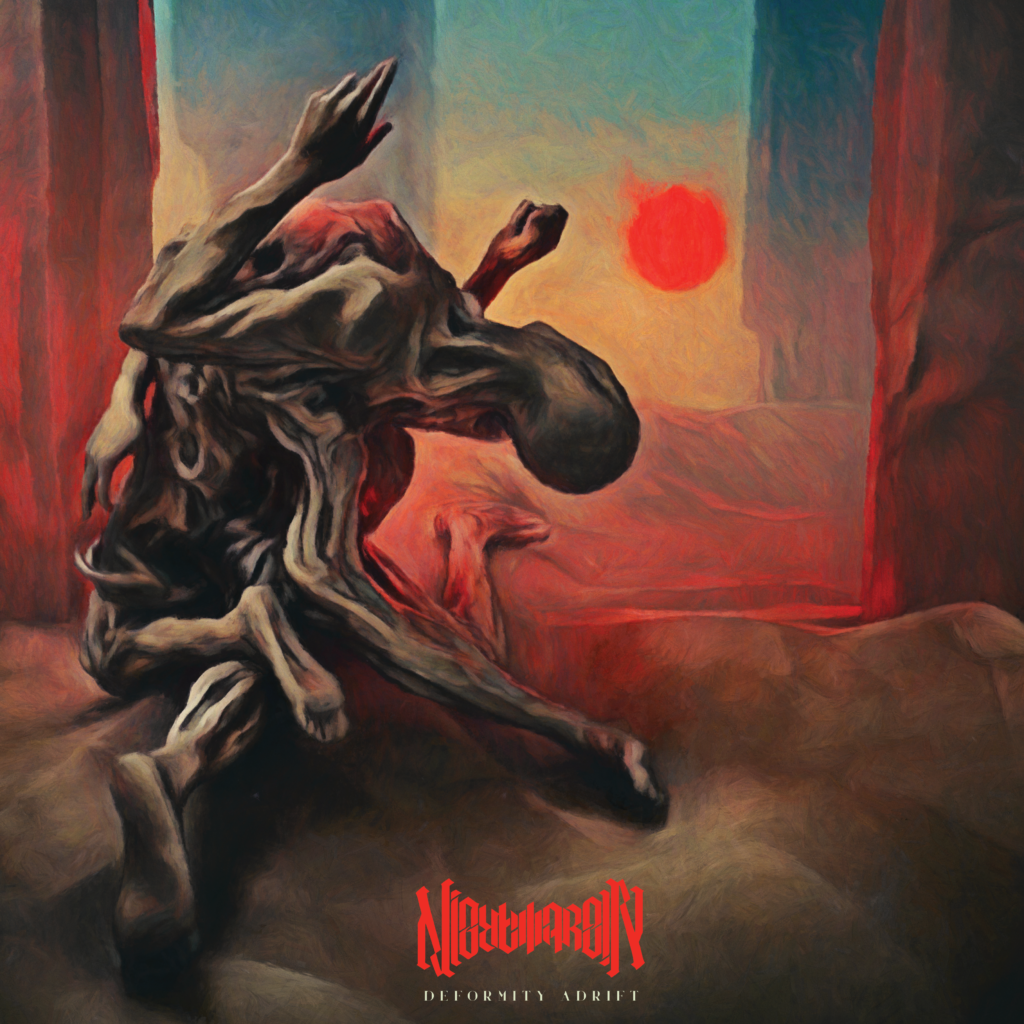 http://www.nightmarer.com
http://www.instagram.com/nightmarercult
http://www.facebook.com/nightmarercult
http://www.instagram.com/totaldissonanceworship
http://www.totaldissonanceworship.com