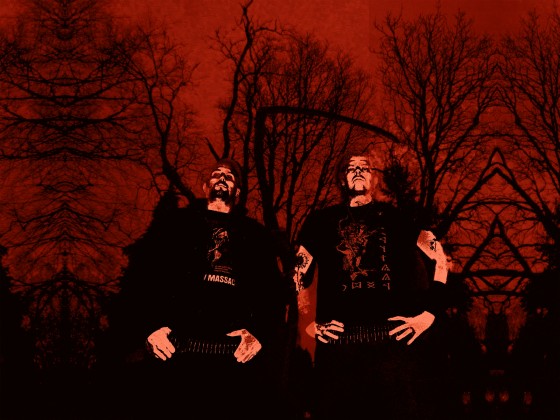 The Living Ever Mourn, the debut recordings from Portland-based grim metal duo, NIGHTFELL, is out now, as a combined release between Southern Lord Recordings and Parasitic Records.
Embodied by members Tim Call (Aldebaran, Mournful Congregation, Parasitic Records) and Todd Burdette (His Hero Is Gone, Tragedy, Deathreat, Severed Head Of State), the NIGHFELL collective's bruising tones and bleak perspectives on life are captured through over forty minutes of thundering epic metal bridging morose heaviness with melodic destruction on The Living Ever Mourn. Recorded and mixed at Red Lantern Studios by Evan 'Maus' Mersky, and mastered by Brad Boatright at Audiosiege, The Living Ever Mourn was envisioned and executed in a period of grief, delirium and loss of life, the atmosphere and lyrics mirror the ensuing emptiness while simultaneously embracing the dichotomous power in the unwavering and eternal force of Death. At times the album embodies the guttural, bleak essence Burdette's musical endeavors have innovated since the mid-90s, while other segments undoubtedly breathe with the murky, crushing, Northwestern oppression Call has been associated with, the entire album channeling unrest through its organic delivery, at times integrating choral mantras, noise-infused ambiance and thundering death marches.
The entire The Living Ever Mourn is now playing AT THIS LOCATION.
The Living Ever Mourn is out now worldwide on CD and via digital download through Southern Lord, available HERE. The vinyl version will be released late this Summer, co-released by Southern Lord and Parasitic; a confirmed street date for the LP will be announced in the coming weeks.
http://nightfell.bandcamp.com
http://www.southernlord.com
http://southernlord.bandcamp.com
https://www.facebook.com/SLadmin
http://twitter.com/twatterlord
http://www.parasiticrecords.bigcartel.com
https://www.facebook.com/Parasitic666Records