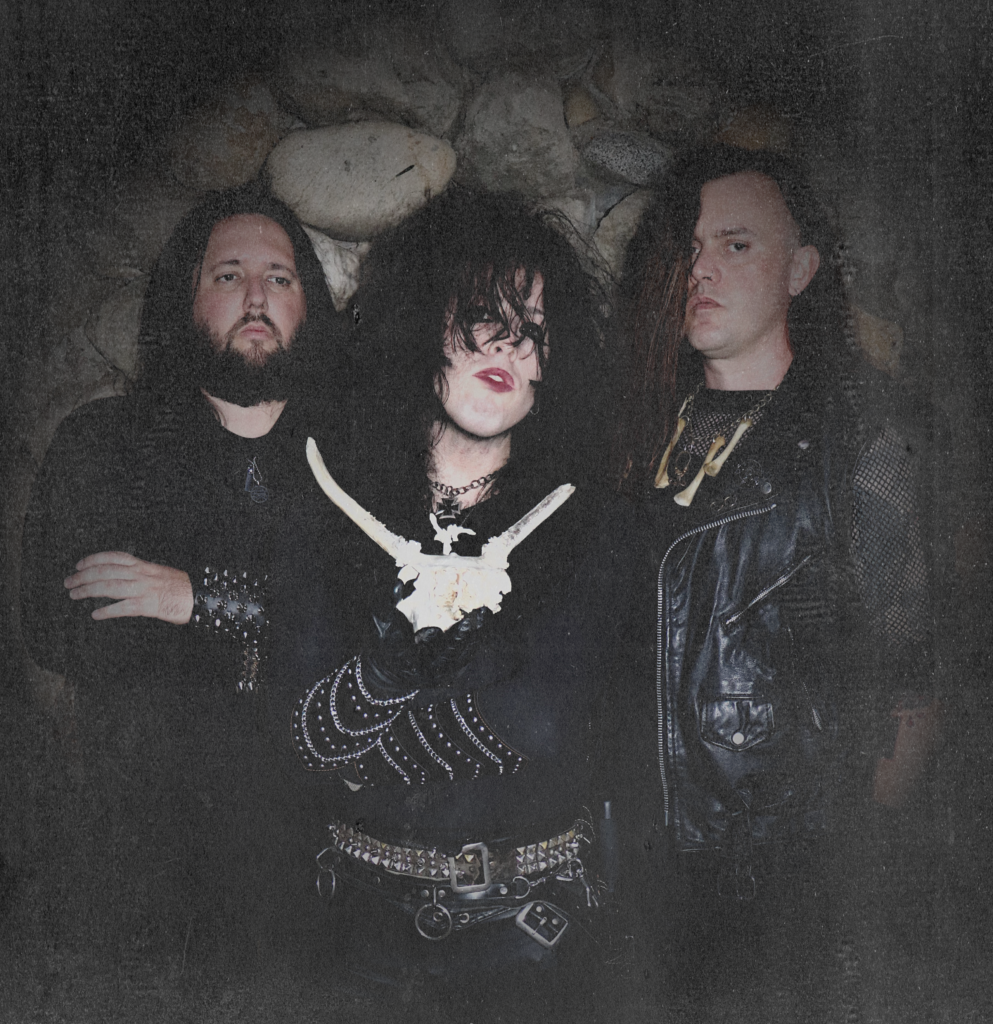 Infernal alchemists NEW SKELETAL FACES will unleash their long-awaited Sextinction seven-inch EP on June 25th.
Transmuting sound into power, the follow up to 2019's critically-lauded Celestial Disease full-length finds NEW SKELETAL FACES expanding upon their signature sound invoking the darkest, esoteric elements of rock and roll. Featuring deathrock anthem "Banshee Sex Tomb" and the thunderous metal-tinged dirge of "Extinction Of Bodies," NEW SKELETAL FACES intoxicate the listener once again with an arcane brew of sex, disenchantment, and danger!
Lyrically, both songs are suitably unpleasant. "Banshee Sex Tomb" attacks the listener by questioning innocence and morality. Rejecting both values, the song spirals downward into a romantic embrace of nihilism. "Extinction Of Bodies" is pure Armageddon. The verses clearly express the insignificance of humanity as replaceable species, and hints of a celestial force causing this destruction. Both songs are dire prophecies.
Recorded, mixed, and mastered entirely by the band, NEW SKELETAL FACES' limited-edition Sextinction EP is pressed on bone colored vinyl and features original cover art by vocalist/guitarist Errol Fritz. Staying true to DIY ethics, the record includes hand numbered and wax stamped obi-strips by the band themselves. Fans of Christian Death, Fields Of The Nephilim, and the dark side of punk-metal (ie Amebix) pay heed.
For Sextinction preorders, go to THIS LOCATION.
Sextinction Track Listing:
Side A
"Banshee Sex Tomb"
Side B
"Extinction Of Bodies"
Catch NEW SKELETAL FACES live July 3rd at Bricks Bar in Maywood, California supporting Only Theatre Of Pain featuring Rikk Agnew and Gitane Demone performing Christian Death's classic debut. Stay tuned for additional shows to be announced in the weeks to come.
NEW SKELETAL FACES:
7/03/2021 Bricks Bar – Maywood, CA w/ Only Theatre Of Pain
In related news, NEW SKELETAL FACES will be featured in the forthcoming Hemlock: A Night Of Deathrock book. Hemlock is a club located in San Diego, California centered around old school goth, deathrock, and post punk. The book is a culmination of photos, stories, art, merch, posters, bands, and DJs, as well as the community that has supported Club Hemlock throughout the years. An official book release party will be held at The Casbah in San Diego, California on June 19th.
"The dark power trio recall a side of the deathrock and old goth scene that is perhaps not in as much focus these days–the side that counted rocker acts like Lords Of The New Church and Fields Of The Nephilim as among their sonic peers instead of the more synthy, new wave-tinged stuff… NSF deliver big-hair-and-leather-jacket style, rock-influenced deathrock, a great soundtrack to a midnight beer and whiskey-fueled funeral party." — Post-Punk's Five Current Deathrock Bands You Should Definitely Be Listening To
https://www.facebook.com/NewSkeletalFaces/
https://www.instagram.com/newskeletalfaces/
https://newskeletalfaces.bandcamp.com/
https://www.indiemerch.com/newskeletalfaces