The new RAGE album, Strings To A Web, was released in Europe on February 5th via Nuclear Blast Records, immediately entering the German pop charts at number 27, and has been receiving rave reviews from all major European press. The brilliant album will now see official North American release and distribution via Canada's Sonic Unyon Metal on June 22nd, 2010.
The North American version of the album will be released in a special two-disc set that includes a high quality bonus DVD bearing 15 live RAGE clips and more. The main part is the "Best Of" show RAGE played at the Wacken Open Air festival 2009, including guest performances by Hansi Kürsch (Blind Guardian), Schmier (Destruction) and Jen Majura (Black Thunder Ladies). The DVD also includes four more live clips taken from Masters Of Rock 2009 Festival and a 2009 concert in Sofia, Hungary. View the full track listing for the combo and more below.
Since 1985, German metal trio RAGE have brought their crafted style of classic heavy metal with class. Their new album Strings To A Web is a varied release, showcasing the different faces of the band; pure heavy metal thunder, classical and progressive landscapes, and powerful thrash anthems. Recorded at Twilight Hall Studio (Blind Guardian, Saxon) and produced by Victor Smolski and their long term friend Charlie Bauerfeind (Hammerfall, Helloween and more), Strings To A Web is like a journey through the history of the band, who celebrated their 25th anniversary this year. Over the past quarter century, RAGE went through many changes, but always kept to their roots and developed their incomparable style, and there is no doubt that their current lineup is the strongest yet. Peavy Wagner's voice is the main trademark, along with the guitar wizard Victor Smolski and power drummer André Hilgers, who round out the magical trio.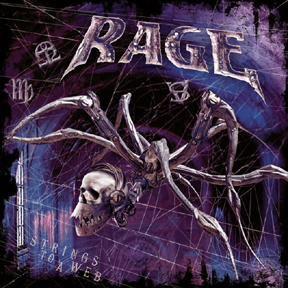 Strings To A Web Track Listing:
CD
01. 'The Edge Of Darkness'
02. 'Hunter And Prey'
03. 'Into The Light'
04. 'The Beggar´s Last Dime'
05. 'Empty Hollow'
06. 'Strings To A Web'
07. 'Fatal Grace'
08. 'Connected'
09. 'Empty Hollow (Reprise)'
10. 'Saviour Of The Dead'
11. 'Hellgirl'
12. 'Purified'
13. 'Through Ages'
14. 'Tomorrow Never Comes'

BONUS DVD
'Carved In Stone'
'Higher Than The Sky'
'Set This World On Fire' (featuring Hansi Kürsch)
'All I Want' (featuring Hansi Kürsch)
'Invisible Horizons' (featuring Hansi Kürsch)
'Lord Of The Flies' (featuring Jen Majura)
'From The Cradle To The Grave' (featuring Jen Majura)
'Prayers Of Steel' (featuring Schmier)
'Suicide' (featuring Schmier)
'Down' (featuring Schmier)
'Soundchaser'
'Set This World On Fire' (Live at the Masters of Rock 2009)
'All I Want' (Live at the Masters of Rock 2009)
'Carved In Stone' (Live in Sofia 2009)
'Never Give Up' (Rage Race Special)
http://www.rage-on.de
http://www.myspace.com/rage
http://www.sonicunyon.com