Jersey prog-destroyers EAST OF THE WALL will unleash their next massive full-length Ressentiment via Translation Loss Records on July 20th. Today, MetalSucks has hosted the an exclusive premiere of the album's opening track, "The Ladder", streaming now at this location: http://www.metalsucks.net/2010/07/01/climb-up-the-ladder-with-east-of-the-wall/. Meanwhile, the band have also posted another new track from the record, "Wisp Of Tow", on their official website, Facebook and Myspace pages.
EAST OF THE WALL's Ressentiment is a concept record in which the band focus on a more aggressive tone, an increased emphasis on sonic dissonance, and also integrating the use of vocals for the first time on an EOTW album. Engineered and co-produced by Will Putney at The Machine Shop (King Crimson, Clutch, Lamb Of God), the album closes out over 62 minutes in length, seamlessly meshing mind boggling tech-metal with serene melodiousness for the entire ride. Preorders for the record are being taken this week: http://translationloss.com/store/.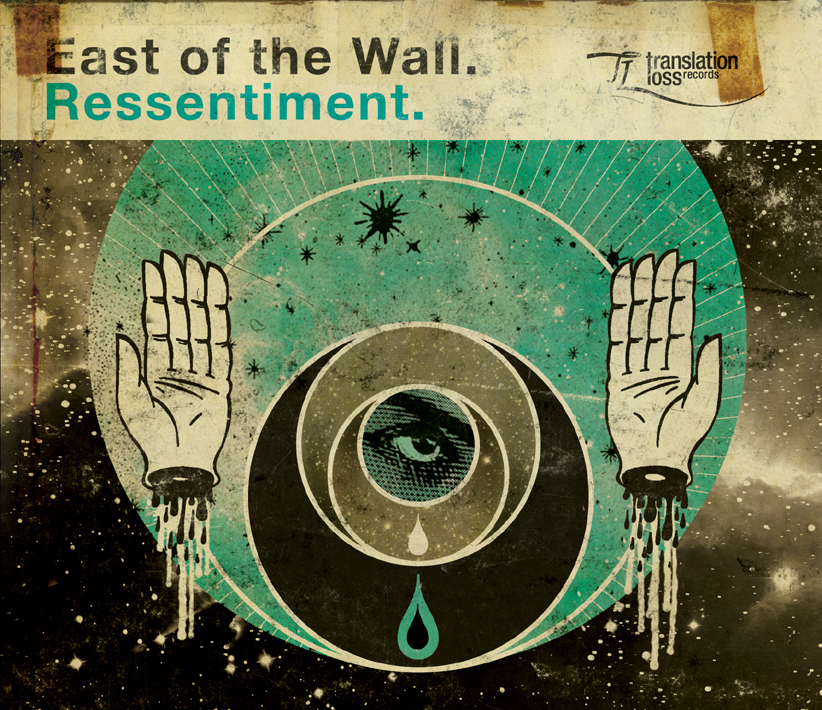 Ressentiment Track Listing:
01 "The Ladder"
02 "Salieri"
03 "Fool's Errand"
04 "Wisp Of Tow"
05 "Ocean Of Water"
06 "It's Always Worth While Speaking To A Clever Man"
07 "Fleshmaker"
08 "Maybe I'm Malaised"
09 "A Long Defeat"
10 "Gordian Corridor"
11 "Handshake In Your Mouth"
12 "Don't Stop Bereaving"
13 "Beasteater"
This Saturday EAST OF THE WALL will be kick off their month long tour alongside Name, also joined by Black Sheep Wall on the west coast dates.
EAST OF THE WALL 2010 Summer Tour w/ Name:
7/03/2010 Charm City Art Space – Baltimore, MD
7/05/2010 The Multiplex: "Fuck The 4th Fest" – Madison, AL (no Name)
7/06/2010 The Muse – Nashville, TN
7/07/2010 Drunken Unicorn – Atlanta, GA
7/08/2010 The Tavern – Hattiesburg, MS
7/09/2010 Dragon's Den – New Orleans, LA
7/10/2010 Red 7 – Austin, TX
7/11/2010 Launchpad – Albuquerque, NM
7/12/2010 Revolver Records – Phoenix, AZ w/ Black Sheep Wall
7/13/2010 Surf City Saloon – Huntington Beach, CA w/ Black Sheep Wall
7/14/2010 Cobalt Cafe – Los Angeles, CA w/ Black Sheep Wall
7/16/2010 The Red House – Walnut Creek, CA w/ Black Sheep Wall
7/17/2010 The Fire Escape – Sacramento, CA w/ Black Sheep Wall
7/18/2010 The Zephyr – Reno, NV w/ Black Sheep Wall
7/19/2010 *TBA – Salt Lake City, UT w/ Black Sheep Wall
7/20/2010 The Larimer Lounge – Denver, CO w/ Black Cobra (no Name)
7/21/2010 The Slowdown – Omaha, NE
7/22/2010 RME Hall – Davenport, IA
7/23/2010 The Aquarium – Fargo, ND
7/24/2010 *TBA – Minneapolis, MN
7/25/2010 Metal Shaker – Chicago, IL
7/26/2010 Level 2 – Lansing, MI
7/27/2010 Rack & Roll – Riverview, MI
7/28/2010 The Shop – Ithaca, NY
7/29/2010 The Downtown Quarterback – Endicott, NY
7/30/2010 Webster Hall – New York, NY w/ Black Cobra, Howl, Struck By Lightning (no Name)
7/31/2010 Keyport VFW – Keyport, NJ
8/01/2010 *TBA – Philadelphia, PA
8/02/2010 The Charleston – Brooklyn, NY
"…that rare band that appeal to artsy indie types and metal nerds in equal measures; their dazzling blend of technical post-hardcore aggression, melody and indie sensibility is really one of a kind." – MetalSucks.net
"East of the Wall have done everything different and nothing wrong. This is likely to be the single most eclectic album of 2010. 10/10" – GravediggerMagazine.com
http://www.myspace.com/eastofthewall
http://www.eastofthewall.com
http://www.translationloss.com
http://www.myspace.com/translationlossrecords