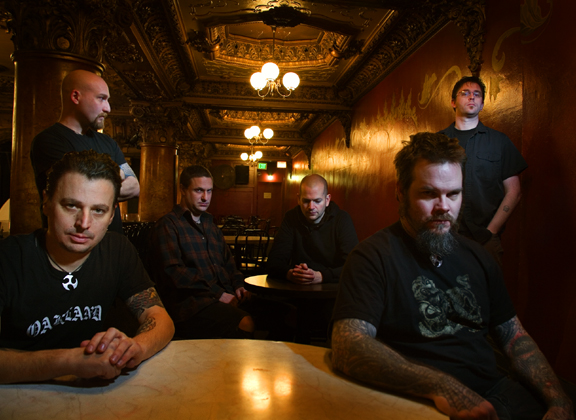 Neurot Recordings proudly unveil a brand new live album from NEUROSIS, who are undoubtedly cited as one of the most influential bands of heavy music's experimental underworld.
The first release from NEUROSIS since 2007's Given to the Rising, this new live album was recorded that same year in Tilburg, Holland, at the annual Roadburn Festival, where NEUROSIS headlined to a die-hard audience. The album expertly captures as much of the band's live experience as one possibly could on a physical recording, harnessing the monolithic flow and power of the band's well-known sonically devastating live performances. The monstrous 78-minute record showcases this iconic band surging through hymns from their last few albums, including Given To The Rising, The Eye Of Every Storm, A Sun That Never Sets, and Through Silver In Blood.

Live At Roadburn will see official release on August 30, 2010, alongside the reissue of NEUROSIS' groundbreaking 1993 release Enemy Of The Sun. The 'Roadburn release features the iconic artwork/layout skills of visionary artist/NEUROSIS live visual master Josh Graham, also responsible for the redesigned Enemy Of The Sun layout. Both albums will be released on CD worldwide August 30th, 2010, part of this year's celebration of the 25th anniversary of the legendary act.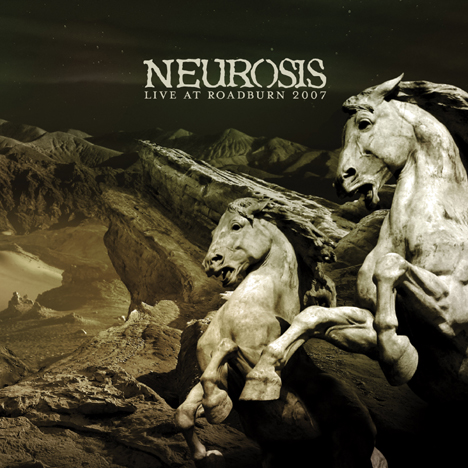 Live At Roadburn 2007 Track List:
1. Given to the Rising
2. Burn
3. A Season in the Sky
4. At the End of the Road
5. Crawl Back In
6. Distill
7. Water Is Not Enough
8. Left to Wander
9. The Doorway
In North America please contact Earsplit with all NEUROSIS promo inquires and to set up interviews with Steve Von Till or Scott Kelly.
Emotion plus volume. This music comes from the stomach. Listen to the washes at the back of "Water is Not Enough." Listen to the grimacing cries of "At the End of the Road," the mortal desolation of "A Season in the Sky." You'll hear it or you're a fool.
Imagine what it must have been like to have Neurosis step out on that stage. The 013 Popcentrum, Tilburg. Roadburn. An event unlike anything else the world over, and Neurosis with a legacy of carved granite. It must have been like rivers joining, flowing in the same direction. Forces of nature.
There are nine tracks on this release. As you listen, set aside expectation. Put away your thoughts about what you think the work should or does sound like. It is not about the definitive. It is the execution. The temporal and the fleeting. You need to understand: This is the moment, captured. Emotion plus volume. (JJ Koczan).
http://www.neurosis.com
http://www.myspace.com/officialneurosis
http://www.neurotrecordings.com
http://www.myspace.com/neurotrecordings