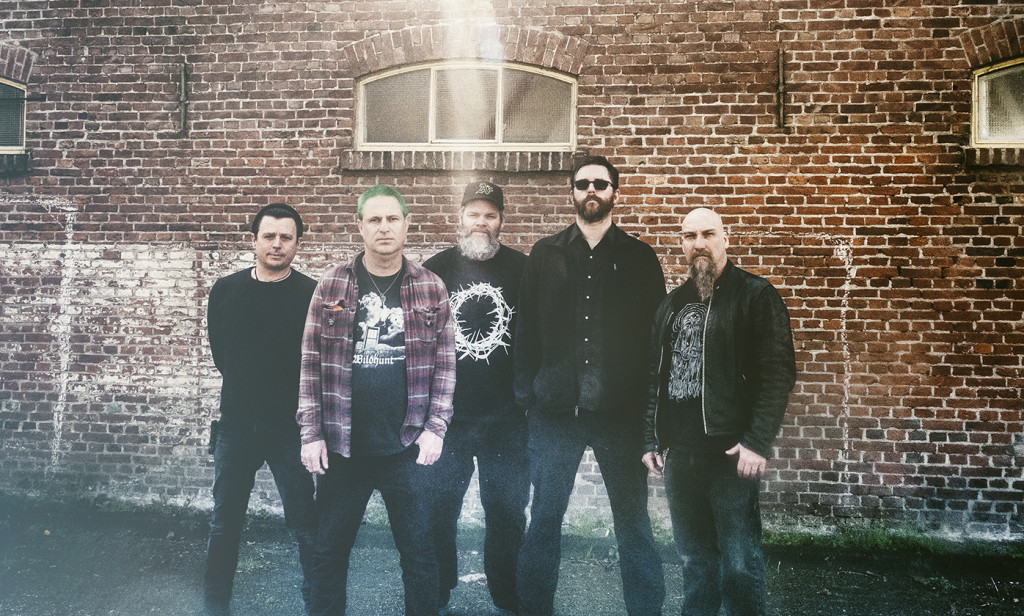 [photo by Stefaan Temmerman]
A massive milestone in the ongoing and unstoppable legacy of NEUROSIS falls into alignment as the band unveils their eleventh studio album, Fires Within Fires, through their own Neurot Recordings this Friday. Preceding the album's street date, the entire record – recorded by Steve Albini, and featuring cover artwork by Thomas Hooper — is now streaming worldwide through multiple channels of Vice's music channel, Noisey.
Noisey issues alongside the stream, "What more can be said about NEUROSIS that hasn't already been written, re-written, and re-written once again? They're giants in a field obsessed with hugeness–hugeness of riff, of amplifier, of decibel, of ambition–and are a seemingly unbreakable sonic force. When Scott Kelly, Steve Von Till, Jason Roeder, Noah Landis, and Dave Edwardson come together (and especially when they do so under the steady hand of longstanding engineer Steve Albini) the result is the kind of tectonic earth magic that the word doom was invented to personify. Whatever it is they continue to seek, this latest offering is a massive step forward towards it."
Stream NEUROSIS' entire Fires Within Fires early at THIS LOCATION.
NEUROSIS' Fires Within Fires will see worldwide release on CD, LP, cassette, and all digital platforms this Friday, September 23rd; see the wide array of preorder bundles and options RIGHT HERE.
Decibel Magazine released an entire issue dedicated to NEUROSIS including multiple rare Hall Of Fame features as well as a full feature on the new album, a very brief section of the coverage praising, "NEUROSIS have redefined what heavy meant and what heavy could be, all while refusing to define themselves as anything more than conduits for the music they conjure like diviners. Now releasing their eleventh LP, Fires Within Fires, they've ascended from the trappings of youth to alter the landscape of heavy music like the violent shift of tectonic plates." Alternative Press forewarned in their 12 Metal Albums You're Going To Need In The Second Half Of 2016 feature, "NEUROSIS have been endlessly creative and relevant for every stage of their now three-decade career…. Every part of their discography is essential, and this will be another welcome chapter in their story."
The Wire gave the album an entire full-page review in their October issue which included, "Fires Within Fires is the summation of thirty years of experimentation in tonality and texture. Yes, NEUROSIS are firmly positioned within the extreme metal underground yet their music, with its ability to generate images of beauty akin to those many of us have experienced in our own lives – not to mention the loss that accompanies them – challenges this categorization. This is the band's aim; to confront the listener and through sharing their own experiences and impressions offer a template to explore the profundity and profanity of our past and future lives." Terrorizer's album of the month review for September offers, "Fires Within Fires sees NEUROSIS evoking both the primitive elements of their early years and the polished grace of their current form. A worthy addition to their legacy, their fire burns on."
NEUROSIS continues to book additional upcoming live performances around the release of Fires Within Fires, adding several new shows to their tour schedule. Following the previously-announced London shows with Earth November 7th and Discharge and Subhumans November 8th, and two shows in Portland with labelmates Yob and Kowloon Walled City November 25th and 26th, the newest additions come in the form of two California shows in December, leading with a set in San Francisco on December 17th, also with support from Yob and Kowloon Walled City. The next night, December 18th will see NEUROSIS headlining the second night of The Power Of The Riff 2016, with six additional bands to be announced for the same evening. Two shows in Seattle and Vancouver follow, on December 19th and 20th, respectively, with support from Yob and Sumac.
NEUROSIS Tour Dates:
11/07/2016 Koko – London, UK w/ Earth [tickets]
11/08/2016 Koko – London, UK w/ Discharge, Subhumans [tickets]
11/25/2016 Hawthorne Theatre – Portland, OR w/ Yob, Kowloon Walled City [all ages] [tickets]
11/26/2016 Hawthorne Theatre – Portland, OR w/ Yob, Kowloon Walled City [21+] [tickets]
12/17/2016 Regency Grand Ballroom – San Francisco, CA w/ Yob, Kowloon Walled City [tickets]
12/18/2016 Regent Theater – Los Angeles, CA @ The Power Of The Riff [tickets]
12/19/2016 Neumos – Seattle, WA w/ Yob, Sumac [21+] [tickets]
12/20/2016 Venue – Vancouver, BC w/ Yob, Sumac [19+] [tickets]
On September 23rd, NEUROSIS take a dominant leap with their eleventh full-length, Fires Within Fires. Three decades in the making, and following 2012's Honor Found In Decay, the album is a testament both to the history and future of NEUROSIS.
In true Ouroborean style, Fires Within Fires gives due to its predecessors while progressing forward into the unfamiliar and formidable. Striking NEUROSIS' signature balance between light and dark, beauty and repulsion, dense sonic heaviness and reflective space. Fires Within Fires is succinct, raw and deeply soulful, an all-encompassing reminder to all that transfiguration in sound remains their most commanding and inimitable strength. Our first and only glimpse of the music on this record, prior to release date, is sampled in a new video which has emerged, here you can also marvel at the exquisite album artwork from the renowned Thomas Hooper.
The journey of their music has found the band relishing the unpredictable, embracing the unknown and exploring the possibility of where the music was capable of taking them. Going beyond the remarkable, NEUROSIS has become unforgettable. Fires Within Fires is the next powerful step towards a destination that has long been and continues to be the very heart of "becoming" for NEUROSIS.
http://www.neurosis.com
http://www.facebook.com/officialneurosis
http://www.twitter.com/neurosisoakland
http://www.neurotrecordings.com
http://www.facebook.com/neurotrecordings