photos by Michael Rataj
Chicago metallic hardcore/grind crew NEQUIENT this week announces their first tour of the year with an East Coast Spring tour.
NEQUIENT released their second album, Darker Than Death Or Night, through Nefarious Industries in March of 2022, the album showing the band expanding their diverse palette without sacrificing their honed focus or capacity for vicious sensory assault. The album displays tightly controlled yet satisfyingly grimy, attuned to the anxieties of an uneasy era and unconcerned about fitting into the preconceived boundaries of subgenre. Mixed by Sanford Parker (Voivod, Yob, Eyehategod) and mastered by Collin Jordan (Harm's Way, Windhand, Pelican), Darker Than Death Or Night is completed with artwork and design by Scott Shellhamer (American Heritage, Buried At Sea, Coffinworm).
NEQUIENT's East Coast Tour will see the band out from March 23rd through April 7th with shows in Michigan, Ohio, New York, Connecticut, Massachusetts, Rhode Island, Pennsylvania, Indiana, and Illinois within the dense two week span. See all confirmed shows below and watch for additional live updates to post.
Find NEQUIENT's Darker Than Death Or Night on cassette, vinyl and all digital providers through Nefarious Industries HERE.
NEQUIENT East Coast Tour 2023:
3/23/2023 Mulligan's Pub – Grand Rapids, MI w/ Tombstunner, Fathom XIX [info]
3/24/2023 The Birdhouse – Lakewood, OH w/ Gloom Doom, Wallcreeper
3/25/2023 Dojo Dungeon – New Hampton, NY
3/26/2023 Cherry Street Station – Wallingford, CT w/ Down With Rent, Rakefire, Warblood
3/27/2023 Silhouette – Boston, MA w/ Morgued, Torn in Half
3/28/2023 Dusk – Providence, RI w/ Anxious Wave, Will Killm00re [info]
3/29/2023 TV Eye – Brooklyn, NY w/ Trip Villain, Dad, Vomit Fist
3/30/2023 Century – Philadelphia, PA w/ Roadkiller, Gross [info]
3/31/2023 Westside Bowl – Youngstown, OH w/ Neighbor Dan, The Pugilist [info]
4/01/2023 New Dodge Lounge – Hamtramck, MI w/ Kamikaze Zombie, Ogemaw County, Prometon [info]
4/02/2023 Black Circle – Indianapolis, IN w/ Chaff, Hellbender, Thlurm [info]
4/07/2023 Reggies Music Joint – Chicago, IL w/ Sunless, Noctambulist, Thieves, Rod [info]
NEQUIENT is currently writing the follow-up to Darker Than Death Or Night with plans of recording later this year. Stand by for further intel on these developments to post over the months ahead.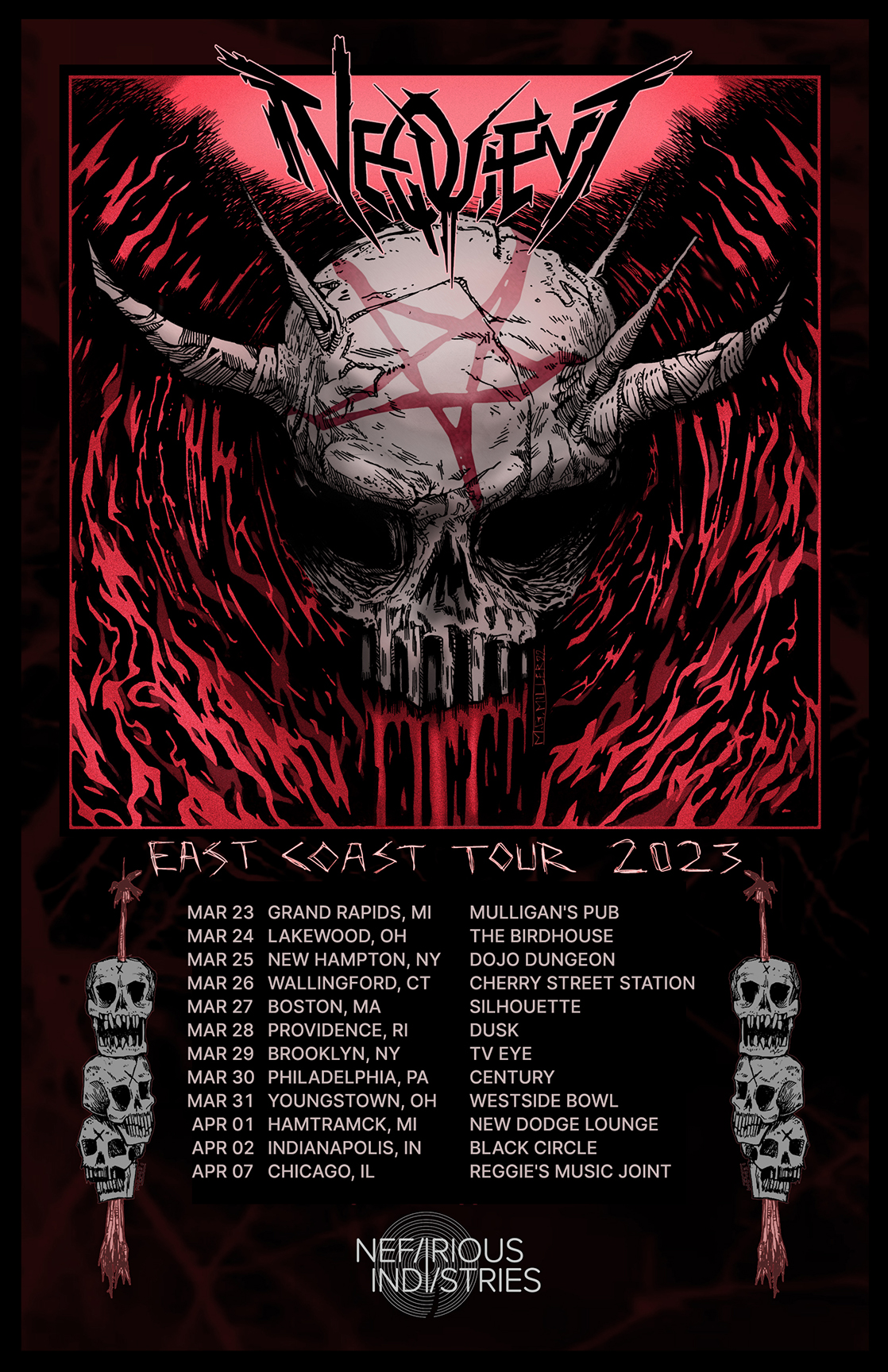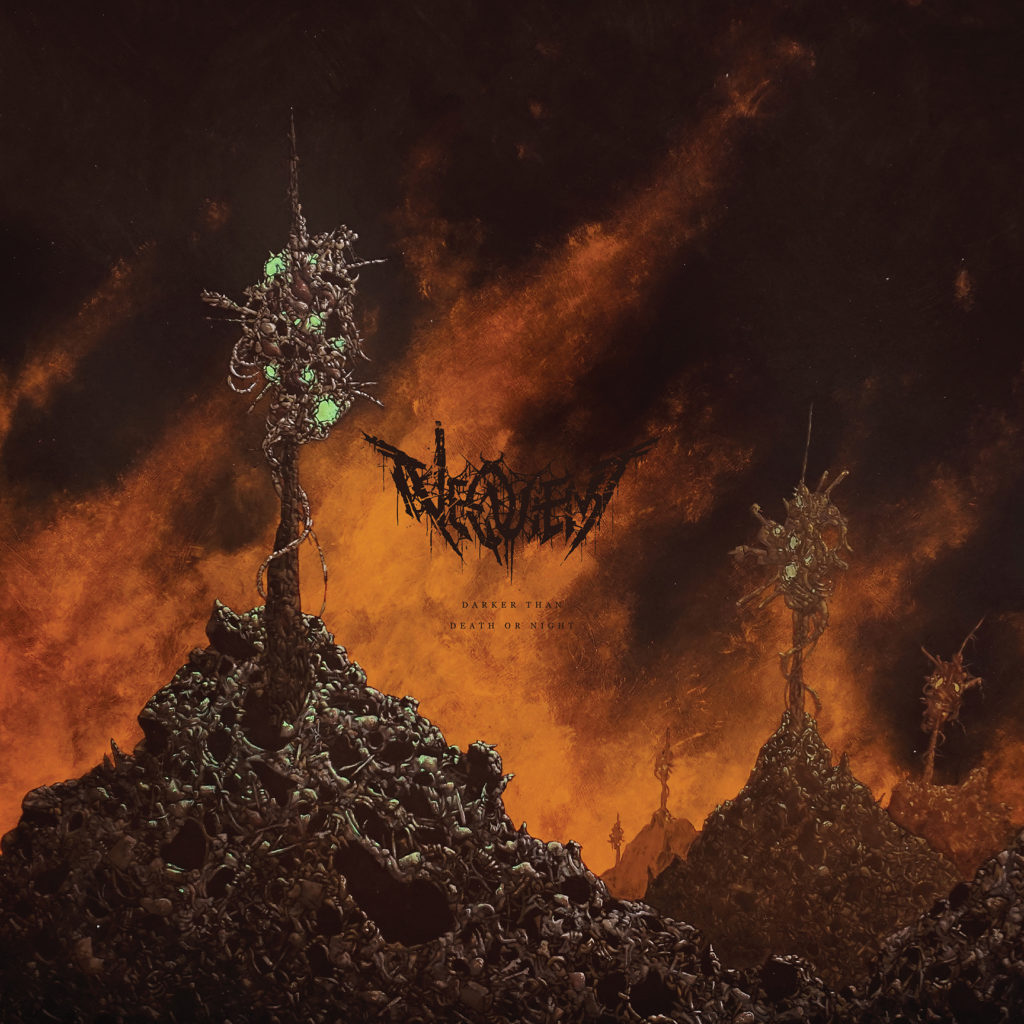 https://nequient.bandcamp.com
https://www.instagram.com/nequientchicago
https://www.facebook.com/nequientband
https://nefariousindustries.com
https://nefariousindustries.bandcamp.com
https://facebook.com/nefariousIndustries
https://instagram.com/nefarious_industries
https://twitter.com/nefariousInd