Bay Area death cult, NECROT, have announced ten additional shows this winter with their space-obsessed comrades in Denver's Blood Incantation. The performances will take place through February and March during off dates of the eighth annual Decibel Magazine Tour featuring Cannibal Corpse, Morbid Angel, Immolation, and Blood Incantation. The tour follows NECROT's appearance at the Tankcrimes Takeover February 2nd at the Oakland Metro with labelmates Ghoul, Brainoil, Kicker, Mortuous, Connoisseur, Deathgrave, and Los Huaycos. Tickets are on sale now! See all confirmed dates below.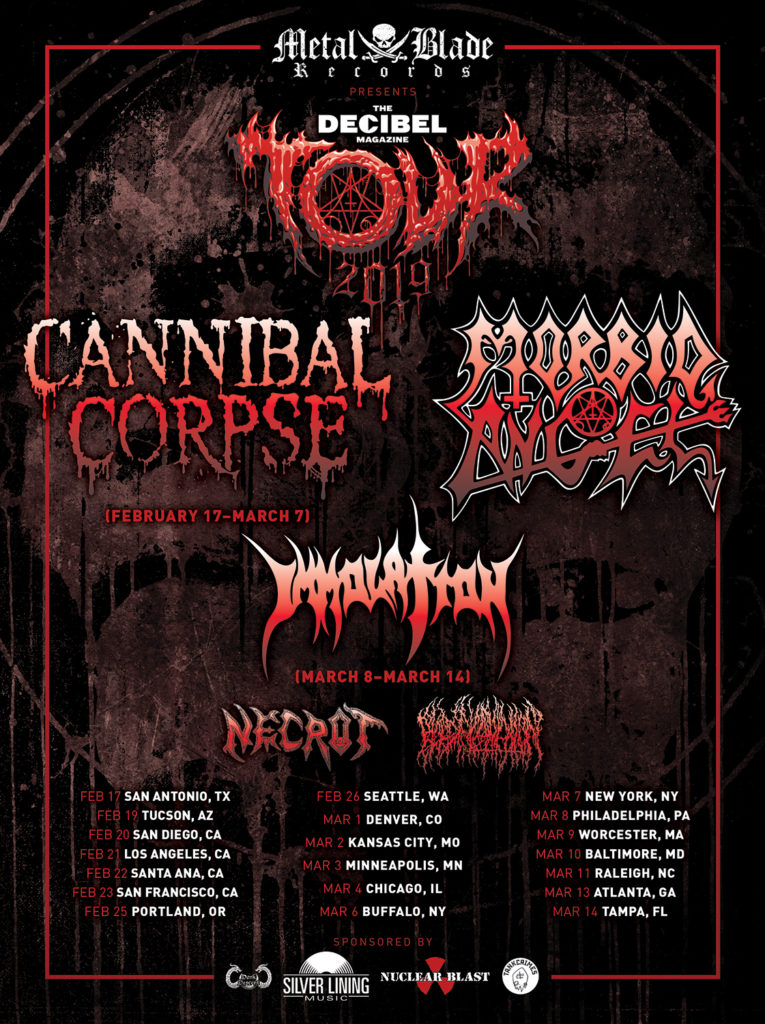 NECROT:
1/11/2019 The Ritz – San Jose, CA w/ Coldclaw, Wolf King, Dissidence [Info]
2/02/2019 Tankcrimes Takeover @ Oakland Metro – Oakland, CA w/ Ghoul, Brainoil, Kicker, Mortuous, Connoisseur, Deathgrave, Los Huaycos [Info]
2/14/2019 Sister – Albuquerque, NM **
Decibel Magazine Tour w/ Cannibal Corpse (2/17–3/07), Morbid Angel, Immolation (3/08–3/14), Blood Incantation:
2/17/2019 Alamo Music Hall – San Antonio, TX
2/18/2019 Rock House – El Paso, TX **
2/19/2019 Club Xs – Tucson, AZ
2/20/2019 The Observatory – San Diego, CA
2/21/2019 The Fonda Theater – Los Angeles, CA
2/22/2019 The Observatory – Santa Ana, CA
2/23/2019 The Regency Ballroom – San Francisco, CA
2/24/2019 Siren's Song – Eureka, CA **
2/25/2019 Roseland Ballroom – Portland, OR
2/26/2019 Showbox Market – Seattle, WA
2/27/2019 Neurolux – Boise, ID **
2/28/2019 Metro – Salt Lake City, UT **
3/01/2019 The Oriental Theater – Denver, CO
3/02/2019 The Truman – Kansas City, MO
3/03/2019 Skyway Theater – Minneapolis, MN
3/04/2019 The Concord – Chicago, IL
3/05/2019 Black Circle Brewing – Indianapolis, IN **
3/06/2019 Town Ballroom – Buffalo, NY
3/07/2019 Playstation Theater – New York, NY
3/08/2019 TLA – Philadelphia, PA
3/09/2019 Palladium – Worcester, MA
3/10/2019 Baltimore Soundstage – Baltimore, MD
3/11/2019 Lincoln Theater – Raleigh, NC
3/12/2019 1904 Music Hall – Jacksonville, FL **
3/13/2019 The Masquerade – Atlanta, GA
3/14/2019 Orpheum – Tampa, FL
3/15/2019 Santos – New Orleans, LA **
3/16/2019 Lost Well – Austin, TX **
3/17/2019 Three Links – Dallas, TX **
** NECROT + Blood Incantation Only
NECROT unleashed their critically-adored Blood Offerings full-length via Tankcrimes in 2017. Captured by Greg Wilkinson (Vastum, Graves At Sea) and mastered by Brad Boatright (Nails, Gatecreeper), the record earned the #29 spot on Billboard's Hard Rock Chart and #52 on Billboard's New Artist Chart upon its first week of release. Additionally, Blood Offerings earned year-end accolades from the likes of Decibel Magazine and Revolver and continues to reap the praise of fans and critics globally.
NECROT's Blood Offerings is out now on CD, digital, and vinyl formats and well a newly-issued deluxe cassette edition. Additionally, Tankcrimes recently repressed the LP (now available on limited-edition splatter or olive vinyl). Find physical orders at THIS LOCATION. Stream Blood Offerings in full at THIS LOCATION where you can also purchase the record digitally.
Forged in 2011, NECROT – founded by current and former members of Acephalix, Vastum, Saviours, Watch Them Die, Atrament, and more – unleashed their The Labyrinth full-length in 2016 via Tankcrimes. Spewing forth eight tracks amassed from three hard-to-find and long out-of-print demo tapes, the record reaped critical acclaim from fans and media alike compelled by the band's unrepentant Autopsy, Bolt Thrower, and Sacrilege worship.
"Blood Offerings is all old ground, but it is hallowed earth. We've heard everything played on this album before, but we've never heard it played quite like this. If you're that curmudgeon who keeps saying nothing can displace your aging death metal album collection, it might be finally time to buy a new record." – Decibel
"Packed with killer riffs, thunderous blast beats and the death-defying leads of Saviours guitarist Sonny Reinhardt, the debut album from this hotly touted Oakland death metal trio bristles with a raw intensity that's frequently lost in the modern era of triggered, overproduced extremity. By keeping it real, NECROT keep it awesome." – Revolver
"Metaphorically, it's like putting your ear up to the chest of a rotting corpse and listening to the parasites eat it from the inside out. NECROT has recorded an album so putrescent you can almost smell it." – Paste Magazine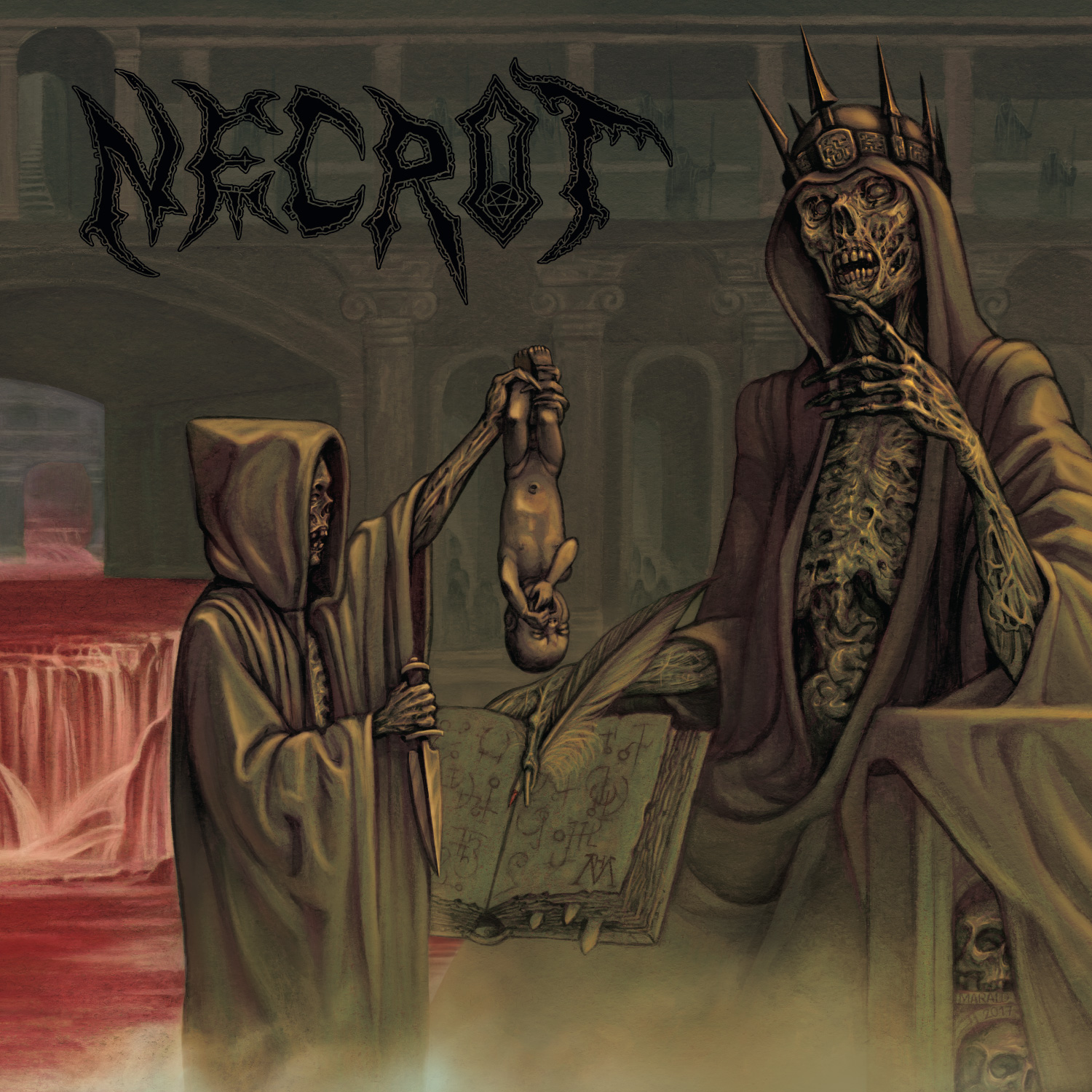 http://www.facebook.com/cyclesofpain
http://www.tankcrimes.com
http://www.facebook.com/tankcrimes
http://www.tankcrimes.merchtable.com