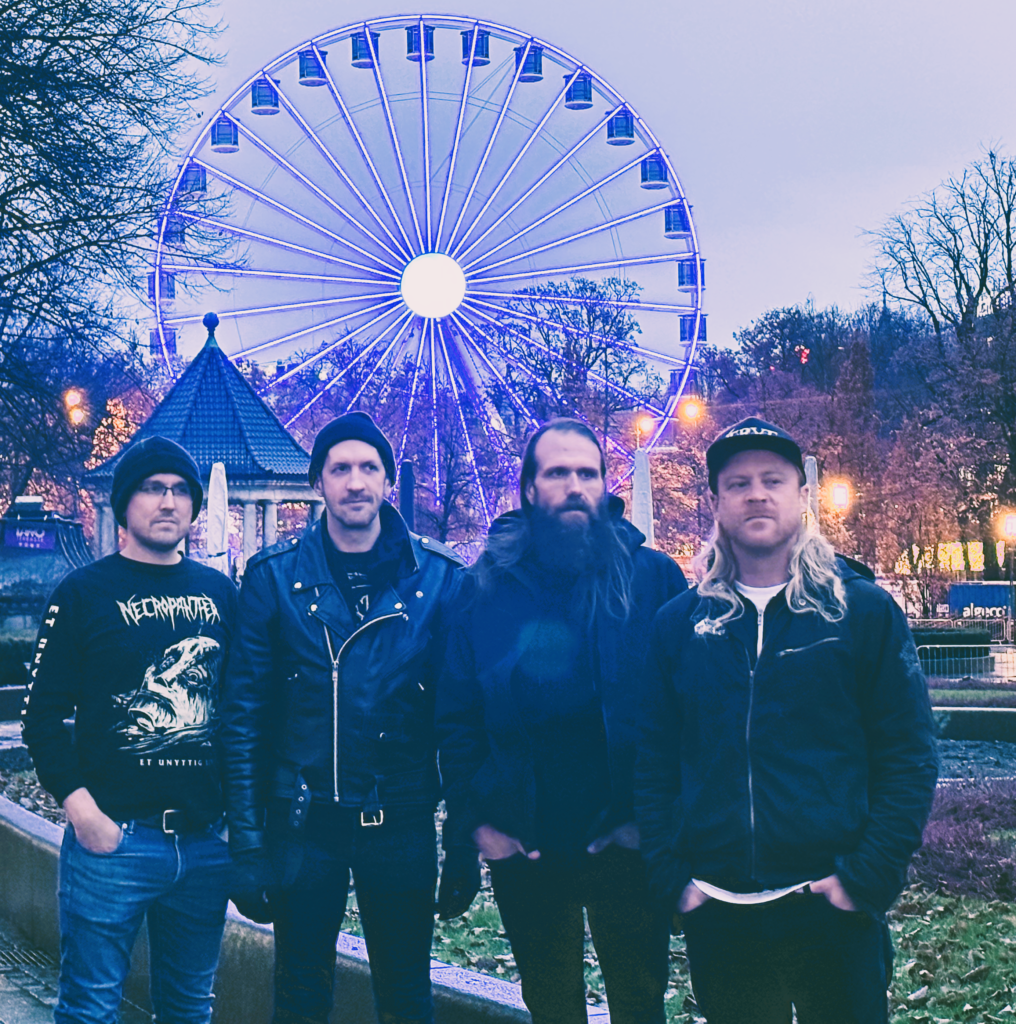 Denver, Colorado-based death/thrash practitioners, NECROPANTHER, are pleased to unveil their video for "Into Danger." Now playing at Everything Is Noise, the track comes by way of the band's critically-lauded Betrayal full-length, released independently earlier this year.
Always crafting their full-length releases around cult sci-fi/dystopian future cinema, Betrayal intertwines the movie The Warriors with the Greek story of Anabasis by Xenophon (on which The Warriors is based). "The tales are parallel: A small group is betrayed and isolated in dangerous enemy territory and must fight their way back home," says guitarist Joe Johnson. Adds drummer Haakon Sjogren, "Much like The Warriors, we explored new territory on this album and often found ourselves in unfamiliar places but working together to make it 'home.' Also, it's just a great, fun movie with wisdom that's still relevant in today's world."
Writes Everything Is Noise in part, "'Into Danger' thematically kicks off the action of The Warriors' story with Gramercy Riffs gang leader Cyrus shot dead by the leader of the Rogues gang during a nighttime meeting, pinning it on the Warriors which sends the gangs of dystopian New York into a frenzy. There's lyrical references throughout all of Betrayal, but it's perhaps most succinct here on 'Into Danger.'… Sonically, it's one of the most explosive songs on the album with an almost melodeath timbre grafted onto their trademark thrash metal attitude…
"The video itself is an interesting parallel with the song and the movie. With the help of Wright's Amusements, an Elbert, Colorado-based traveling carnival that services a few states in the South/Midwest of the US, the band set up shop in front of a towering Ferris wheel, riding various rides in between band shots. The band blast searing metal in all directions with the help of a merry-go-round, blow off some steam with a ball toss carnival game, and even get on the big wheel itself for some solos and glamour shots."
Read more and watch NECROPANTHER's "Into Danger" video HERE.
Betrayal features the rigorous musicianship and energetic riffs that NECROPANTHER fans have come to expect, with the addition of experimental executions and techniques that put the band in fresh territory including backwards guitar, a screwdriver on a bass track, and harmonized whammy leads as well as the addition of guitar solos from Anop and deeper vocals from Corich that complement Anop's signature rasp. Betrayal was mixed at Ghost Ward Studios in Stockholm, Sweden by metal legend David Castillo (Carcass, Kreator, Katatonia) and comes adorned in the cover art of Max Sherman.
Betrayal is out now on CD, vinyl, and digital formats. Find orders at the NECROPANTHER Bandcamp page at THIS LOCATION where the record can be streamed in full.
NECROPANTHER hails from the metal music cauldron of Denver, Colorado. Masters of genre manipulation, the band blends elements of death, thrash, black metal, and more to create riff-heavy albums for a dystopian future. All four band members are composers and collaboratively create their full-length albums. Since 2014 they have amassed a catalog of startling diversity and consistent quality.
"If you're looking for a tight-as-hell performance that's energetic as much as it is vicious, you're going to love this." – Metal Injection
"…relentless from start to finish." – Denver Westword, Best Metal Album
"…the record stacks up eleven technically dazzling, hook-laden bursts of thrash and death metal that descend from the school of Carcass and At The Gates, with plenty of stylistic flourishes thrown in for good measure. It also finds the band taking on more experimentation in the studio and doubling up on the solos, with vocalist Paul Anop getting a chance to shred throughout the album…" – Treble
"A feral and vicious, yet impressively controlled and devilishly catchy foray into brutal thrash metal." – The Metal Dispatch
"Betrayal is going to be a lot of people's favorite NECROPANTHER record, and that statement doesn't just hold true for fans of The Warriors (which this album's concept is based upon). This is NECROPANTHER's angriest, thrashiest effort to date, and stands out enough in the band's discography that many folks will effortlessly gravitate toward it." – Angry Metal Guy
"This is a release that deserves to be on peoples best of lists for 2023…" – Metal Epidemic
"With lyrics that shift between urban violence and ancient Greece, backwards guitar, harmonized whammy leads, and even a screwdriver, Betrayal is heavier, faster, and just as likely to smash you into pieces as a runaway subway train." – Ghost Cult
"Those who love the aggression of death/thrash with solid musicianship mechanics that's uncompromising through intent and execution, this could be your latest group to hoist high to the rafters." – Dead Rhetoric
"There's never a dull moment on Betrayal, which goes from chaotic to groovy and back again." – Heavy Music HQ
"…if you're looking for killer black thrash, let this dead panther into your home and heart… These guys have been putting out killer albums since 2016, this new one is no different, and it's certainly an early 2023 highlight." – Teeth Of The Divine
"…those who still mourn Skeletonwitch's apparent nosedive can more than console themselves with Betrayal, without a shadow of doubt. And make no mistake: the album is well strong enough to stand on its own." – Metal Bite
"…yet another impressive independent band who've put in the work for a professional result with all angles considered — fine/stylized artwork, high production values, etc. while still doing exactly their own thing." – Grizzly Butts
NECROPANTHER:
Paul Anop – guitar, vocals
Marcus Corich – bass, vocals
Joe Johnson – guitars
Haakon Sjogren – drums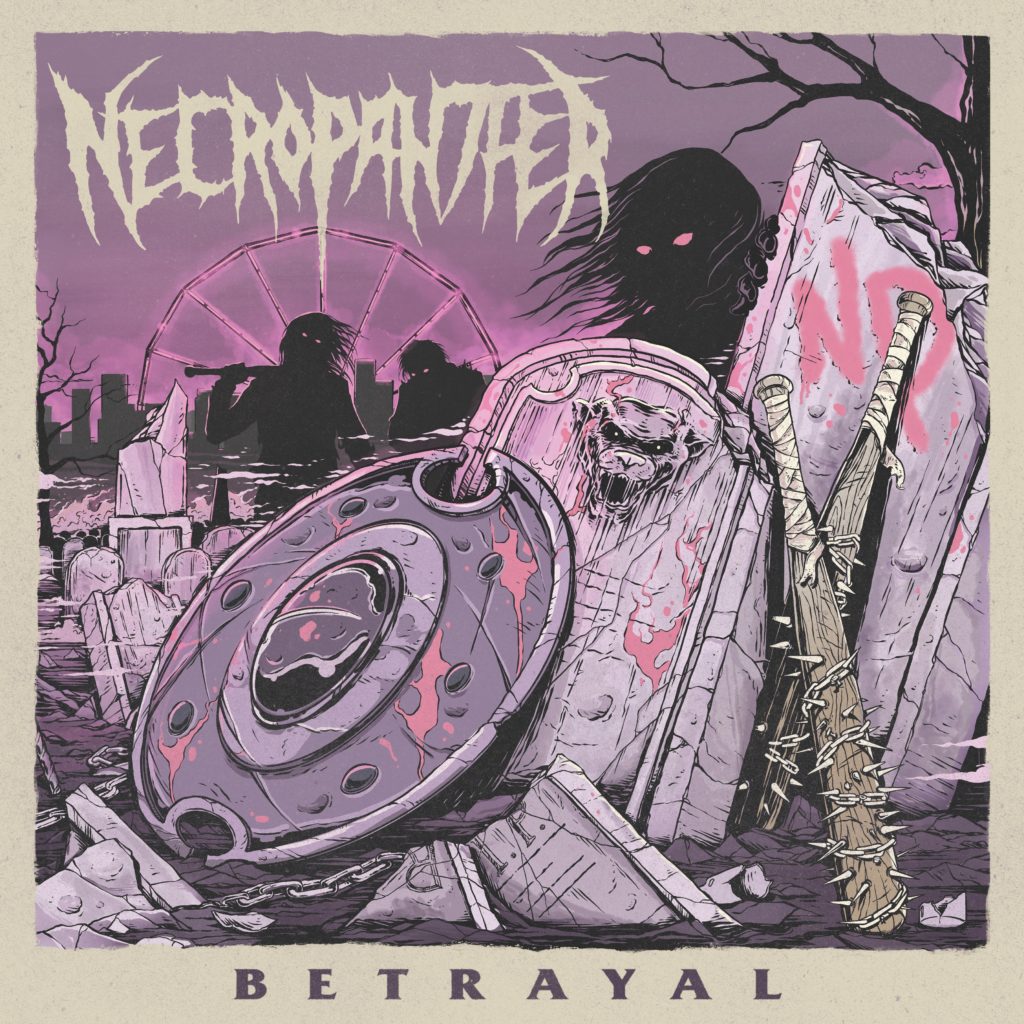 http://www.necropanther.com
http://www.facebook.com/Necropanther
http://www.instagram.com/necropanther
http://necropanther.bandcamp.com