Decibel Magazine is currently streaming "Benthic Storms" from Colorado blackened thrash/doom unit NECROPANTHER. The track comes by way of In Depths We Sleep, the latest in an ongoing series of EP releases from the band, set for release on March 12th.
NECROPANTHER releases EPs that are solely written by one band member – but performed by the entire band – in between full-length releases. To date, they've released Oppression from bassist Marcus Corich and Et Unyttig Liv from drummer Haakon Sjogren. It is rare to have a band where all members are prolific and skilled composers. These individual EPs allow listeners to hear the individual voices that come together on full-length NECROPANTHER albums.
In Depths We Sleep, the band's third EP of the sequence, was composed by guitarist/vocalist Paul Anop. It was performed and produced during the COVID-19 outbreak without the band ever physically working together. Each member performed their parts individually, and through the magic of modern technology, the pieces were melded together into the final product. This work is a departure from the expected NECROPANTHER sound, again proving this is a band without genre boundaries and capable of creating a wide variety of incredible music.
Comments Anop of "Benthic Storms," "The ocean is where I feel at home, and I've missed that because of the pandemic. This EP represents my memory of time spent in the water, and my hope to return there."
Adds Decibel, "…the group specialize in a potent mixture of melodic death, thrash, and black metal, executing the fusion with grace and precision. On their new song, 'Benthic Storms,' NECROPANTHER charge forward with melodic leads, blast beats and icy vocals, setting the tone for their forthcoming In Depths We Sleep EP."
Stream NECROPANTHER's "Benthic Storms," now playing at Decibel Magazine, at THIS LOCATION.
In Depths We Sleep will be released independently on CD and digitally. Find preorders at THIS LOCATION where previously released single "Cheers To Seth Davey" can be streamed.
"I started writing instrumental songs in 2008 while I was living in Grand Cayman working as a scuba diving instructor," notes Anop of the tracks that would become In Depths We Sleep. "This was a solo project called Whalefalls, and my total inspiration came from being underwater. I initially released an LP (Radiolarions) and an EP (Sygnathidae) via MySpace. I never thought I would play these songs with anyone else. But here we are. The only song that is newly written is 'Benthic Storms.' I was thinking of re-recording some of the songs just for fun. I brought up the idea to the guys and they were excited to play on it. We thought it would be cool since it is so different than the normal NECROPANTHER style and is a perfect fit for our EP series.
"The title, In Depths We Sleep, is from the lyrics in one of the songs," he continues. "I don't want to try to categorize the genre or what it sounds like. I will let the critics be the judge. I always said it sounds like something terrible just happened, but somehow, it's going to be ok."
"The band is at their best on tracks like 'Benthic Storms' where they lean into more traditional blackened thrash fare. It keeps them moving but shows that they are more than just another metal band aping the greats… NECROPANTHER are an interesting one any way you slice it." – Two Guys Metal Reviews
"…the music stands solid behind the imagery, the tales of deep water will be told, and told again, and NECROPANTHER has raised its flag a bit higher up the mast." – Rebel Extravaganza
NECROPANTHER:
Paul Anop – vocals, guitars
Joe Johnson – guitars
Marcus Corich – bass
Haakon Sjogren – drums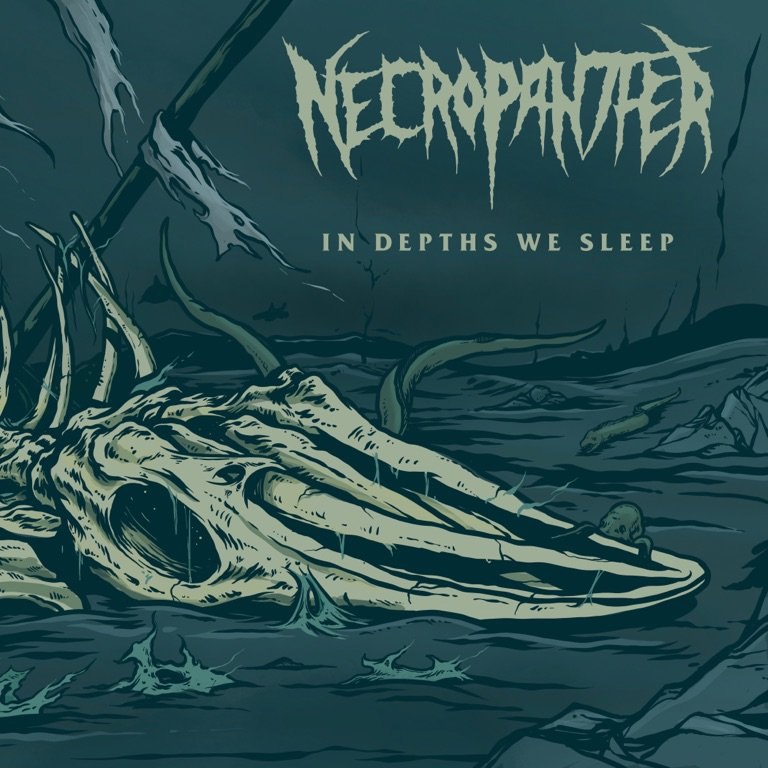 http://www.necropanther.com
http://www.facebook.com/Necropanther
http://www.instagram.com/necropanther
http://necropanther.bandcamp.com