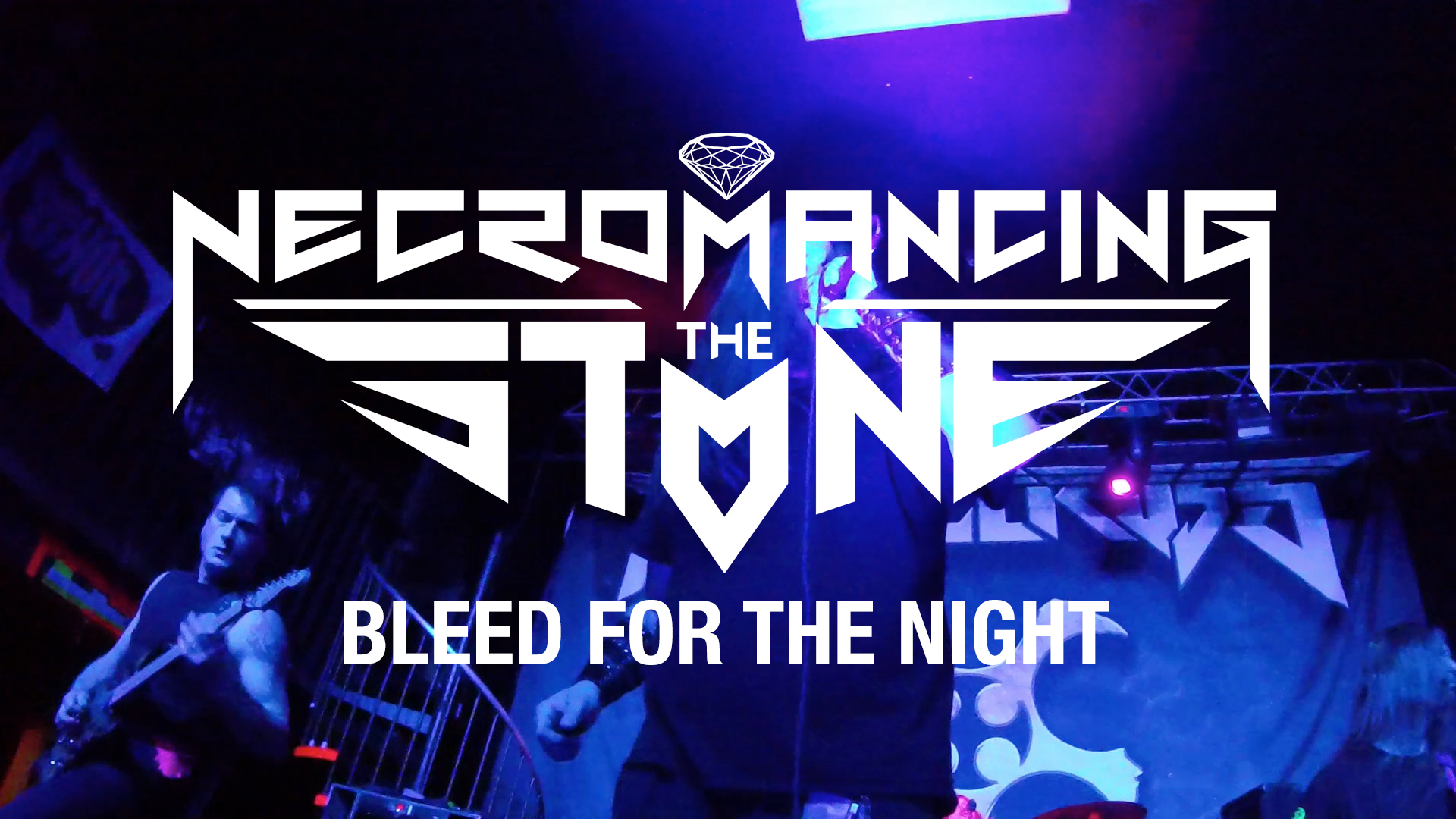 To celebrate Valentine's Day, NECROMANCING THE STONE – featuring current/former members of Arsis (guitarist James Malone), The Absence (drummer Jeramie Kling), The Black Dahlia Murder (bassist Ryan "Bart" Williams), and Brimstone Coven (guitarist Justin Wood and vocalist "Big" John Williams) – has launched a new video for the track "Bleed For The Night." The tune comes by way of their latest album, Jewel Of The Vile. Filmed last year on tour with Battlecross and Allegaeon, "Bleed For The Night" will surely serenade fans with its epic vocals, gargantuan riffs, and pulverizing rhythms. Watch the video, which was shot and edited by Allegaeon's Greg Burgess, below:
NECROMANCING THE STONE comments: "Everyone, on this Valentine's Day, please remember that if you love something too much it may die. Then one day you can learn a powerful resurrection spell and bring it back to life, but it might hate you…B ut that's a different story altogether. We hope you enjoy the video. Huge thanks to Greg from Allegaeon for putting this video together for us."
Next week, NECROMANCING THE STONE will join labelmates Whitechapel, Cattle Decapitation, Goatwhore, and Allegaeon for a special US tour celebrating Metal Blade Records' 35th anniversary. See below for all confirmed dates.
NECROMANCING THE STONE w/ Whitechapel, Cattle Decapitation, Goatwhore, Allegaeon:
2/22/2017 Brighton Music Hall – Boston, MA
2/23/2017 Theatre Of Living Arts – Philadelphia, PA *
2/24/2017 The Fillmore – Silver Spring, MD
2/25/2017 Irving Plaza – New York, NY *
2/26/2017 House Of Blues – Cleveland, OH
2/27/2017 The Stache – Grand Rapids, MI
2/28/2017 St. Andrew's Hall – Detroit, MI
3/01/2017 Deluxe @ Old National Centre – Indianapolis, IN
3/02/2017 Bogart's – Cincinnati, OH
3/03/2017 Mercury Ballroom – Louisville, KY *
3/04/2017 House Of Blues – Chicago, IL
3/05/2017 Riot Room – Kansas City, MO
3/06/2017 Summit Music Hall – Denver, CO *
3/07/2017 Divebar – Las Vegas, NV **
3/08/2017 Belasco Theater – Los Angeles, CA
3/09/2017 House Of Blues – San Diego, CA
3/10/2017 The Fillmore – San Francisco, CA
3/11/2017 Ace Of Spades – Sacramento, CA
3/12/2017 The Rock – Tucson, AZ **
3/14/2017 House Of Blues – Houston, TX
3/15/2017 House Of Blues – Dallas, TX
3/16/2017 House Of Blues – New Orleans, LA *
* no Goatwhore
** no Whitechapel
If flaccid, identikit, breakdown-laden "metal" is the disease, NECROMANCING THE STONE is the cure. With their new album, Jewel Of The Vile, listeners are immersed in fantastical tales, like those found in fantasy novels, or in the playing of an intense game of Dungeons & Dragons. From the moment the aptly titled "Crusher" rushes from the speakers, NECROMANCING THE STONE owns you. True heavy metal fans, look no further – your salvation has arrived with Jewel Of The Vile! To preview and purchase the album, please visit: metalblade.com/necromancingthestone.
http://www.facebook.com/necromancingthestone
http://www.twitter.com/NecrotheStone
http://www.indiemerchstore.com/b/necromancing-the-stone