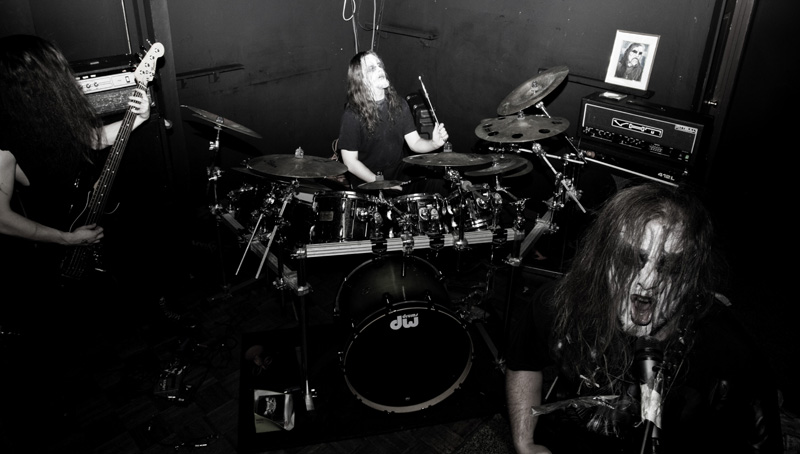 Today the public gets their first ugly taste of the tumultuous upcoming full length from Bay Area heathens NECRITE. Sic Transit Gloria Mundi will crawl forth from the crypt on November 2nd via The Flenser, but today you can sample a bit of what the album has to offer with a Stereogum premiere of the track "Bereft Of Hope" here:
http://stereogum.com/543821/necrite-bereft-of-hope/franchises/haunting-the-chapel/
NECRITE have also been added to the November 17th San Francisco assault of the upcoming Watain tour, and dubbed it their official hometown record release party for Sic Transit Gloria Mundi. Also appearing on the bill will be new NECRITE labelmates Pale Chalice.
NECRITE Record Release Show:
Watain, Goatwhore, Black Anvil, Necrite, Pale Chalice
11/17/2010 DNA Lounge – San Francisco, CA
Sic Transit Gloria Mundi is already infecting international media outlets with its cavernous, blackened attack, giving the public fair warning of what's to be released in November, and putting another potent USBM act on the map.
"…it's one of this year's strongest 'debuts.' Each track's multi-layered, heavy, unexpected – weird, repetitious mantras thick with creepy, dank, bleak ambiance and multiple twists." – Stereogum
"The latest in a long and inglorious tradition of West Coast cellar-dwelling freaks obsessed with funereal-sounding epic black metal… Necrite does an deft job of combining old-school Scandinavian black-metal drones with the modern French ambient style." – The Onion A.V. Club
"…Necrite combine black metal, drone and funeral atmosphere to make one pretty adventurous album." – Popdose