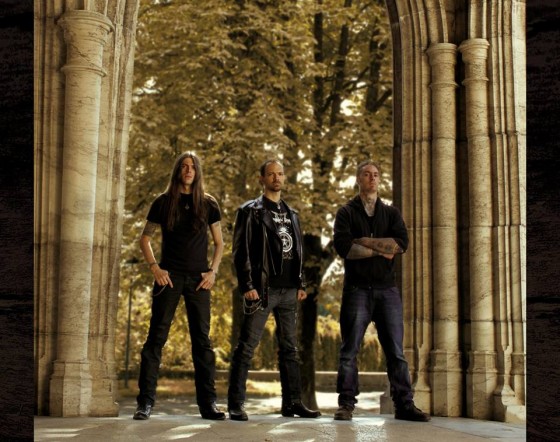 Swiss extreme death metal legion, NEAR DEATH CONDITION, is pleased to wage war on the ears of the willing with an exclusive premiere of "Between The Dying And The Dead."
Their newest ode of repugnance features on the band's forthcoming long player, Evolving Towards Extinction, set to bloody the lands next month via Unique Leader Records. Mixed at renowned Hertz Studios (Vader, Hate, Dead Infection, Vesania etc.) in Poland and mastered at Iguana Studios in Germany, Evolving Towards Extinction boasts eleven molten tracks of suffocating drum gymnastics, twisted riff sequences and enough vocal acrimony to level a nation. Dark, punishing and wholly unsettling, Evolving Towards Extinction is epic in scope and embraces controlled chaos with curiousl precision.
Describes HeavyBlogIsHeavy of "Between The Dying And The Dead," "Gratuitously filled to the brim with churning riffs, relentless blastbeats and that sort of dusty and cobwebbed sound and atmosphere that you get from listening to the classic material of bands like Anata, Suffocation and Spawn Of Possession – this three-minute barrage of sound crushes with the best of them."
Pop some blood vessels with the unforgiving punishment of "Between The Dying And The Dead" at THIS LOCATION.
NEAR DEATH CONDITION's Evolving Towards Extinction will be unleashed via Unique Leader Records on March 18, 2014 with preorder opportunities and further info to be announced in the coming weeks. A journey into the kingdom of sickness awaits!
http://www.facebook.com/officialneardeathcondition
http://www.uniqueleader.com
http://www.facebook.com/UniqueLeaderRecords