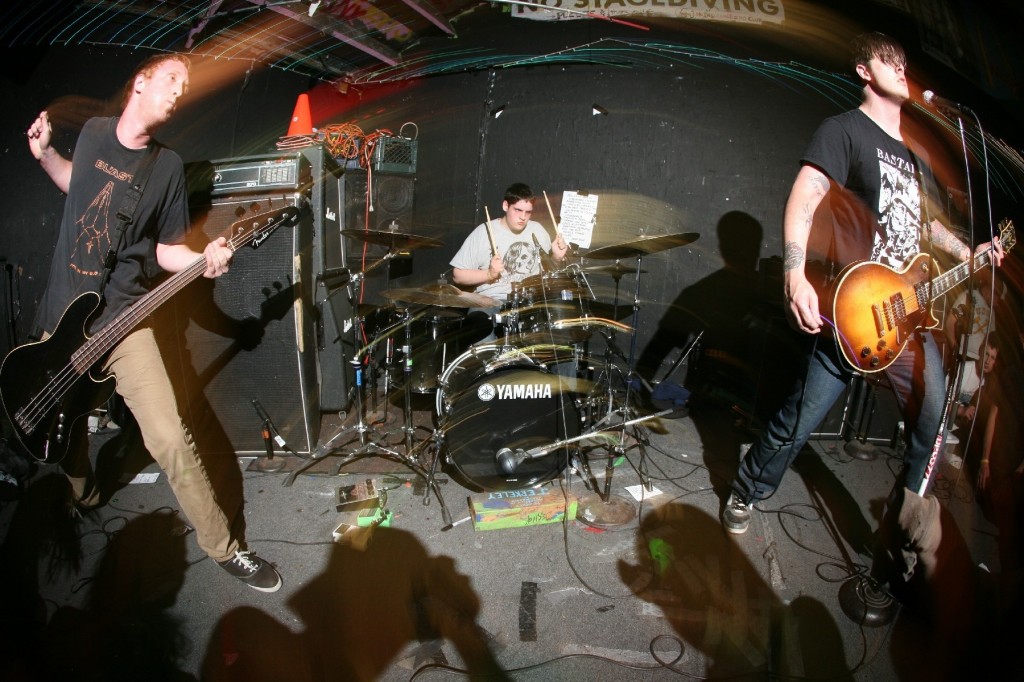 California's brutal hardcore champs NAILS are set to embark on their massive two-month long North American tour this week. Several new shows have been added to the previously announced routing, including a FREE Scion-sponsored Metal Matinee with Magrudergrind and Trash Talk at The Roxy in West Hollywood on September 11th. RSVP for the event at http://www.scionav.com/metalshow and also check out a trailer for the event:
Scion Metal Matinee presents Magrudergrind, Trash Talk, Nails from Scion A/V on Vimeo.
NAILS September/October 2010 Tour:
9/05/2010 Nile Front Room – Mesa, AZ
9/06/2010 10756 Limas – El Paso, TX
9/07/2010 Ten Eleven – San Antonio, TX
9/08/2010 Red 7 – Austin, TX
9/09/2010 The Nightmare – Dallas, TX
9/10/2010 Downtown Music – Little Rock, AR
9/11/2010 The Roxy – West Hollywood, CA w/ Trash Talk, Magrudergrind
9/12/2010 Firehouse – Birmingham, AL
9/13/2010 585 Wells – Atlanta, GA
9/14/2010 Talent Farm – Pembroke Pines, FL
9/15/2010 Transitions – Tampa, FL
9/16/2010 Warehouse 8B – Jacksonville, FL
9/17/2010 Legitmate Business – Greensboro, NC
9/18/2010 Daniels Pub – Cincinnati, OH
9/19/2010 Dojo – Indianapolis, IN
9/20/2010 Double Door – Chicago, IL w/ Venomous Concept
9/21/2010 Blondie's – Detroit, MI w/ Venomous Concept
9/22/2010 Sonar – Baltimore, MD w/ Venomous Concept
9/23/2010 Europa – Brooklyn, NY w/ Venomous Concept, Strong Intention
9/24/2010 Katacombes – Montreal, QC w/ Venomous Concept
9/25/2010 Sneaky Dees – Toronto, ON w/ Venomous Concept
9/26/2010 242 Main – Burlington, VT
9/27/2010 Bogies – Albany, NY
9/28/2010 *TBA – Philadelphia, PA
9/29/2010 Lilly's Pad – New Haven, CT
9/30/2010 The Church – Cleveland, OH
10/01/2010 Mickey Finn's – Toledo, OH
10/02/2010 1108 Main – Cedar Falls, IA
10/03/2010 The Beat – Minneapolis, MN
10/04/2010 Scion Lab – Kansas City, MO
10/05/2010 Blast O Mat – Denver, CO
10/08/2010 Che Café – San Diego, CA
10/09/2010 Sub Mission – San Francisco, CA
10/10/2010 The CYC – Fresno, CA
10/30/2010 Troubadour – Hollywood, CA
One of Southern Lord's most recent label acquisitions, NAILS' music is beyond brutality; filthy, vicious and raw. Imagine a cross between the good Amrep bands of the nineties (Helmet, Hammerhead, Today is The Day, Unsane) and Cro-Mags Age of Quarrel riffage played at breakneck speeds. Their epic battle cry Unsilent Death was recorded during the cold winter of 2009 at Kurt Ballou's (Converge, Trap Them, Black Breath) Godcity Recording Studios. The CD version of Unsilent Death was originally released in limited quantities by Six Feet Under Records. The LP version was self-released on the band on the band's own Streetcleaner label and quickly sold through the 1000 piece pressing. Southern Lord is extremely honored to pick up the torch of this album and let it burn brightly through many more countless battles!
"…stick your face in front of the speakers when their music is on, and prepare for third-degree burns. The Kurt Ballou-produced album is one of the most focused, frenetic and fanfuckingtastic efforts to merge grind's relentlessness with hardcore's muscular whomp." – Decibel
"It's as if Phobia, Nasum, Dismember, Cursed and Despise You squeezed out a blackened placenta of distorted bass walls, guitars that sound like aluminum on fire, and Jones doing his best imitation of himself being stabbed in the throat. 9/10" – Outburn
"Seemingly coming out of nowhere, Unsilent Death is a fantastic sophomore album from Nails that should provide them with some inclusion alongside some of the best up-and-coming bands in the hardcore scene. 4/5" – Metal Underground
http://www.myspace.com/unsilentdeath
http://unsilentdeath.com
http://www.southernlord.com
http://blog.southernlord.com
http://www.myspace.com/southernlordrecordings
http://twitter.com/twatterlord