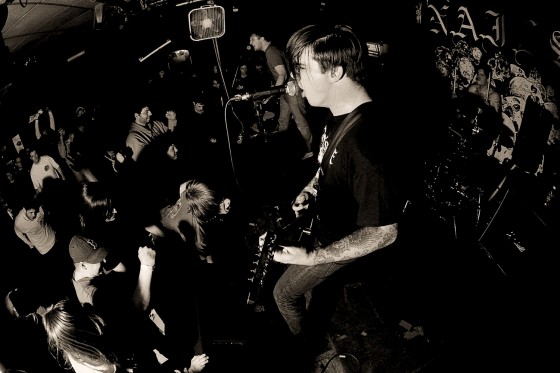 Southern Lord hardcore henchmen NAILS' co-headlining tour with Cleveland hardcore legends Ringworm is set to begin tomorrow, Saturday, July 30, at San Francisco's 924 Gilman.
The Death Comes Ripping Tour 2011 will ruin fourteen cities in a cross-country rampage in into mid-August. In addition to headliners NAILS and Ringworm, support acts Bitter End and New Lows will take part in the melee. The tour surges towards the East Coast over the next two weeks, coming to a close at the massive four-day This Is Hardcore 2011 Fest in Philadelphia, where Nails and Ringworm will play the same night as Youth of Today, H20, Token Entry, Title Fight, Mouthpiece and a ton of other acts.
Following the tour, NAILS return to 924 Gilman as part of a React Records showcase, playing alongside Mindset, Betrayed, On, No Tolerance Skin Like Iron and more.
NAILS Confirmed Live Attacks:

Death Comes Ripping Tour 2011:
RINGWORM & NAILS with Bitter End, New Lows
7/30/2011 924 Gilman – San Francisco, CA w/ Crucified, Deep Cover
7/31/2011 Chain Reaction – Anaheim, CA w/ Creatures
8/01/2011 Nile Underground – Mesa, AZ w/ Territory
8/02/2011 house show – El Paso, TX [info]
8/03/2011 Red 7 – Austin, TX w/ Oneagainstmany
8/04/2011 Trees – Dallas, TX w/ Power Trip
8/05/2011 Downtown Music – Little Rock, AR
8/06/2011 The Record Bar – Kansas City, MO
8/07/2011 Fubar Music Venue – St Louis, MO
8/08/2011 Subterranean – Chicago, IL w/ Harm's Way
8/09/2011 Peabody's – Cleveland, OH
8/10/2011 Bogies – Albany, NY
8/11/2011 Great Scott – Boston, MA
8/12/2011 Starlight Ballroom – Philadelphia, PA @ This Is Hardcore 2011 [info]
React Records Showcase 2011:
9/23/2011 924 Gilman Street – Berkeley, CA @ [info]
More NAILS live performances will be announced over the coming weeks as they're confirmed. Also stay tuned for the band's follow-up to their brutal and widely-praised Unsilent Death album, as the record nears completion for release sometime this Winter.
http://www.unsilentdeath.com
http://www.twitter.com/UnsilentDeath
http://www.southernlord.com
http://blog.southernlord.com
http://twitter.com/twatterlord