Today we are proud to announce NACHTMYSTIUM's next step in global intoxication, as the psychedelically lethal horde will headline the most brutal underground tours of the year.
Set to kick off in early September, NACHTMYSTIUM will be joined by brethren Zoroaster, The Atlas Moth and Dark Castle. Presented by Stereogum and Haunting The Chapel, the nearly month-long trek will weave it's twisted path through sections of the Eastern and Midwest U.S. and into Canada for several dates, before coming to a halt in NACHTMYSTIUM's Chicago stomping grounds, surely leaving a trail of smoldering cerebrums in its wake. Still heavily supporting their latest black-mangled-rock fantasy album Addicts: Addicts: Black Meddle Part II, which was released in North America in early June via Century Media, the other groove, space, doom, thunder and noise elements culminated by openers Zoroaster, The Atlas Moth and Dark Castle should prove this tour to be the most mind-melting of them all.
This headlining tour follows NACHTMYSTIUM's meaty 2010 tour schedule, which has already included massive North American tours with Kreator and Voivod, Eyehategod, a European tour with Jarboe, appearances at several massive festivals including Roadburn, Festung Open Air and much more. The band will also be headed to Oslo, Norway to slay Øyafestivalen (Øya Festival) alongside Iggy Pop & The Stooges, The Flaming Lips and more on August 12th.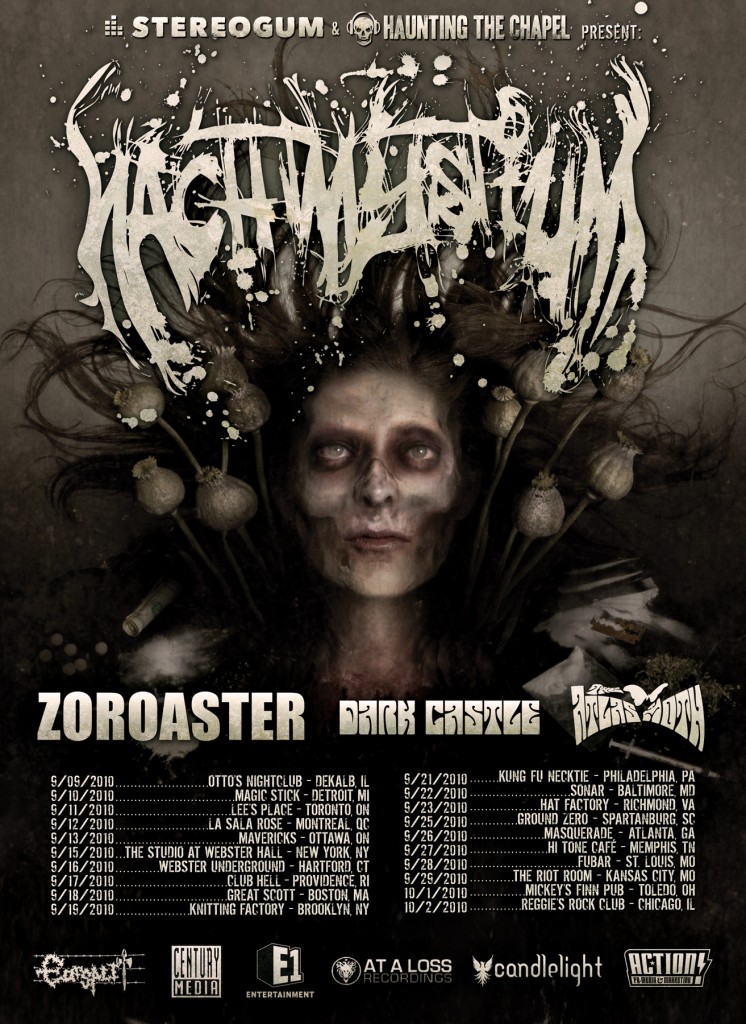 Sterogum/Haunting The Chapel Present:
NACHTMYSTIUM w/ Zoroaster, The Atlas Moth, Dark Castle
9/09/2010 Otto's Nightclub – Dekalb, IL
9/10/2010 Magic Stick – Detroit, MI
9/11/2010 Lee's Place – Toronto, ON
9/12/2010 La Sala Rose – Montreal, QC
9/13/2010 Mavericks – Ottawa, ON
9/15/2010 The Studio at Webster Hall – New York, NY
9/16/2010 Webster Underground – Hartford, CT
9/17/2010 Club Hell – Providence, RI
9/18/2010 Great Scott – Boston, MA
9/19/2010 Knitting Factory – Brooklyn, NY
9/21/2010 Kung Fu Necktie – Philadelphia, PA
9/22/2010 Sonar – Baltimore, MD
9/23/2010 Hat Factory – Richmond, VA
9/25/2010 Ground Zero – Spartanburg, SC
9/26/2010 Masquerade – Atlanta, GA
9/27/2010 Hi Tone Café – Memphis, TN
9/28/2010 Fubar – St. Louis, MO
9/29/2010 The Riot Room – Kansas City, MO
10/1/2010 Mickey's Finn Pub – Toledo, OH
10/2/2010 Reggie's Rock Club – Chicago, IL
Stay tuned for tons of other new NACHTMYSTIUM announcements in the near future.
– – – – –
"…Nachtmystium are all about confrontation, daring people to have enough of an open mind to look past what they perceive to be 'true' heavy music and accept the fact that a little experimenting never hut anybody." 9/10 – Decibel
"Psychedelic and dreamy/nightmarish vibes continue to be a persuasive element across the board. Even with the more pronounced cohesiveness than its predecessor, it still tickles the cerebrum." 9/10 – Outburn
"Whether it is better than the records that preceded it is a matter of taste: It is great by any standard. It is better than almost anything else I have heard this year." 9/10 – The Long Island Press
"…Nachtmystium has become the musical embodiment of the phrase 'nothing ventured, nothing gained,' as they continually take risks and tread waters that few others would dare even considering and to their credit, most of those risk pay off." 9/10 – Blabbermouth
"…Addicts resembles Vried, Immortal and Mayhem as it does Zappa, Calem And Einstürzende Neubauten with the atmosphere of a drug den sullied with the tortured emotion of a Edvard Munch painting." 9/10 – Rock Sound
http://www.myspace.com/nachtmystium
http://www.centurymedia.com