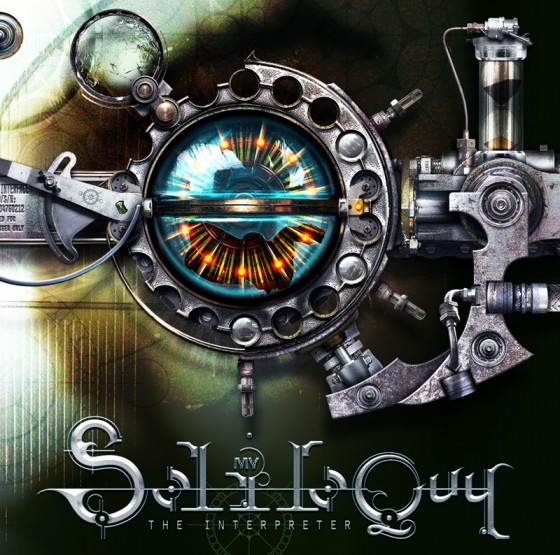 The debut album from English progressive metal magicians MY SOLILOQUY, The Interpreter, is officially in stores across the globe today through Sensory Records.
With praise of MY SOLILOQUY's diversified and creative professional approach rolling in from trustworthy prog/metal media outlets via reviews of The Interpreter, the long-awaited debut has already clearly helped solidify the band's name within the upper ranks of contemporary progressive metal.
To celebrate its release, today online metal portal This Is Not A Scene is streaming MY SOLILOQUY's The Interpreter in its entirety. Check it out HERE.
Formed by multi-instrumentalist Pete Morten of British prog metal legends Threshold, the essence of MY SOLILOQUY is pure forward-thinking metal – symphonic keyboards, shredding guitar leads, soaring vocals – all finely woven together through a blend of intricacy and melody. Following a pair of demos and an EP, Sensory is proud to finally unleash the newly-completed first full-length from this act. With nearly all instrumentation on the recording executed solely by Pete Morten, minus the drumming, The Interpreter flows with over fifty minutes of grand musicianship, expertly mixed and mastered by Rob Aubrey, a mainstay of Marillion's camp for many years.
"…sure to spark the interest of Threshold's fans and they won't be disappointed once they hear My Soliloquy's excellent modern progressive metal… this release is more diverse throughout. 4.5/5" – Sea Of Tranquility
"…an exceptional album of progressive metal and strongly recommended. 4.5/5" – Dangerdog Music Reviews
"…there are echoes from Zero Hour, Silent Force, Manticora & obviously and influence from association with Threshold… with most of the songs clicking in at 6-7 minutes, there is room for this band to move around and really break the rules of simple song structures, yet honoring the knack to create hooks and catchiness. 4/5" – Ytsejam
http://www.mysoliloquy.net
https://www.facebook.com/mysoliloquy
https://twitter.com/MySoliloquyUK
http://www.lasersedgegroup.com
https://www.facebook.com/TheLasersEdge