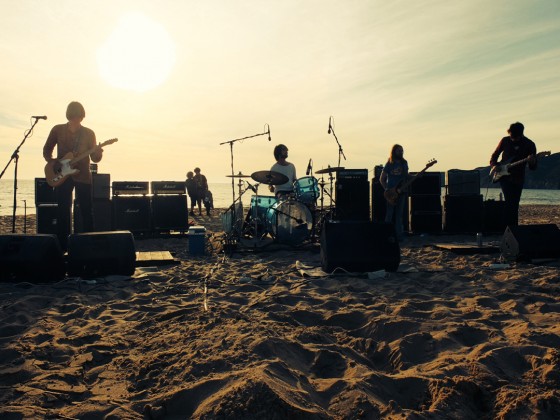 Once There Was A Time When Time And Space Were One
, the expansive, fully-analog, third full-length opus from Swedish instrumental act,
MY BROTHER THE WIND
, is now playing at The Sleeping Shaman in celebration of its official release this week.
MY BROTHER THE WIND is a fully improvisational cosmic rock collective consisting of members of widely known Swedish acts Makajodama, Magnolia, Animal Daydream and most notably Anekdoten, one of the more widely recognized names in the 1990s prog rock revival. Released by Laser's Edge instrumental music sector, Free Electric Sound, Once There Was A Time When Time And Space Were One transports the listener to another plane of existence, the record emitting forty-five minutes of completely natural, organic, cosmic jams. Engineered by Love Tholin at Drop Out Analogue in the Winter mountains of Ã…mål, Sweden, MY BROTHER THE WIND's organic sound is not captured simply through their recording practices and equipment, it all comes together naturally and progresses as a living being, completely improvised on the spot, recorded directly to two-inch tape on a circa 1969 sixteen-track Ampex in one day, then mastered by Hans Fredriksson. Fans of Popol Vuh, Amon Duul, Sun Ra, Träd, Gräs Och Stenar, Albert Ayler, Ash Ra Tempel, Gong, Pink Floyd and other visionary, psychedelic rock artists should not hesitate in exploring this record.
Exploratory rock/metal webzine, The Sleeping Shaman, is now hosting a stream of the entire Once There Was A Time When Time And Space Were One LP now at THIS LOCATION.
Also view the band's video for "Song Of Innocence" at The Obelisk HERE and an extensive trailer for the album HERE.
Once There Was A Time When Time And Space Were One is now available on digipak CD HERE and the digital download HERE. The deluxe LP will be available in the coming days.
Stand by for new live performances from MY BROTHER THE WIND to be announced in the coming weeks. In the meantime, review copies of their latest opus and interviews with the band are available.
"…the album offers an immersive, resonant listen, with tonal richness to spare and the presence of mind to keep a sense of motion even in its stillest parts and a balance of organic elements… This attention to sonic detail makes Once There was a Time When Time and Space were One more than just a collection of jams, and adds further purpose to the already worthy cause of My Brother the Wind's thoughtful musings, wandering and not at all lost." – The Obelisk
"Honestly, I can't say enough good things about Once There Was A Time When Time And Space Were One. It's an intoxicating album, with gorgeous soundscapes that literally can take your breath away. The haunting Mellotron of "Epilogue" is one of the most gorgeous passages you'll hear on a prog album this year, but in truth it's just one of many captivating parts of this wonderful album. Highest recommendations here! 5/5″ – Sea Of Tranquility
"Swedish improvisational instrumental rockers My Brother the Wind deliver their most cohesive work to date with Once There Was a Time When Time and Space Were One, an album of soaring and exotic psychedelic space jams that flirt with ambient music and Kraut Rock along the way. 4/5" – About.com