MUSTARD GAS AND ROSES, most widely known as M.G.R., will release a new EP titled We Are One via Pax Aeternum in November. Featuring two original songs, as well as covers of Joy Division and Spiritualized, the EP's cover art, track listing, and the song "Shadows" have been issued.
M.G.R. is the cinematic project helmed by Michael Gallagher, formerly of ISIS, Cast Iron Hike, and more. Once a largely solo/instrumental project, the project has bloomed over recent years to incorporate a wide range of collaborators. Following records on Neurot Recordings, Conspiracy Records, Barge Recordings, and others, the outfit returns in 2020 with We Are One, showcasing some of its most expansive material yet.
We Are One was captured at several studios with multiple lineups throughout 2017, with songs recorded by Adam Pike At Toadhouse Recording in Portland, Oregon, by Steve Kille at Wiggle Room Studio in Tujunga, California, and by Sanford Parker at Big Bad Sound LA in Los Angeles, California. The EP was mixed by Sanford Parker, mastered by James Plotkin, and completed with paintings by Nicole Momaney and layout by Brandon Pierce.
With founder Mike Gallagher performing guitar and vocals on all tracks, "Shadows" and "Exercise One" also feature Marc Brandi on guitar, J Bennett on bass, and Patrick Crawford on drums, "Becoming" features Bryan Tulao on guitar, and "Cop Shoot Cop" features Bryan Tulao on guitar, J Bennett on bass, Sash Popovic on drums, Keefus Cianca on piano, with Tara Connelly, C. J. Leedy, and Sera Timms providing additional vocals.
Stream MUSTARD GAS AND ROSE's "Shadows" now at THIS LOCATION.
Pax Aeternum will release We Are One across all digital services on November 10th. Find preorders and more at Bandcamp HERE.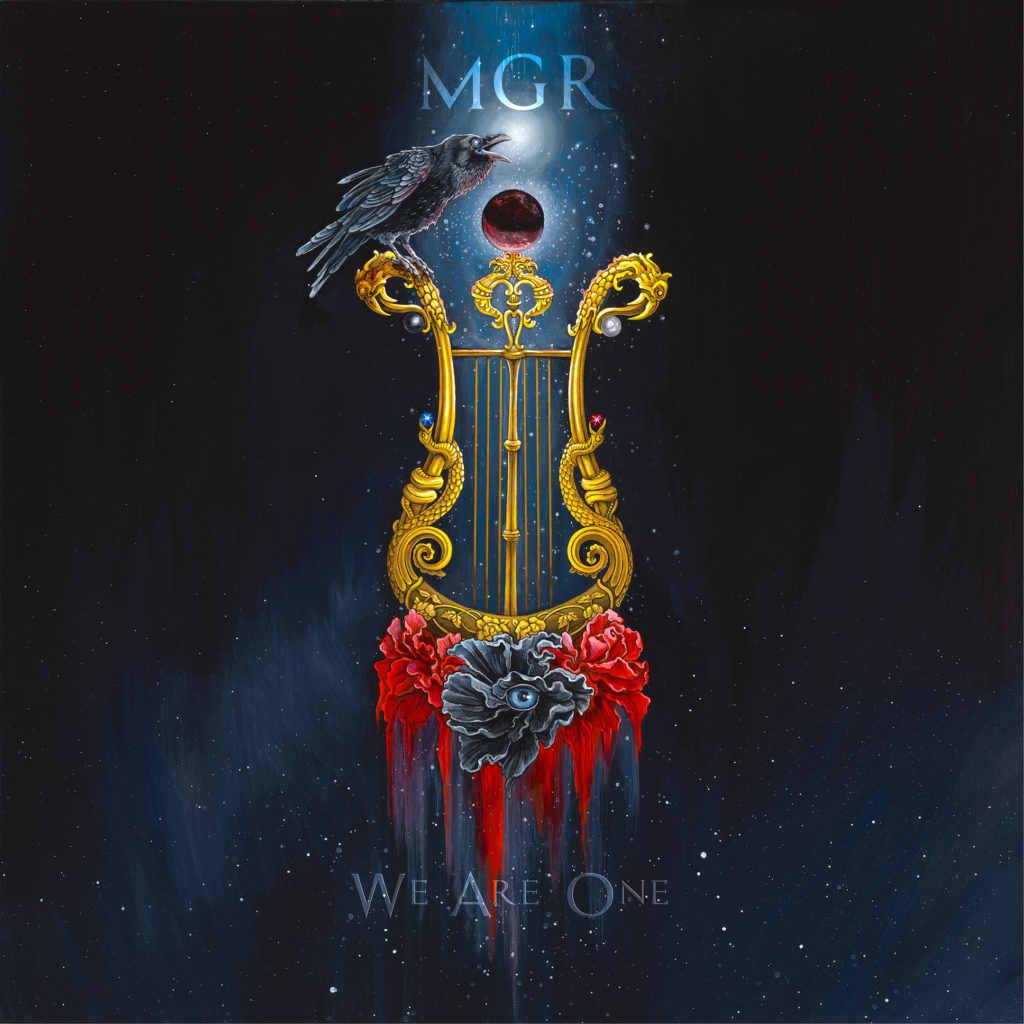 We Are One Track Listing:
1. Shadows
2. Becoming
3. Exercise One (Joy Division cover)
4. Cop Shoot Cop (Spiritualized cover)
Watch for additional audio previews of the EP to see release in the days ahead.
The elusive musical project MUSTARD GAS & ROSES has always been a bit difficult to pin down. Originally conceived by guitarist Michael Gallagher as an ethereal instrumental counterpoint to the megalithic full-band dirges of his band ISIS, early recordings like Wavering On The Cresting Heft revolved around stark, creeping guitar melodies buoyed by subtle string arrangements and auxiliary guitar squall. Over the span of fifteen years, M.G.R. would slip in and out of dormancy, always resurfacing in some altered incarnation as supplemental musicians entered and exited the picture. The act's latest full-length, 2016's Becoming, captured the nebulous ensemble in an incarnation most closely resembling a full-fledged band, with Gallagher's signature cataclysmic guitar lines bolstered by an authoritative rhythm section and a second guitarist. But the most prominent new factor was Gallagher's baritone-throated vocals, which brought a new pensive gravity to their muscular arrangements. Four years later, M.G.R. has resurfaced again. And as it was with past hiatuses, the ensemble has emerged transformed, as is evident on their striking new four-song EP, We Are One.
M.G.R. was largely quiet in the years following the release of Becoming, with one of their rare live appearances occurring at Portland's Stumpfest in 2017. With M.G.R.'s creative core reduced to Gallagher and bassist J Bennet, the duo recruited guitarist Marc Brandi (Lowcaster) and drummer Patrick Crawford (Nite, Older Sun) for a short run of shows up to the Northwest. In the fleeting preparations for the mini-tour, M.G.R. managed to develop two new songs for the set. "Shadows" taps into the dire slow-burn hymns of pre-hiatus Swans and Angels Of Light before blossoming into a kaleidoscope of interwoven guitars and pounding, propulsive rhythms. The other full-band contribution was a scorching cover of Joy Division's "Exercise One," which harnesses the original's gloomy aura but makes the instrumentation far more sonically oppressive. Given the automatic chemistry of the new formation, a few hours of studio time were booked after the Portland date and the two songs were tracked live.
In subsequent years, Gallagher found moments to further push M.G.R.'s sound into new territories. The title track from Becoming was revisited and approached as a somber acoustic track. With a little help from musical compatriot Bryan Tulao (Chelsea Wolfe, Mother Tongue, Black Math Horseman), M.G.R. captured the song in its original genesis, stripped down to its most basic, harrowing components. The biggest sonic risk comes with the EP's closing track, a ten-minute cover of Spiritualized's "Cop Shoot Cop." Recorded by Sanford Parker and rounded out by musical contribution from Bryan Tulao and Sash Popovic (Mother Tongue, Black Math Horseman), the song taps into the original's bluesy gospel vibe while giving every component an additional sonic and emotional weight, effectively transforming the track into a hypnotic meditation that eventually explodes into a maelstrom of noise.
Taken all together, We Are One captures the latest evolution of MUSTARD GAS & ROSES. Whereas the project was initially an exploration of the symphonic capabilities of the electric guitar, M.G.R.'s current incarnation experiments with more traditional "rock" approaches, yet always finds ways of pushing those sonic attributes to the fringe, with every track serving as an excavation and reassessment of the song's core essence and urgency. – words by Brian Cook
https://mustardgasandroses.bandcamp.com
https://www.facebook.com/mustardgasandroses
https://paxaeternum.bandcamp.com
https://www.facebook.com/paxaeternumdigital
https://www.instagram.com/paxaeternum
https://twitter.com/pax_aeternum