Tomorrow, Baltimore sludge/grind trio, MUSKET HAWK, will drop the riotous bounty of their Desolate full-length. In advance of its release, No Clean Singing spews forth the record in its jaw-breaking entirety issuing of its eight mutinous tracks, "Sometimes it feels like someone slipped a narcotic in your beer. Sometimes it feels like someone just jammed a spike in your heart and gave you a big bolus of adrenaline. Sometimes, you get the sense that you're being hit in the neck with a crowbar. It's a hell of a genre-bending ride – part sludge, part grind, part stoner, part wrecking ball, part homemade explosive device filled with nails that's just gone off in your face. I think you'll like it."
A vile, near half-hour-long exploration into the underbelly of sonic filth, MUSKET HAWK's self-produced, fittingly-titled Desolate was mastered by Dan Randall (Ghoul, Annihilation Time, Impaled) and delivers eight decaying tracks of chaos, disorder and monolithic gloom. The record will see release on May 6th via Baltimore-based Unholy Anarchy Records in cooperation with Australia's Goodtimes Records.
Decibel Magazine notes, "The bludgeoning stomp of the sludge/grind trio seems the perfect soundtrack for a concrete wasteland littered with broken bottles, presumably frequented by would-be assailants who would go as far as to steal your organs to sell (just to make sure they didn't miss anything)," while Selective Memory gushes, "The album burns white hot and by the time you remotely figure it out the album is almost finished. The mixture of hardcore thrash with death metal and punk adjectives all make for a wild ride that will blow your hair back. The cover is so hypnotic you really cannot look away. The bright reds with the bright blues and the neon yellow, it's an eye catcher as is the music because when you hear it you will say, 'Holy shit! What the fuck is that?' At least I hope you do. And I hope you will be equally amused, delighted and repulsed all in the same breath. Because if you do that, then your experience will be as memorable as mine and you will never forget an album like this."
To preorder MUSKET HAWK's Desolate, point your browser to THIS LOCATION.
Two weeks following the release of Desolate, MUSKET HAWK will spend a week and a half out delivering their decimation to the townspeople of the mid-East Coast on a punishing run alongside their longtime Australian cohorts, Disparo! The Desolate Road Spring 2016 Tour melee runs from May 25th through June 4th with shows in Philadelphia, Fredrick, Baltimore, Annapolis, Richmond, Columbia, Charleston, Ashville, and Raleigh, and includes a recording session at The Jam Room in South Carolina for a split album between the two acts to be released later in the year.
MUSKET HAWK also has plans for a split release with New York City's Sangharsha, which will be recorded at Electrical Audio in Chicago.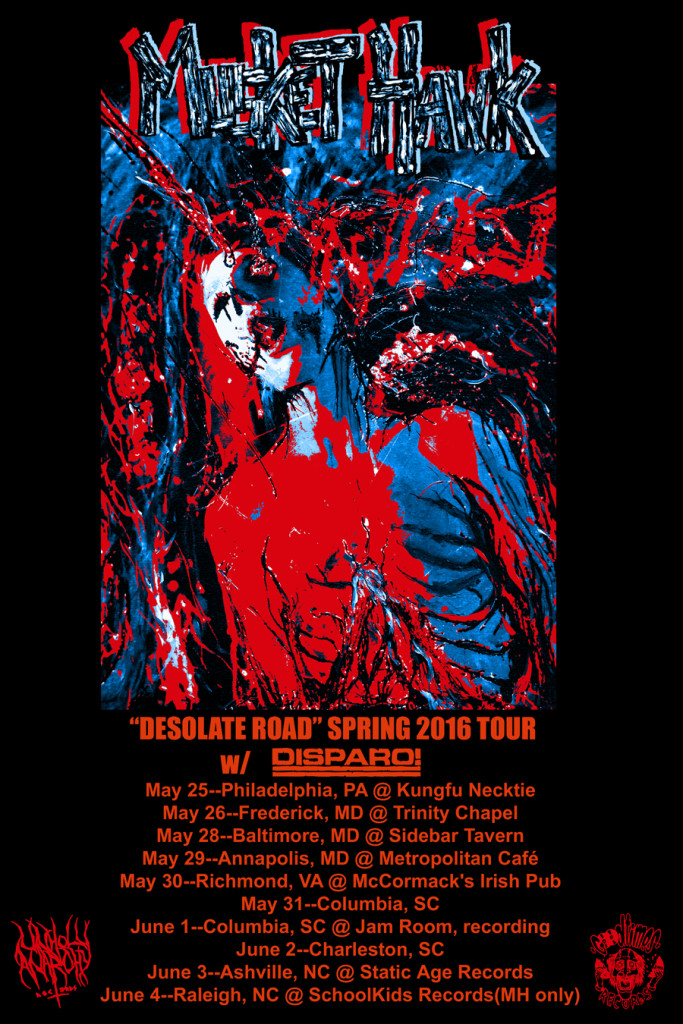 MUSKET HAWK Desolate Road Spring 2016 Tour w/ Disparo!:
5/25/2016 Kung Fu Necktie – Philadelphia, PA
5/26/2016 Trinity Chapel – Fredrick, MD
5/28/2016 Sidebar Tavern – Baltimore, MD
5/29/2016 Metropolitan Café – Annapolis, MD
5/30/2016 McCormack's Irish Pub – Richmond, VA
5/31/2016 TBA – Columbia, SC
6/02/2016 TBA – Charleston, SC
6/03/20156 Static Age Records -Ashville, NC
6/04/2016 SchoolKids Records – Raleigh, NC (no Disparo!)
For review links, interviews and guest list requests contact liz@earsplitcompound.com.
http://www.muskethawk.bandcamp.com
http://www.facebook.com/MusketHawkBaltimore
http://www.facebook.com/Unholy-Anarchy-Records-Distro