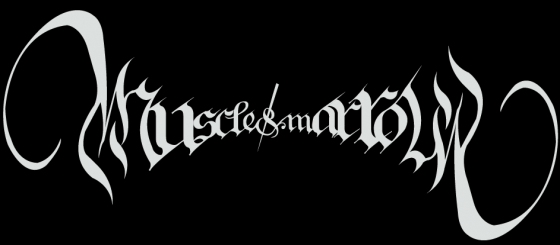 Today, Portland atmospheric drone/doom duo, MUSCLE AND MARROW, is pleased to unveil a brand new video for the track "Ritual." The hauntingly poignant movement will appear on the band's forthcoming full-length, which is still in its composing stages.
Filmed over two days — one in the snow, one in the studio – "Ritual" was directed by Edward P. Davee and achieved with the aid of Scott Ballard (camera), Kristin Marie (art director, producer), Kevin Forrest (gaffer) and Lucy Lee Yim (choreography). The track itself was recorded and mixed by Brandon Eggleston and mastered by Doug Henderson.
"Ritual" is asking the impossible: what can one do, as a human bound by flesh, to bring back the dead, to speak to the dead, to continue loving the dead? It is also exploring the limitations of art and of self-expression, while simultaneously asserting that turning desperation into an act of creation is in itself an act of innate strength and even optimism.
The clip is currently playing exclusively via Cvlt Nation, who elaborates, "MUSCLE AND MARROW makes music that haunts you, cuts deep and inhabits an emotional place in your soul. 'Ritual' is no different, and the video for it…delves into the mystery of their sound with its stunning visuals."
Get swept away by the "Ritual" at THIS LOCATION.
Forged in 2013, MUSCLE AND MARROW is Kira Clark (guitar, voice) and Keith McGraw (drums, samples). Their sound is lush, full, sprawling and forever moving, blanketed in guitars that shift waiflike between haunting drone and menacing fuzz and bound by McGraw's punishing drum work. Each movement, however, is powered by Clark's voice — soaringly operatic and high at times; shaking and guttural at others. MUSCLE AND MARROW are interested in the morose, the ugly, the jarring and the soft relying heavily on changing dynamics and avoiding the linear, instead gravitating towards the clashing of sounds, their voice and drumming almost hypnotic at times, followed by sudden bursts of distorted noise and thrashing drums. They draw inspiration from literature, film, contemporary poetry, darkness with redemption and darkness without it, but their songs are at their core, deeply personal. Comparisons can be found in Chelsea Wolfe, Swans and Shannon Wright.
MUSCLE AND MARROW is currently penning the follow-up to their critically-lauded, 2013-issued, The Human Cry full-length. Said Metal BandCamp of the masterwork, "The songs are so richly and deeply textured with varying and contradicting elements that build a huge dynamic power and an overall unearthly atmosphere that constantly escapes your grip, and despite all the ultra-heaviness there's a sense of this ghost floating around, it's here and there, changing direction, changing moods and wears myriads of different shades of despair, melancholy, fear and anger." Added Invisible Oranges, "Clark has a rich, emotive voice, and when it's fully turned on she gets a quiver as if she is controlling the very atoms around her. She's a witch, conjuring up powerful atmospheres of stormy skies, swirling clouds, dark horizons. While the name MUSCLE AND MARROW may impart an image of minimalism, there's no exposed bone here. Instead, we get a coursing network of blood vessels and twitching nerves. McGraw's well-timed drumbeats illuminate this throbbing affirmation."
The Human Cry is still available for purchase via the official MUSCLE AND MARROW BandCamp page HERE.
Stay tuned for further MUSCLE AND MARROW developments as they transpire.
"Musically, this band is ultra heavy, but it's not in the normal sense it's more mental than physical." – Cvlt Nation
http://www.muscleandmarrow.com
http://www.facebook.com/MuscleandMarrow